August 24, 2023
Community Living Brings the Good Life to Older Adults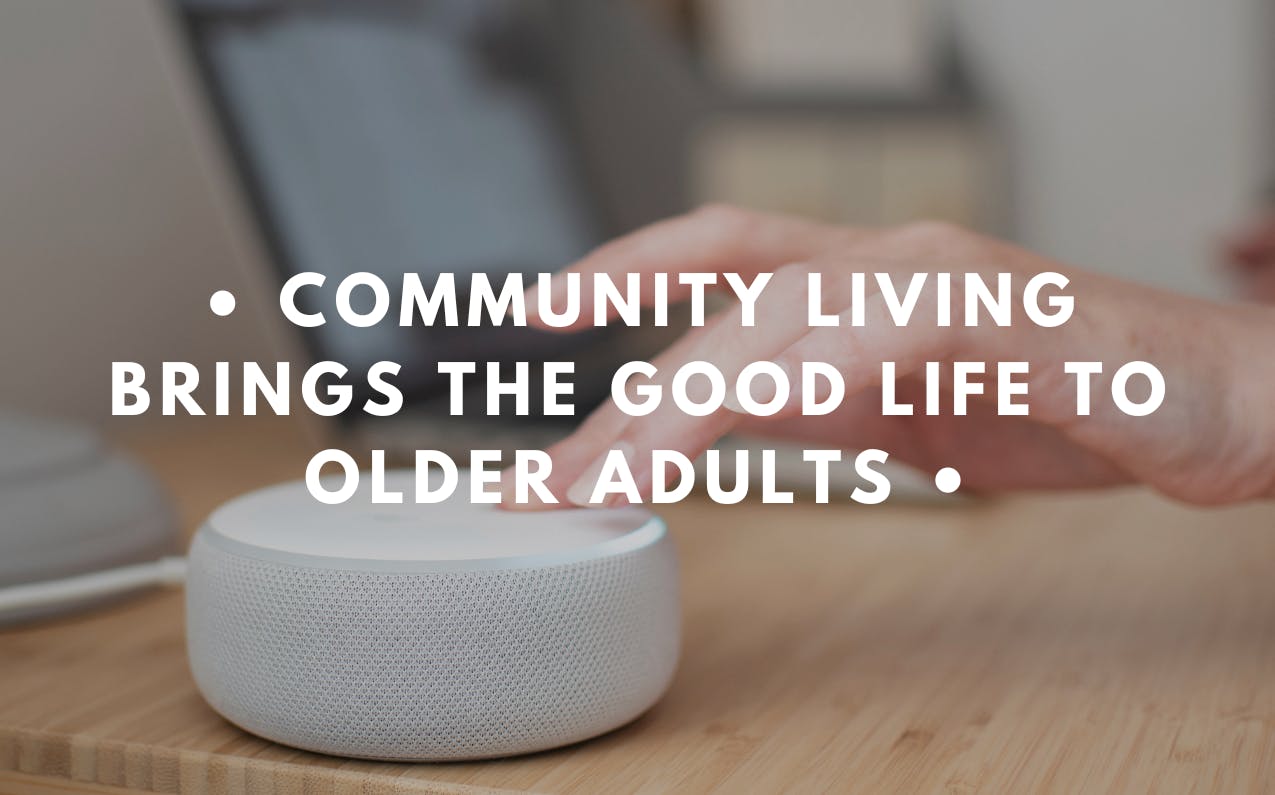 Today, people are living longer and staying active after retirement. They want to enjoy their time, make friends, continue to grow, and experience new adventures. Community living improves quality of life by bringing people together. Those living in life plan communities can replace daily chores and boredom with fun and relaxation. Apartment-style living provides kupuna the opportunity to live in a vibrant neighborhood, with the added benefits of medical assistance and multi-level care on-demand. Residents can enjoy dining, social activities, housekeeping, and more when they join the community.
Technology
The best community living centers keep their staff and residents up-to-date with the latest technology. Modern devices and apps help residents stay connected, independent, and carefree by making everyday life safe, convenient, and enjoyable.
Communication
One way community living keeps up with the times is by making technology accessible inside apartments and in common areas. Videoconferencing makes it easy for residents to keep in touch with friends and relatives down the street and all over the world. Skype, FaceTime, and Zoom are just some of the well-known applications that enable virtual visits and reunions. Residents can chat from the comfort and privacy of their residence or through an interface set up in a common area. People can meet online for coffee, cards, book clubs, language classes, meditation, or any number of other leisure activities.
Smart Home Integrations
Smart home devices like security or monitoring systems, emergency contact systems, video doorbells, locks, plugs, lighting, and leak sensors are all devices that enhance safety and convenience at home and help mitigate the risk of injury and accidents.
Alexa
The Echo and Echo Dot bring voice control and third-party apps together to create an all-in-one system that can provide news, weather, games, music, communication, and emergency support. Alexa can also increase independence by making simple tasks safer and more convenient. Reminders and notifications can keep mealtimes, pill-taking, and social scheduling on track. The software integrates with other smart devices like light switches and plugs that residents can turn on and off using voice commands. Alexa can be set up to share information like activity, inactivity, and alerts with friends, family, and caregivers. Subscription-based services like Alexa Together can provide fall-detection (when integrated with third-party sensors), professional monitoring, and emergency calling features.
Motion Detection Systems
Many kupuna prefer to maintain their independence in their apartments and also have immediate help available in the case of an accident. Remote motion sensors are devices that can be installed anywhere in apartments and in shared common areas. They are usually placed where residents are likely to stumble or fall, like beds, chairs, bathtubs, and doorways. A sudden change in motion will activate a silent alarm to immediately notify caregivers of possible trouble. The compact, discreet sensors preserve privacy while allowing caregivers to be immediately available when needed. They also eliminate the need for invasive surveillance, which can help reduce stress and encourage goodwill.
Wearable Technology
Fall detection and emergency contact wearables have been available for over half a century. Personal emergency response system (PERS) pendants were introduced in the 1970s and still exist today. These devices are simple to operate but are known for being clunky. Newer, more advanced alternatives from popular brands like Apple, Samsung, Fitbit, and Garmin provide discreet, fashionable options for health monitoring. These wearables feature on-call alerts, heart-rate monitoring, and the capacity to store and share medical information like medications and blood type. Many specialized devices, connected to proprietary, subscription-based services, have been updated to look very smart. Both types of these next-generation devices let older adults enjoy the fun of keeping up-to-date while providing added support and safety.
Practical Benefits of Joining a Life Plan Community
Senior living communities can make a person's golden years fun and carefree by reducing the tedium and risk of injury that come with everyday labor. By providing on-site security, decreasing the chance of accidents, and eliminating the dangers that come with isolation, life plan communities allow older adults to retain their autonomy while experiencing all the benefits of full-service care.
Kupuna Safety
A huge advantage of joining a life plan community is the safety and security that around-the-clock staffing provides. Security guards, front-desk staff, and video surveillance all protect older adults against unwanted intrusion. Daily check-ins can help detect and mitigate any serious issues and provide a failsafe against malfunctioning emergency monitoring systems. Having medical staff available onsite gives residents faster access to care. Keeping residents safe also includes a healthy dose of prevention against harm. Full-featured apartments are equipped with grab bars, emergency pulls, walk-in showers, and slip-resistant flooring. On-site dining eliminates the need for stoves, ovens, and knives, reducing the risk of burns, fires, cuts, and other injuries.
Convenience
Community living provides a low-maintenance lifestyle. Housekeeping, cooking, laundry, and repairs are all included, freeing up time for more enjoyable pursuits like a game of billiards or a swim in the pool. Residents can enjoy time outdoors and keep fit in the gym. There are all kinds of classes and activities on offer to keep residents feeling great. With massage, physical therapy, and wellness clinics, every older adult can find facilities for living their best life under one roof.
Transportation
With shuttles that go to shopping malls, stores, movie theaters, parks, restaurants, and cultural centers, kupuna can enjoy all the normal daily activities on their own or on group outings. For residents who don't drive, shuttles are an easy way to get around town with a fair degree of independence. Group transportation also reduces carbon emissions and may also provide a solution for handicapped residents who want to see the world beyond their apartment while maintaining their safety.
Energy Conservation
In today's rapidly changing world, sustainability is more important than ever. Many older adults feel a responsibility to keep the planet healthy and thriving for future generations. Life plan communities let older adults experience green living with energy-saving conveniences. Apartments are designed to be energy efficient, with eco-friendly lighting and climate control systems.
Community Living is a Great Lifestyle Option
Life plan communities allow kupuna to live happy, healthy, independent lives without worry and hassle. Older adults find their lives are enhanced by living close to friends, with many choices for leisure and the convenience of being near town. Older adults who join a community of peers have everything to gain and can look forward to wonderful times ahead.