May 29, 2020
COVID-19 Updates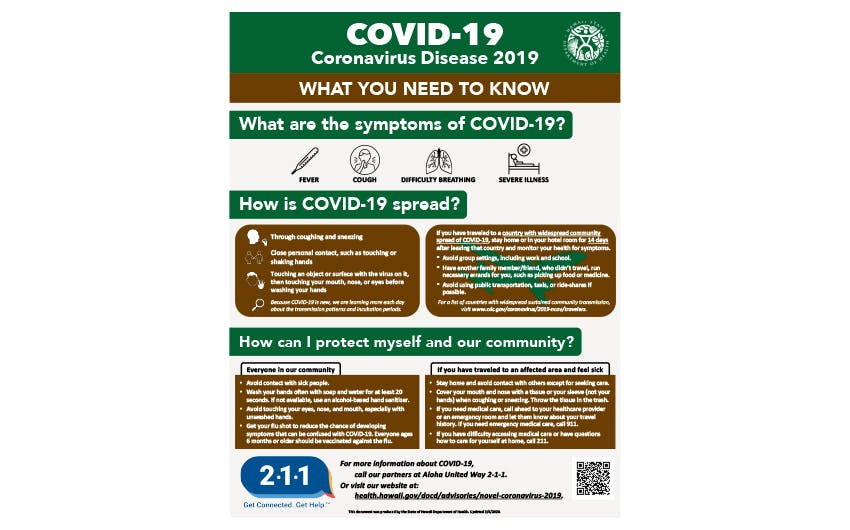 The world is grappling with an issue of enormous scale and we believe it is our role and responsibility during this time to prioritize two things: the health and well-being of our residents, members and clients as well as providing a safe work environment for our staff.
It is through that lens, we will continue to make decisions with vigilance and courage, informed by the latest science-based information and guided by our Arcadia Family of Companies Mission and Core Values.
Since we first began navigating COVID-19, our goal has been to lead with care and transparency always looking to base our decision-making on facts and science. Our commitment is to always do what's best for you, the residents and our staff.
Measures effective immediately until further notice for both 15 Craigside & Arcadia:
• Visitors are not allowed in the building and will be asked to delay their visits until further notice. This includes Guestroom stays.
• The Health Care Center is quarantined meaning visitors allowed in the Health Care Center will only be essential personnel.
• All events involving external visitors, performers or facilitators will be cancelled.
• All recreational excursions and shuttle runs are suspended. Shuttle runs for medical purposes will still occur.
• Screening of staff and essential contractors continues with a more extensive screening questionnaire.
• Additionally, we are tracking staff illnesses and whether or not they have a second job and where that job is.
• Mail service will not be interrupted.
• Residents will not be allowed to go between communities (15 Craigside and Arcadia).
• Management will minimize staff who go between 15 Craigside and Arcadia.
• Visits to 15 Craigside and Arcadia by Arcadia At Home Members are suspended.
• Daily tours for prospective residents have been discontinued.
• Dining Services: We have transitioned to in-room dining for all meals. Residents will submit their meal ticket to place their orders. For those on special diets, a staff member will provide assistance with meal ticket submissions. Meals will be prepacked and delivered for breakfast, lunch and dinner.
• Resident temperature checks will be conducted daily. Residents are to visit the Employee Wellness Screening Station or the Reception Desk to have their temperature taken at their convenience.
• In light of the financial impact COVID-19 is having locally, nationally and globally, Vivian Lai and her Finance Team will be reforecasting numbers for the family of companies.
Updates within the Family of Companies
Letter for 15 Craigside Residents
Letter for Arcadia Home Health Services
Letter for Central Union Church Adult Day Care & Day Health Center
Letter for Employees of Arcadia Family of Companies
Silver Linings of COVID-19 (Issue 5/29/20)
AFC Conversations (Video): Reopening the Arcadia Family of Companies
AFC Conversations (Video): Arcadia Family of Companies 2020 Playbook
Other Resources
Centers for Disease Control: About Coronavirus Disease
State of Hawaii, Department of Health: COVID-19 Updates
State of Hawaii, Department of Health: Current Issues & Advisories
City & County of Honolulu, Mayor Kirk Caldwell: Proclamations, Orders & Rules re: COVID-19
Poster – Department of Health – COVID-19
Poster – Centers for Disease Control – What you need to know about coronavirus disease 2019
Poster – Centers for Disease Control – What to do if you are sick with coronavirus disease 2019
Video – Dept. of Health – Wash Your Hands
Video – Dept. of Health – Stay Home If You Are Sick
Video – Dept. of Health – Social Distancing
Video – Dept. of Health – Quarantine vs. Isolation
Additional updates will be issued as needed as the situation changes.