July 7, 2022
Ho'omau (07/08/22)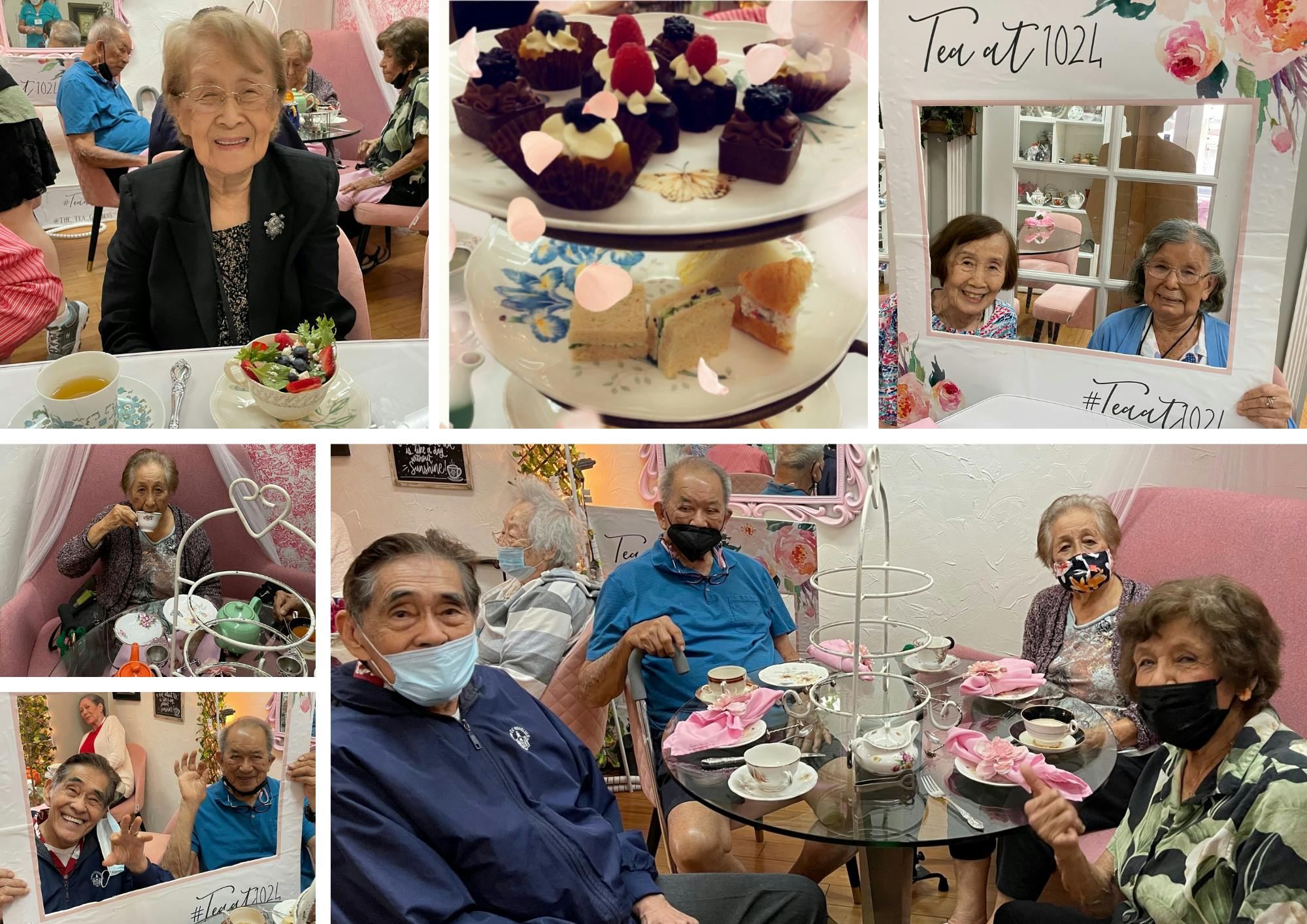 JULY 8, 2022, ISSUE 58
Hoʻomau
Renew, Perpetuate, Persevere
Tea at 1024
Arcadia Adult Day Care clients took a trip downtown for some hot tea and delectable finger foods. Tea at 1024 has been serving afternoon tea in Honolulu since 1999. The clients enjoyed a variety of different teas and paired them with sandwiches, pastries, and other delicious treats. Unfortunately due to COVID-19, they were unable to dress up in costume. Have you heard about the myth behind lifting your pinky up while drinking tea? Upper class homeowners believed their servants were unclean and didn't want to touch anything they handled. The owners tried to use as few fingers as possible when eating and drinking, hence the reason their little finger was up in the air. Since then, this gesture has evolved to be seen as elegant and regal.
4th of July Fair
To celebrate 4th of July, Arcadia enjoyed an afternoon full of fun festivities. Stations were set up in the Main Lounge and included a variety of games such as bean bag toss, nerf darts, and ring toss, which residents said was the most challenging. Refreshments included hot dogs, pretzels, French fries, and a bar filled with ice cold beer, wine, and cider. Arcadia resident, Mr. Arkie Koehl, wrapped up the event with some relaxing music on the piano. They all had so much fun!
15 Craigside Carnival
It was all fun and games at 15 Craigside when the Theater was transformed into a carnival! Residents tested their luck at games including fish pong, ring toss, penny pitch, hoops, and ping pong roll. Once they completed all the games, they were entered into a raffle for prizes and got to pick up popcorn and other sweet treats. There is no better way to spend your summer day than with games and friends!
15 Craigside Aloha Hour
15 Craigside residents from the 3rd and 5th floors planned and hosted the June Aloha Hour. This special get together honored Dining Services Manager Merly Purdy, Environmental Services (ES) Manager Jopo Pulido, and ES Administrative Assistant Lisa Harbin who will be saying aloha to 15C. Physical Therapist, Ki Quilloy, did a hula performance for the guests of honor. New residents were welcomed, June birthdays were celebrated, and everyone joined in to perform the ALOHA song with hand motions.
Patriotic Attire Day
Happy Independence Day! In honor of 4th of July, the Arcadia Family of Companies had a family-wide dress up day. Residents, clients, members, and employees were able to show their spirit and wear their favorite red, white, and blue attire. Did you know One World Trade Center in New York City was designed to be 1,776 feet tall to represent the year Americans declared independence from Great Britian? Amazing!
Aloha Chef Kyle
Aloha! Chef Kyle Yonashiro, Executive Chef and Director of Dining Services has been at 15 Craigside since its opening in 2011. Under his leadership, the Dining Services department has grown and evolved to what it is today. Chef Kyle will be pursuing an opportunity where he will be able to continue to showcase his culinary skills. A warm mahalo for all he has done!
Don't Break the Ice Game
The Arcadia Adult Day Care at Central Union Church always has fun activities in store! Don't Break the Ice is a classic favorite that brought them back in time. They used a mallet to tap out as many blocks of ice as they could without knocking the little ice man down. The clients were focused and did a great job to not break the ice!
Rocky Road Ice Cream Service
Arcadia residents got to create their own rocky road ice cream! The ingredients available were chocolate ice cream, almonds, chocolate chips, chocolate sauce, and whipped cream. In 1929, William Dreyer cut up marshmallows and walnuts to mix into his chocolate ice cream. Later that year, the stock market crashed and the flavor got its name!
"Remain diligent and remember that the pandemic is not over. It is critical to practice good hand hygiene, proper mask wearing, and social distancing. Be sure to monitor yourself closely for any new or unusual symptoms especially scratchy/itchy throat, runny nose, congestion, cough." - Suzie Schulberg, President & CEO