October 6, 2023
Hoʻomau (10/6/23)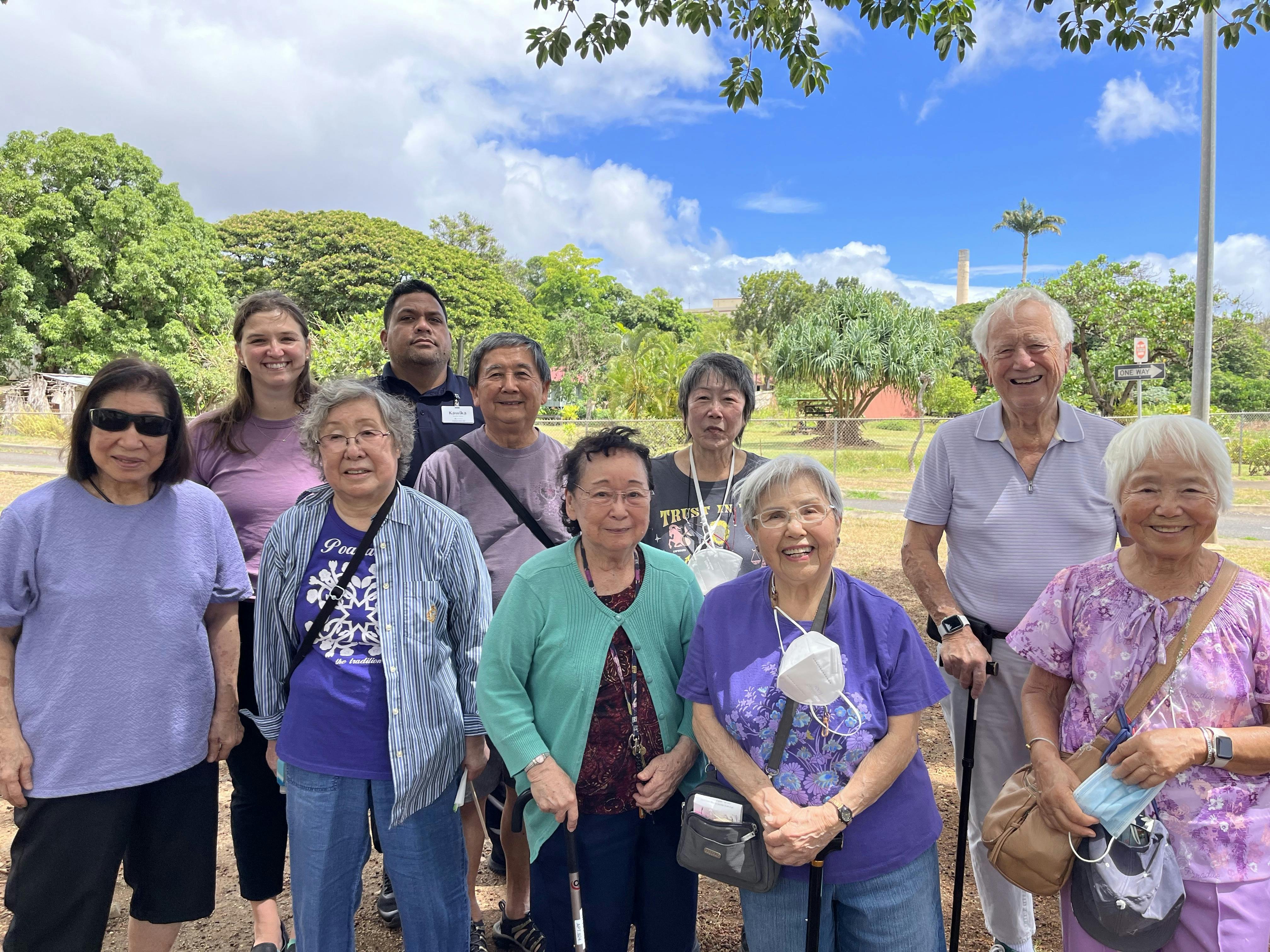 OCTOBER 6, 2023, ISSUE 123
Hoʻomau
Renew, Perpetuate, Persevere
A Journey Back in Time
Arcadia residents visited a living history museum and botanical garden in historic Waipahu town to experience a time when sugarcane reigned in Hawaii. Hawaii's Plantation Village tells the story of life on our sugar plantations (circa 1850-1950). It's composed of restored buildings and replicas of structures. These include houses of various ethnic groups as well as community buildings, such as the plantation store, infirmary, bathhouse and manager's office. The outdoor museum shares the story of Hawaii's melting pot of cultures including Hawaiian, Chinese, Japanese, Filipino, Korean, Okinawan, Portuguese and Puerto Rican.
Take Me Out to the Ball Game!
On September 28th, the 7th and 9th floors at 15 Craigside held a baseball-themed Aloha Hour. The month's birthdays were celebrated, new residents were welcomed, and everyone learned more about baseball's connection to Hawaii and Alexander Cartwright from guest speaker Dr. Joe Stanton. Game day favorites of hot dogs, peanuts, Cracker Jack, and ice cream sundaes served in baseball helmet bowls were enjoyed by all!
Active Minds
To bring awareness to World Alzheimer's Month and Self-Improvement Month in September, Arcadia held a fun-filled Memory Fair. Residents challenged their minds through various games like bowling and golfing. These sports can help keep the brain active and engaged through mental focus and problem-solving.
Ice Cream Treat
Arcadia Adult Day Care clients stepped out for a refreshing afternoon snack with a visit to a popular ice cream shop. Sweet Creams serves handcrafted, Thai-inspired ice cream rolls with various toppings.
Full Moon Fun
The Chinese Mid-Autumn Festival, also known as the Moon Festival, takes place with the full moon that happens nearest to the autumnal equinox - typically in September or October. Hale Ola Kino by Arcadia residents marked the occasion by making paper lanterns, baking almond cookies, and gathering with their families to share a meal of dim sum while delighting in entertainment provided by New Hope Church's "Pots & Pans Band." Following tradition, everyone ate mooncakes and watched the rising of the "full moon" - a balloon used as a placeholder since the moon was blocked by buildings.
Celebrating Oktoberfest
15 Craigside residents celebrated Oktoberfest with a special Na Mea Ono (The Delicious Place) lunch of soft pretzels with beer cheese, bratwurst on sauerkraut, pork schnitzel and apple strudel a la mode. A variety of beers and root beer accompanied the meal, while Little Big Band played German waltzes and tunes from the Theater!
Art Appreciation
Arcadia At Home members visited the Honolulu Museum of Art and joined the New Exhibitions Spotlight tour that featured Lauren Hana Chai: The Five Senses, Transformation: Modern Japanese Art, and Salman Toor: No Ordinary Love. Opened in 1927, the museum's permanent collection is comprised of more than 50,000 pieces that span 5,000 years.
Going Once, Going Twice, Sold!
The Health Care Center at 15 Craigside had a great time during their recent auction that featured a variety of goods such as hats, clocks, blankets, clothing, snacks, decor, notebooks, and more. Residents were provided with $15 in Craigside bucks to place bids on items. Congratulations to all the lucky winners who came out on top of the fierce bidding wars!
Helping Hands
Arcadians volunteered their time to help Hawaiian Hope, a technology non-profit, refurbish computers for Lahaina families and others in need. With jobs for the "slightly technical" to "no skills required," residents had a fun and fulfilling time. Chromebooks, iPad minis, and equipment were spruced up under the direction of the Hawaii Macintosh & Apple Users' Society.
"This week we recognized and celebrated our amazing Dining Services teams. Mahalo for working together to always provide our residents, clients, members and employees nutritious and delicious meals." - Suzie Schulberg, President & CEO