October 13, 2023
Hoʻomau (10/13/23)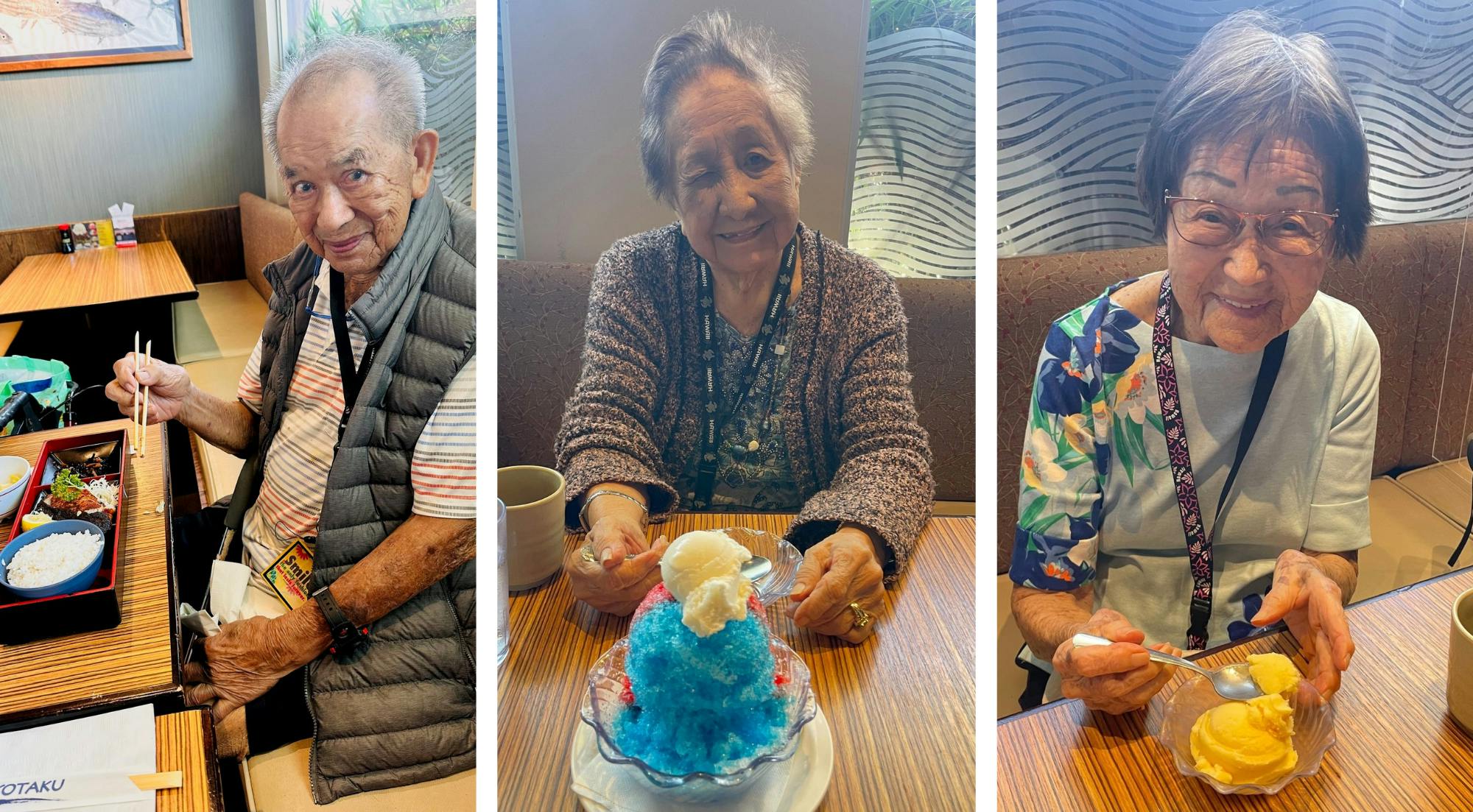 OCTOBER 13, 2023, ISSUE 124
Hoʻomau
Renew, Perpetuate, Persevere
Dining Out at Gyotaku
A group of Arcadia Adult Day Care Center clients enjoyed food and fellowship at Gyotaku, a popular local Japanese restaurant located on King Street. Everyone enjoyed their favorite dishes followed by refreshing desserts of shave ice and ice cream.
In Japanese, gyo means "fish" and taku means "rubbing." Gyotaku is a traditional form of fish printing in which an actual fish is painted on one side with sumi ink. A piece of paper is then placed over the ink-covered fish and rubbed until the image of the fish is transferred to it. Artwork by gyotaku artist Naoki is featured on the restaurant's walls.
Seeking Purpose and Purposeful Living
15 Craigside residents attended Dr. Cullen Hayashida's "From Youthful to Useful" purpose presentation to learn about ikigai which roughly translates to "that which makes your life worth living" in Japanese. Dr. Hayashida is the Director and Founder of the Kupuna Education Center at Kapiolani Community College - Hawaii's only gerontology center at the community college level. During his talk, Dr. Hayashida asked residents to ponder questions about what they want to do with the rest of their lives.
Prost to Oktoberfest!
Oktoberfest is an annual autumn festival in Munich, Germany that features the drinking of beer. On October 5th, Arcadians held their own Oktoberfest that included a walk-through beer garden, treat pick-up, and an exciting performance by Little Big Band.
Hot Pot Time!
Arcadia At Home members were delighted to try an all-you-can-eat meal at Hawaii Pot Shabu Shabu House on Sheridan Street. Everyone loved creating their custom hot pots from a selection of soup bases and meats. Vegetables, dumplings and noodles circled on a conveyor belt to grab and add to their broths as desired. The lunch was deemed a "great success" by member Mrs. Emiko Lyovin.
Volunteer Opportunity
Now more than ever, people are facing food insecurity and are counting on the Hawaii Foodbank. Volunteers are an integral part of their operations and Arcadians were happy to donate their time by sorting produce at the organization's warehouse. Mahalo for your kokua!
Ikebana Lesson
15 Craigside residents gathered to learn more about the art of ikebana from fellow resident Mrs. Irene Nakamoto. With fresh flowers and greenery, everyone was able to craft their own unique arrangement.
Tabletop Games
15 Craigside Health Care Center residents had a blast participating in a game of tabletop golf. Just like putting in regular golf, skill is needed to get the ball in the hole. Too gentle or forceful of a push could cause the ball to miss its target.
More Than Pink Walk
15 Craigside and Arcadia residents and an Arcadia At Home member took part in the 2023 Komen Hawaii More Than Pink Walk on Sunday, October 8th at Kapiolani Park. The annual fundraising walk provided an opportunity for participants to share stories, remember loved ones, and offer support. Mahalo to Jody Takata, AFC Wellness Manager, for sharing the photo!
Pink Spirit Day
The Arcadia Family of Companies had a family-wide spirit day on October 2nd in honor of Breast Cancer Awareness Month. Mahalo to the clients and team members of the Arcadia Adult Day Care Center for showing your support! Wearing pink honors survivors, remembers those lost to the disease, and supports the progress toward defeating breast cancer.
Reroofing Project
Arcadia's mauka neighbor, First Church Christ Scientist, is reroofing. Resident, Mrs. Ellen Chapman, captured this photo from her 8th floor lanai showing workers as they began the project. Built in 1923, the church was designed by noted architect Hart Wood with lava rock walls and a steep gable roof. Wood was the first in Hawaii to blend Asian and Western forms.
"Sunday, October 8th was Pastor Appreciation Day. We express our heartfelt gratitude to Arcadia Family of Companies' Chaplain, Rev. Dr. George Scott, and his assistance dog, Cedar, for their support and care of our residents, clients, members and employees." - Suzie Schulberg, President & CEO