October 20, 2023
Ho'omau (10/20/23)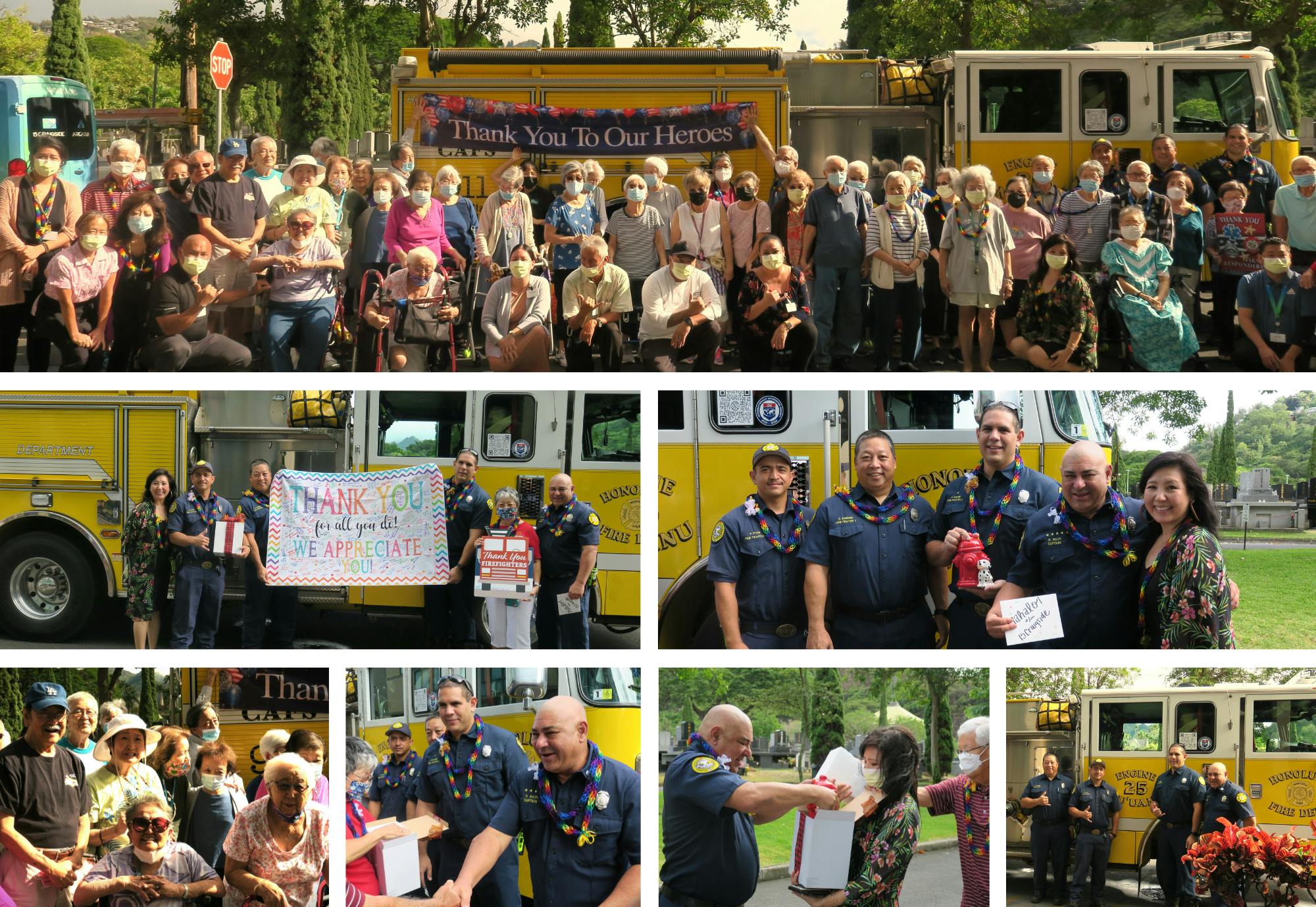 OCTOBER 20, 2023, ISSUE 125
Hoʻomau
Renew, Perpetuate, Persevere
Firefighters Appreciation
15 Craigside residents find purpose in giving back to the community! To show their gratitude and appreciation for their Nuuanu Fire Station 25 neighborhood heroes, residents partnered with the Arcadia Family of Companies to make a donation. The firefighters visited 15 Craigside and were greeted with lei, cards, and a small gift from residents and employees. Some attendees brought banners and flags to show their support. This was a great gathering to honor and give back to the hardworking, brave, and dedicated professionals who sacrifice their lives to take care of the community. The event was filled with positive energy, love, and happiness!
Jewelry Sale
After taking a hiatus during the pandemic, the Arcadia Jewelry Sale is back! Residents, employees, family, and friends attended to admire and purchase beautiful treasures. All jewelry donated by residents, family, and friends were priced between $4 to $98. Fine jewelry was informally appraised and marked at 50% off the retail price. Proceeds support the Arcadia Health Care Center!
Thrift Shop
The Arcadia Adult Day Care clients visited their neighbors at the Central Union Church Thrift Store run by the Women's League Ministry. Everyone browsed the store and looked at the wide variety of donation items. The earnings are used for scholarships, church ministry work, and donated to non-profit organizations in Hawaii.
Skyline Ride
Hale Ola Kino by Arcadia residents were excited to take a ride on the Skyline! Attendees hopped on at the Aloha Stadium station and were able to take in the views from a higher perspective, passing through urban and rural landscapes. The round trip to East Kapolei and back took about 40 minutes. Residents had so much fun experiencing the new rail.
Halo-Halo
15 Craigside residents were delighted with halo-halo on a very hot day! The dessert is made with mixed fruits, macapuno, and nata de coco topped with ice, condensed milk, and ube ice cream.
Tulip Craft
The Arcadia Adult Day Care clients made adorable tulip crafts. Tulips symbolize perfect and deep love. They are ideal to give to someone who you have a profound, unconditional love for.
THINK Growing Leaders Graduation
Congratulations to the Arcadia Family of Companies Leadership Team employees who participated in the first THINK cohort. The THINK growing leadership program focuses on problem solving, conflict resolution, coaching, and communication. The process includes analysis and assessment, training and curriculum development, approval and implementation, and evaluation. We are so proud of your accomplishments!
Geriatric Fellowship Program
The Arcadia Home Health Services team held a presentation for the John A. Burns School of Medicine (JABSOM) Geriatric Fellowship Program. Employees presented the different care options for seniors offered by the Arcadia Family of Companies to four physicians. Thank you for sharing all of the amazing services we provide to take care of Hawaii's kupuna!
Painting Class
The Arcadia Health Care Center residents enjoyed a relaxing painting class. The class was led by Cecilia Vargas, HCC Activities Aide and artist. Participants painted a lovely landscape of the ocean with dolphins jumping out of the water. The residents showed off their talents and skills to create magnificent artwork. Everyone looks forward to Cecilia's next painting class!
Thank you For Getting Vaccinated!
The Arcadia Family of Companies hosted COVID-19 vaccination clinics for residents, clients, members, and employees. The vaccine protects you and the people around you from COVID-19 with high rates of effectiveness. Thank you to everyone who decided to get vaccinated. Please continue to practice good hygiene, wear a face mask, and social distancing.
"Mahalo nui to those who were vaccinated and who helped to manage the flu and COVID-19 shot clinics. The vaccines protect us, our families, and those we serve." - Suzie Schulberg, President & CEO