October 21, 2022
Hoʻomau (10/21/22)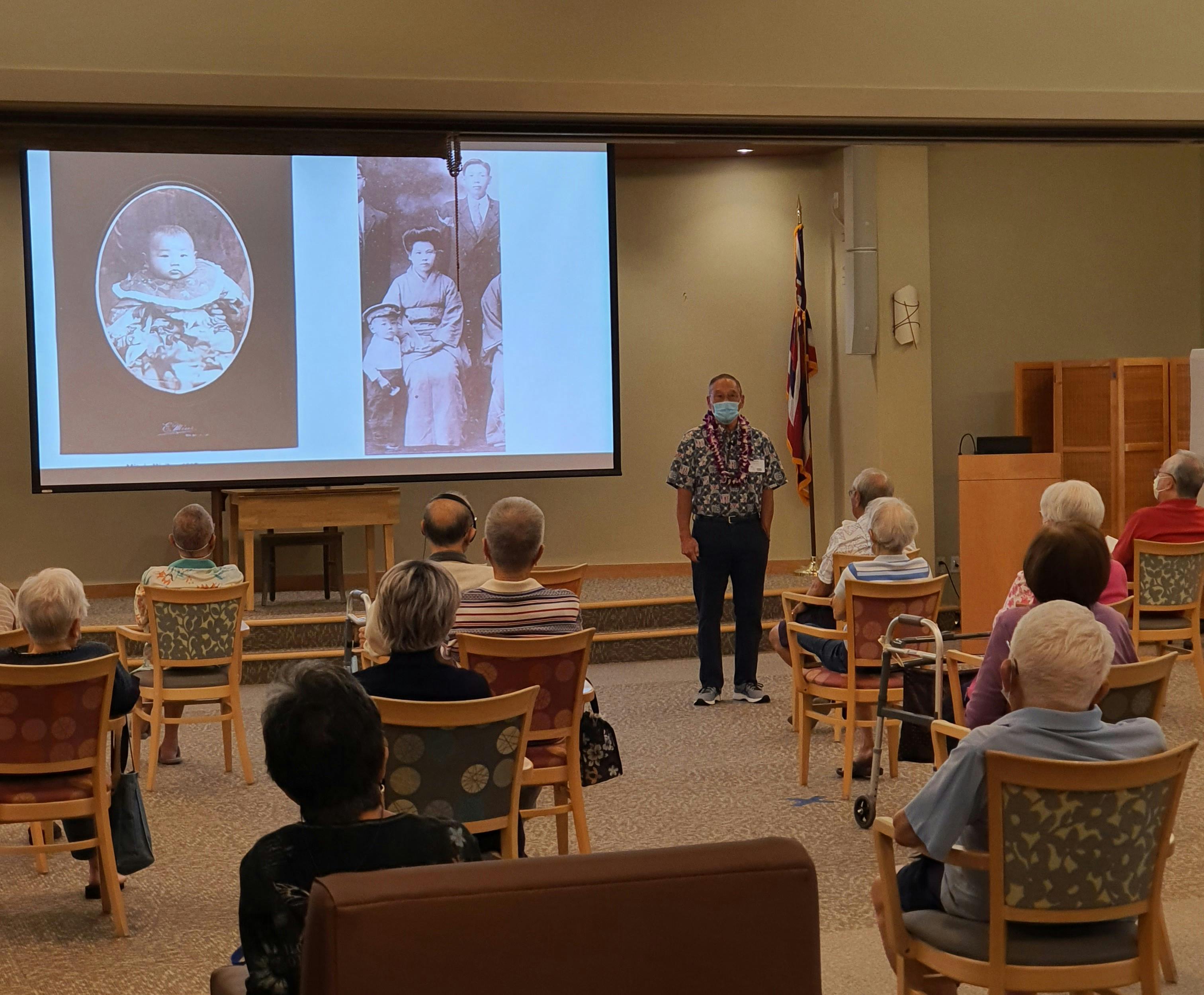 OCTOBER 21, 2022, ISSUE 73
Hoʻomau
Renew, Perpetuate, Persevere
Go For Broke!
15 Craigside residents attended a presentation by guest speaker, David Fukuda, on the 100th Infantry Battalion and 442nd Regimental Combat Team. He recounted his father, Mitsuyoshi Fukuda's battles in Italy during 1943-1945. Major Fukuda was the first Nisei (second generation) to become a field grade officer in the U.S. Army Infantry, and the only Nisei and last commanding officer of the 100th Infantry Battalion. David shared seven instances where he was able to discover the exact time and place his father was during the Italian campaign. "Go For Broke" was the motto of the 442nd Regimental Combat Team, an Army unit composed of Japanese Americans from Hawaii and the mainland United States. For high-rolling gamblers in 1940s Hawaii, it was slang for "shooting the works," or risking it all for the big win. For the Nisei soldiers, "go for broke" meant they would put everything on the line to win the war against the Germans in Europe and the war against racial prejudice at home.
Unique and Delectable Vegan Cuisine
Arcadia At Home's October Diner Delivery from Peace Cafe in Moiliili was requested by a member. The goal of the cafe is to create tasty, healthy food and provide happiness to everyone. Shota Terai, owner and culinary expert, created dishes inspired by his extensive background in Japanese cuisine. Mahalo to member, Mrs. Stephanie Sims, for capturing the photo highlighting some of the delicious vegan options the eatery offers.
Kupuna Achiever
Arcadian Mrs. Joann Marie Green, was recently featured on HI Now as a Kupuna Achiever. Mrs. Green shared about being part of The Step-Taculars and how it has allowed her to dance and build long lasting friendships. The Step-Taculars are a group of young at heart dancers who perform tap, jazz and Broadway dance numbers. Check out her amazing flexibility at 90 years young!
Chaplain and Cedar
Mahalo to Rev. Dr. George Scott and his service dog, Cedar, for bringing joy and blessings to Arcadia! Residents joined them for a morning Small Talk and later that day, Pondering the Parables drew a full house.
Ice Cream Time!
Even though it is no longer summer, here in Hawaii the weather is still warm and nothing beats the heat like ice cream! Clients at The Center celebrated National Ice Cream Cone Day with the ice cold treat. In 1928, I.C. Parker, a manager at a Ft. Worth, Texas candy company, had the idea of coating an ice cream cone with chocolate and peanuts. His wife thought it looked like a fried chicken leg so he called it a "Drumstick."
Craigside Karaoke
The 15 Craigside Theater was transformed into a karaoke room where resident's belted out their favorite tunes. Picking from a list of songs, they joined in together and enjoyed favorites like "Danny Boy," "On Top of Old Smokey" and even some Japanese songs. Singing karaoke can help stimulate the brain, relieve stress, help show feelings and emotions, and is lots of fun!
Tabletop Games
Clients at the Arcadia Adult Day Care Center at Central Union Church regularly engage in tabletop games. One favorite is Connect 4. Did you know legend says that Captain James Cook used to play a version of it on long voyages? It's said that he was addicted to the game and spent many hours in his quarters playing game after game with his fellow officers.
Honolulu Brass Quintet
The Honolulu Brass Quintet visited Arcadia and gave a sensational performance. The quintet was founded in 1976 and is one of three ensembles that make up Chamber Music Hawaii. The group is comprised of professional musicians who also perform regularly as members of the Hawaii Symphony Orchestra and provide the highest level of musical artistry.
Halloween Helpers
Have you been by the Arcadia Adult Day Care Center lately? The Center is all decked out in festive Halloween decor. Clients got into the season's spirit by helping to set up decorations for all to enjoy. The National Retail Federation estimated that Americans spent an average of $102.74 on Halloween costumes, candy and decorations in 2021.
"Protect yourself and those you love! The Arcadia Family of Companies is holding bivalent vaccine clinics for residents, clients, members and employees. With the upcoming holiday season, it's important to stay safe and healthy while we gather. Remember to sign up if you haven't already done so." - Suzie Schulberg, President & CEO