November 10, 2023
Hoʻomau (11/10/23)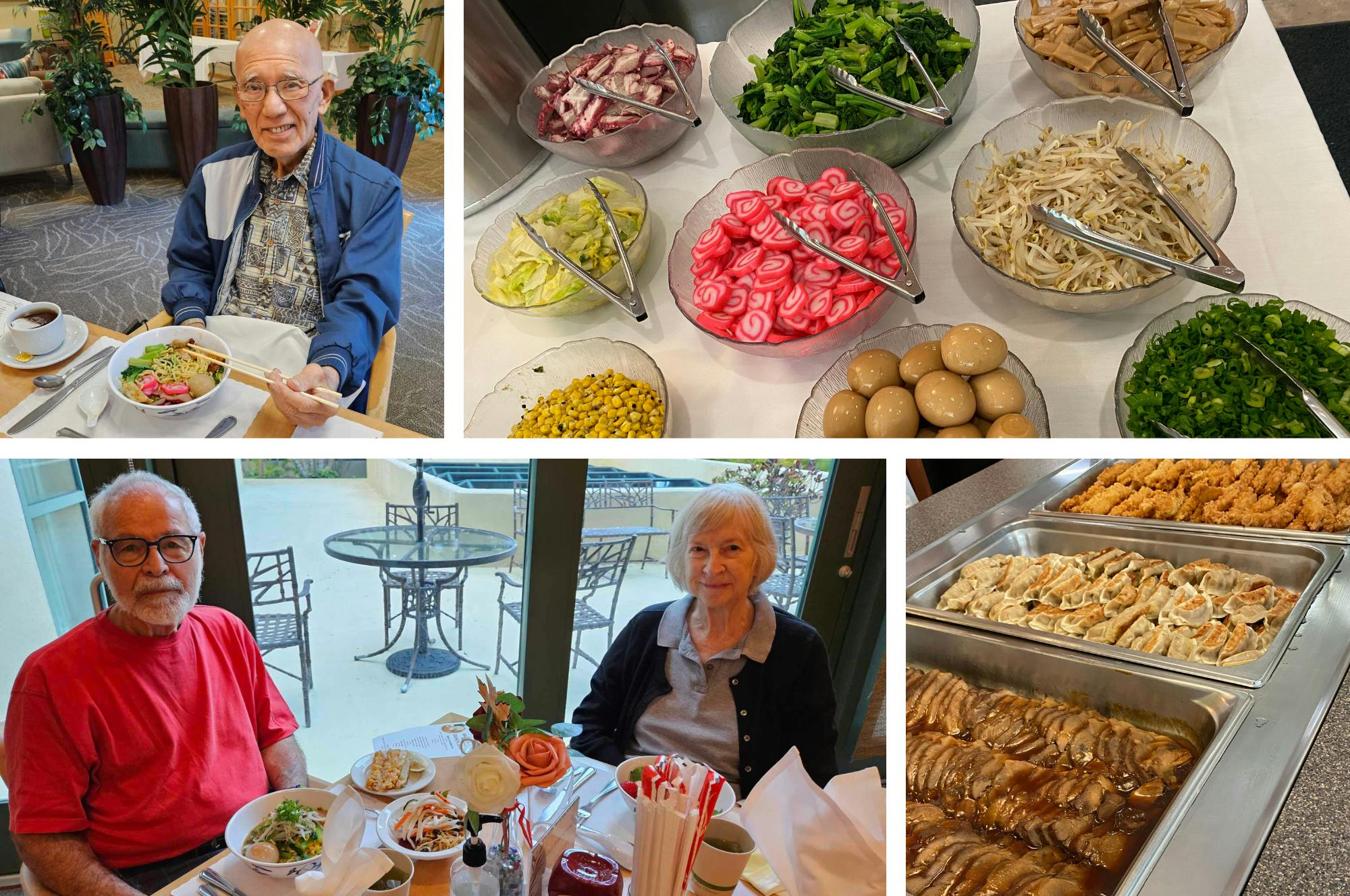 NOVEMBER 10, 2023, ISSUE 128
Hoʻomau
Renew, Perpetuate, Persevere
Ramen Bar
Last week, residents of 15 Craigside enjoyed a taste of Japan at the Na Mea Ono (The Delicious Place) Ramen Bar. The special lunch featured locally made artisan ramen noodles with a choice of miso, tonkotsu (rich pork bone), or shoyu broth. To customize their bowls, residents could choose from a variety of toppings such as mayu (black garlic oil), menma (bamboo shoots), char siu, soy marinated eggs, bean sprouts, choi sum, green onions, kamaboko and nori. In addition to ramen, shrimp tempura, Okinawan pork, and gyoza were also on the menu. To quench their thirst, residents were offered a selection of iced matcha lemonade, Japanese beer, and sake. For dessert, everyone enjoyed green tea ice cream with kinako (roasted soybean flour) dusted corn flakes and koshian (smooth red bean paste). Oishii!
Sweet, Sticky Deliciousness
Arcadians indulged in a warm and gooey treat from Cinnabon to celebrate National Cinnamon Day. As the aroma of sweetness filled the Main Lounge, many residents found the scent hard to resist and were lured to pick up a cinnamon roll. Cinnabon was started by a father and son who opened their first bakery in Seattle, Washington in 1985. Every Cinnabon cinnamon roll is made with a trademarked version of cinnamon called Makara. The spice comes from Indonesia and is more flavorful and robust than ordinary cinnamon.
Home Care Spirit Week
November 6th - 10th was National Home Care and Hospice Week and we celebrated by wearing red on Monday all across our family. Mahalo to everyone for showing your support and spirit! We are grateful for the Arcadia Home Health Services team's heart and the compassionate care that they provide to our kupuna clients.
Chicken Skin Ghost Tour
In the spirit of Halloween, Hale Ola Kino by Arcadia residents got spooked on a ghost tour of Honolulu. Narrated by Wellness Director Heidi Caldwell, the tour included haunted hotspots like Morgan's Corner, the Pali Lookout, Chinatown, the Main Post Office, the State Capitol and Iolani Palace. As they passed through each area, Heidi told a local ghost story from famous storyteller Lopaka Kapanui along with excerpts from Sandra F. Pak's book Urban Legends of Hawaii.
Sukiyaki Sing-Along
Did you ever wonder how the popular song "Sukiyaki" became a number one hit in the U.S. despite being sung in Japanese? 15 Craigside residents learned more about the artist, Kyu Sakamoto, and discovered the answer and fascinating story as told by NHK World-Japan. Afterwards, members of the Sounds of Craigside played "Sukiyaki" on their ukulele for everyone to sing along!
Mahalo, Kawika!
Did you know that the person behind the camera in many of the wonderful Arcadia excursion photos is Arcadia Shuttle Driver, Kawika Muae? Kawika not only transports residents, but also captures beautiful shots when visiting different destinations. Photos are a great way to relive our experiences and share them with others. Thank you, Kawika!
Kalani High School Volunteers
Students from the Kalani High School Career Technical Education (CTE) program's health services pathway are volunteering with 15 Craigside's Dining Services department. The program provides technical, academic and employability skills to succeed in life. In addition, CTE helps students see how their learning applies to the needs of employers.
Celebrating 15 Years of Service
The Caregiver Foundation, a Hawaii-based non-profit organization, has provided practical and emotional support to kupuna, disabled adults and their caregivers since 2008. At their recent annual fundraiser, the Arcadia Family of Companies was proud to show their support as a bronze sponsor with team members from across the family attending the celebratory event.
"Let's take a moment on Veterans Day to honor and appreciate the service and sacrifices made by our veterans. It is because of them that we are able to enjoy the freedoms we have today." - Suzie Schulberg, President & CEO