November 11, 2022
Ho'omau (11/11/22)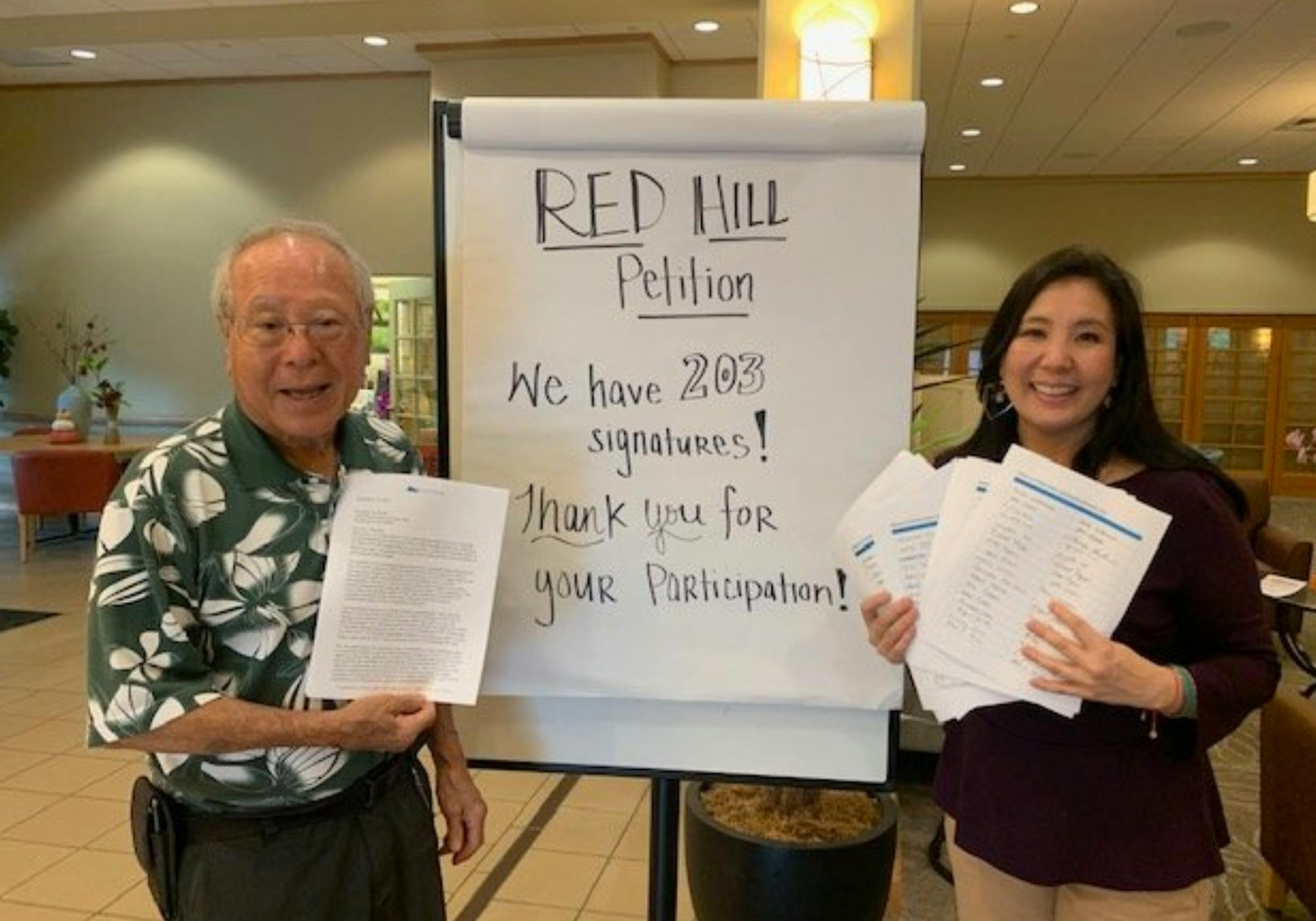 NOVEMBER 11, 2022, ISSUE 76
Hoʻomau
Renew, Perpetuate, Persevere
Sierra Club of Hawaii
The Arcadia Family of Companies was featured in Sierra Club of Hawaii's newsletter, an organization working to advance climate solutions, act for justice, get outdoors, and protect Hawaii's lands, water, air and wildlife. On October 4th, 15 Craigside residents banded together to gather over 200 signatures on a letter to President and Commander-in-Chief Joe Biden, imploring him to take further action to ensure the Red Hill crisis is treated as the existential emergency it truly is. One week later, dozens of Arcadia residents sent their own letter to President Biden. Both letters highlighted signatories' deep concerns for Hawaii's keiki—as well as their hopes for a thriving future for their children and grandchildren, which remains at risk every day that over 100 million gallons of fuel continues to be stored in Kapukaki. A special thank you to 15 Craigside residents Reverend David Nakamoto and Ms. Irene Zane, 15 Craigside Chief Operating Officer Bree Komagome, Arcadia Programs Manager Ashley Maeshiro, and Hawaii State House Candidate Garner Shimizu for their contributions to this letter campaign. May we all be inspired by our residents and all they have done and continue to do!
12th Annual Hawaii Food and Wine Festival
15 Craigside and Arcadia's Dining Services teams attended the Hawaii Food and Wine Festival at the Alohilani Resort Waikiki Beach. They enjoyed impressive dishes prepared by Iron Chef Masaharu Morimoto and a lineup of expert chefs including butterfish tacos, poke, abalone porridge and smoked salmon bone marrow. The event also served wine, sake, beer and delicious mixed drinks. They had a great time!
Core Values Fan Decorating
The 15 Craigside Core Values resident committee held a fan decorating activity. Attendees interpreted what the Core Values meant to them onto a handheld fan. Some used all the Core Values while others focused on one by pasting cut outs or drawing their unique designs. Now they can stay cool and be reminded to be understanding, humble, gentle, just, merciful, honest, peaceful and faithful.
Honest Tea
In celebration of 15 Craigside's Core Value "honest," residents and employees enjoyed a refreshing tea or smoothie from Milky Way Hawaii. The colorful truck was parked outside the Theater and offered 12 different delicious options. Some included boba (tapioca bubbles) and the smoothies were topped with shaved frozen milk. For most residents, it was something new and they loved every drop of it.
Cherry Blossom Court Visit
The Cherry Blossom Festival court members visited Arcadia to host an origami folding program. The court members walked residents through the folds and created a variety of designs including, lotus flowers, beautiful gift bows, intricate boxes and butterflies. Residents had a great time getting to know the court members and were able to take home their beautiful origami creations.
Turkey Door Decoration
Arcadia residents made turkey door crafts just in time for Thanksgiving. Attendees cut out outlines of their hands to create the turkey feathers and attached them to the back of a paper cup. They added googly eyes, beaks and feet that made each design very unique. Be on the lookout for these festive decorations hanging on their apartment doors!
Pet Therapy
Residents in the Health Care Center at 15 Craigside spent time with pet therapy dogs. Koa from Islands Hospice (left) and three-legged San-de (right) brought smiles and laughs with their unconditional love and care for our residents. Pet therapy improves your well-being with numerous emotional and physical benefits. It is a great way to boost your serotonin!
Movie Matinee Outing
Arcadia At Home watched the new romantic comedy Ticket to Paradise, starring Julia Roberts and George Clooney. On Tuesdays, Consolidated Theaters offers $10 movie tickets and $2 dollar hot dogs. Mrs. Emiko Lyovin mentioned it was her first time experiencing the upgraded theater seating. Everyone had a great time and look forward to the next movie outing!
"On this Veterans Day, let us remember the service and sacrifice of our veterans so that we can live free." - Suzie Schulberg, President & CEO