November 3, 2023
Hoʻomau (11/3/23)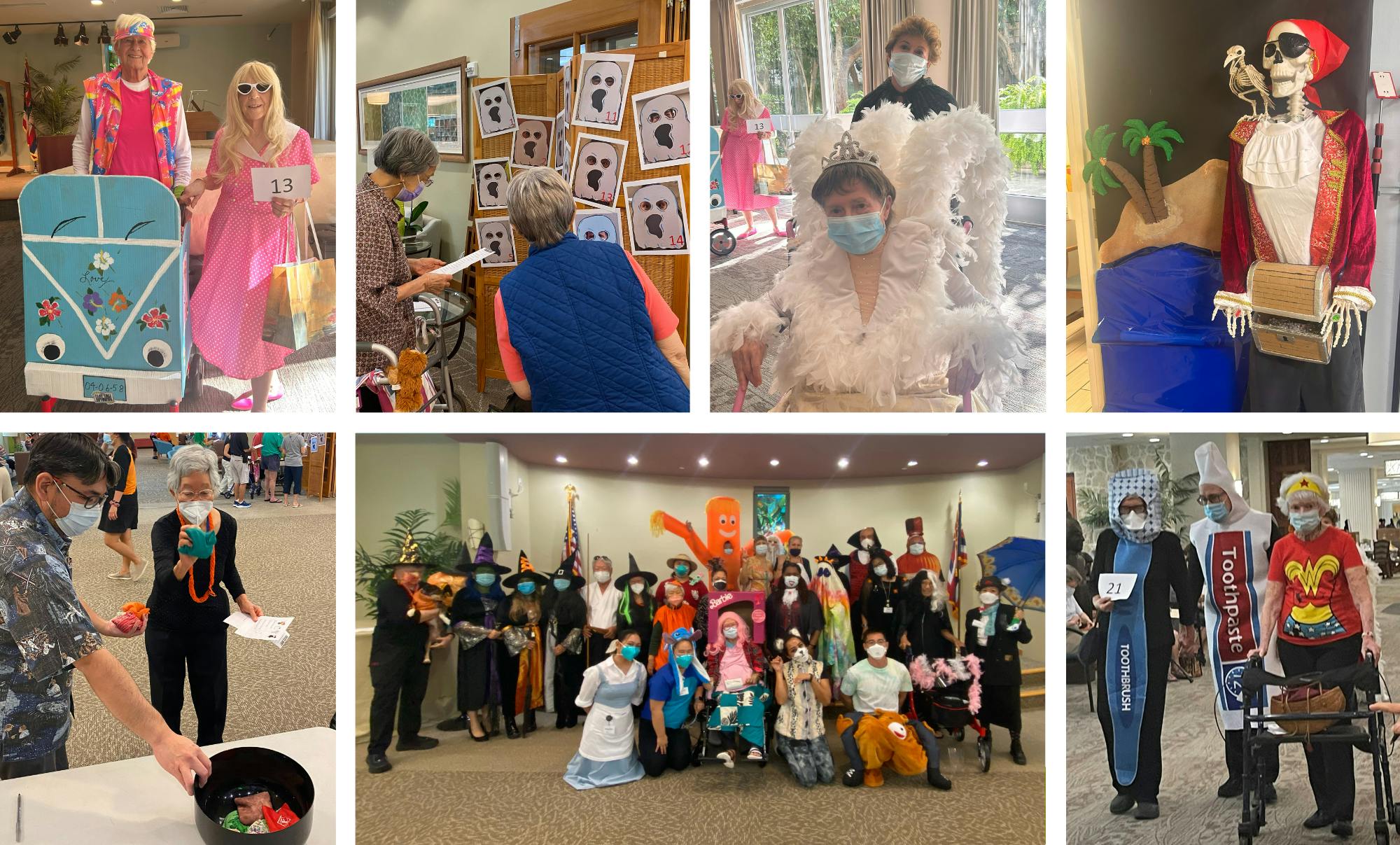 NOVEMBER 3, 2023, ISSUE 127
Hoʻomau
Renew, Perpetuate, Persevere
Halloween Happenings
15 Craigside and Arcadia were filled with frightful fun this Halloween!
15 Craigside celebrated a traditional Halloween with a festive fair and costume parade. At the fair, residents had a blast playing spooktacular games like Guess Boo (guess who's behind the ghost mask), Ghost Toss (ping pong ball toss), Monster Catch (bottle ring toss) and Bean Bag Toss. In the afternoon, residents and staff paraded through the Theater to show off their creative costumes. At Arcadia, the theme was "Pirates of the Caribbean." Staff went all out and decorated doors leading up to the holiday, and residents judged the designs in a variety of categories. On Halloween, everyone strutted their stuff on the runway for a costume contest, with residents voting for their favorites and winners walking away with awesome prizes.
It was a Halloween to remember at both 15 Craigside and Arcadia!
Halloween Fun at HOKA
Hale Ola Kino by Arcadia residents got into the spirit of Halloween by engaging in a range of exciting activities. Residents kicked off the season by crafting decor for their Dining Room centerpieces, painting leaf suncatchers, decorating pumpkins, and even making gingerbread haunted houses. On Halloween, a festive carnival was enjoyed by all with costumes, games, themed treats, and more!
Celebrating the Fall Season
Like clients from The Center, Arcadia residents also ventured to the Fall Harvest Festival at Waimanalo Country Farms. The farm started in 1948 and in 2010, its popular pumpkin patch debuted. Highlights included a hayride around the farm, selecting a small pumpkin to take home, and viewing the stunning sunflower fields. Arcadians also enjoyed tasty treats like corn, which the farm is well-known for.
Spreading Joy in the Neighborhood
Hawaii Baptist Academy second graders visited 15 Craigside for Community Day to spread good cheer throughout the neighborhood. Our Sounds of Craigside residents played Japanese children's songs while everyone joined together with hand motions and singing. The students also performed their own songs which delighted the residents. It was a truly special time and we are grateful to have such wonderful neighbors!
Gathering in Kaimuki
For October's monthly luncheon, Arcadia At Home members and staff dined at Kaimuki Shokudo. Located on 11th Avenue, the neighborhood izakaya opened in April of this year and serves delicious donburi, tempura and soba dishes.
Holoholo to Kualoa
15 Craigside residents and Health Care Center residents went on a holoholo ride to Kualoa Regional Park on the beautiful windward side of Oahu. The area boasts several tourist attractions, including Kualoa Ranch and Mokolii, also known as Chinaman's Hat.
Evacuation Drill
15 Craigside held a full building evacuation drill involving residents, employees, and volunteer staff from other locations. The drill went smoothly and resident volunteers from the Solarium to the Basement were safely evacuated in under two hours. Thank you to everyone involved for your patience, willingness to participate, and sharing your feedback.
Cedar Feeling at Home
Arcadia Family of Companies' Chaplain, Rev. Dr. George Scott, and assistance dog, Cedar, make regular visits to our communities. On a recent stop at Arcadia, Cedar decided to take a little break from her duties and rested with a blanket in the office. Mahalo to Rev. Dr. Scott and Cedar for spending time with us, making us smile and lifting our spirits!
Mahalo Nui Loa, Keleka!
15 Craigside Health Care Center Administrator, Keleka Ho'okano, served as the Interim Administrator of Hale Ola Kino by Arcadia (HOKA) since the Arcadia Family of Companies acquired operations and ownership last year. Mahalo, Keleka, for your dedication and commitment to HOKA. We appreciate your experience, knowledge, and most of all, your heart!
"Next week is National Home Care and Hospice Week. Mahalo to our teams for their incredible contributions to the lives of our residents, clients, and members. Your compassion and care are truly appreciated." - Suzie Schulberg, President & CEO