December 16, 2022
Ho'omau (12/16/22)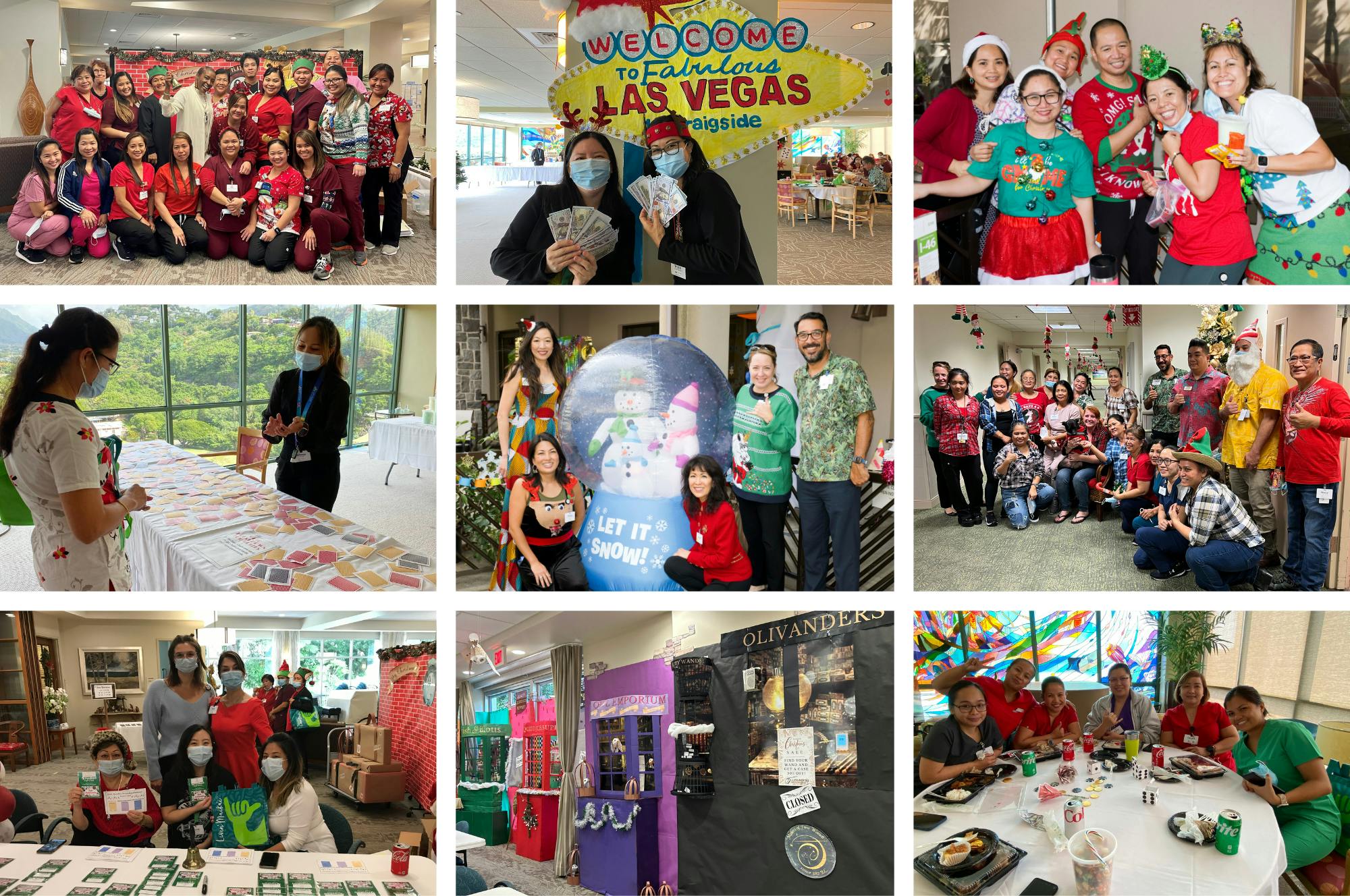 DECEMBER 16, 2022, ISSUE 81
Hoʻomau
Renew, Perpetuate, Persevere
Employee Christmas Celebrations
Mele Kalikimaka! On December 9th, The Arcadia Family of Companies' employees celebrated Christmas in-person with festive decorations, gifts, and delicious bentos from Marian's Catering. To show their appreciation, AFC presented all employees with a $25 Foodland gift card. 15 Craigside featured a Vegas theme, Arcadia featured a Harry Potter Wizarding World theme, Hale Ola Kino by Arcadia enjoyed a country Christmas, and Home and Community-Based Services had a merry and bright party. There were also raffle prizes and big lucky number winners were gifted a $100 Amazon or VISA gift card. Over 50 employees won $50 Amazon, VISA, Macy's, and Nordstrom gift cards, and $25 Target and Starbucks gift cards. It was so refreshing to see everyone enjoying each other's company after two years of not gathering together. Everyone had a great time and we look forward to next year!
Arcadia At Home Christmas Party
Arcadia At Home celebrated Christmas in the Solarium at 15 Craigside! Members and employees came together for an afternoon of food, games, and prizes. They enjoyed a variety of dishes from Asian Mix including crispy gau gee, pot roast chicken, and salt and pepper pork chops. Game winners took home chocolates, gift cards, and other fun goodies. Everyone enjoyed each other's company and spreading the holiday cheer.
The Veterans of Foreign Wars Auxiliary
The Veterans of Foreign Wars (VFW) Auxiliary 12122 Kona Hawaii visited veteran residents in the Health Care Centers at 15 Craigside and Arcadia. Arcadia resident, Mrs. Sheryl Anzai, is a volunteer at VFW and helped organize the visitation to both communities. Veterans received gifts of gratitude for their service in the United States military. Pictured on the right is 15 Craigside resident Mr. Ernest Miyagi (Air Force).
Holiday Tea with First Hawaiian Bank
First Hawaiian Bank returned to the Solarium at 15 Craigside for a special Holiday Tea. The bank employees passed out refreshments and a variety of cookies for residents to enjoy and two musicians played beautiful Hawaiian music. Santa even stopped by, and lucky residents won raffle prizes including snack gift baskets and Hawaiian quilts. Mahalo to First Hawaiian Bank for celebrating the holiday season with us!
Resident Christmas Party
The 8th floor residents at Arcadia gathered together for an afternoon Christmas party. Organized by the floor coordinators, Mrs. Ellen Chapman and Ms. Jo Uehara, residents enjoyed refreshments, drinks, and each other's company. Their Christmas tree features ornaments with pictures of the floor residents and their names. It was the perfect time to meet new residents and spend quality time together for the first time in two years.
Beautiful Sunrise
Arcadia resident Mr. Theodore Trimmer captured this beautiful photo of the Honolulu sunrise. Tropical islands generally witness a more beautiful sunrise. It's because the air pollutant particles are minimal in these areas and the light doesn't scatter as much, appearing more intense and vibrant. Arcadia residents are so lucky to have this beautiful view!
Kawananakoa Orchestra
Joy is in the air! The Kawananakoa Intermediate School's advanced Orchestra students visited 15 Craigside for a cheerful and festive performance. Residents enjoyed the soothing sounds of the string instruments playing Christmas favorites like Mele Kalikimaka, a Christmas Medley and the Chipmunk Song (Christmas Don't Be Late).
Christmas Lights Craft
Clients at the Arcadia Adult Day Care at Central Union Church made adorable Christmas lights! Each client designed a cardboard Christmas light and added their individual creativity and personal touches. Fun fact: Thomas Edison is responsible for the first Christmas lights display. In 1879, he laid out eight miles of light and joy throughout Downtown Manhattan.
"Mahalo nui to everyone for making the four in-person Christmas Celebrations this past Friday (15 Craigside, Arcadia, Hale Ola Kino by Arcadia and Home & Community-Based Services) a success! It was wonderful to see connection, hear laughter and feel the energy of people being together." - Suzie Schulberg, President & CEO