December 23, 2022
Ho'omau (12/23/22)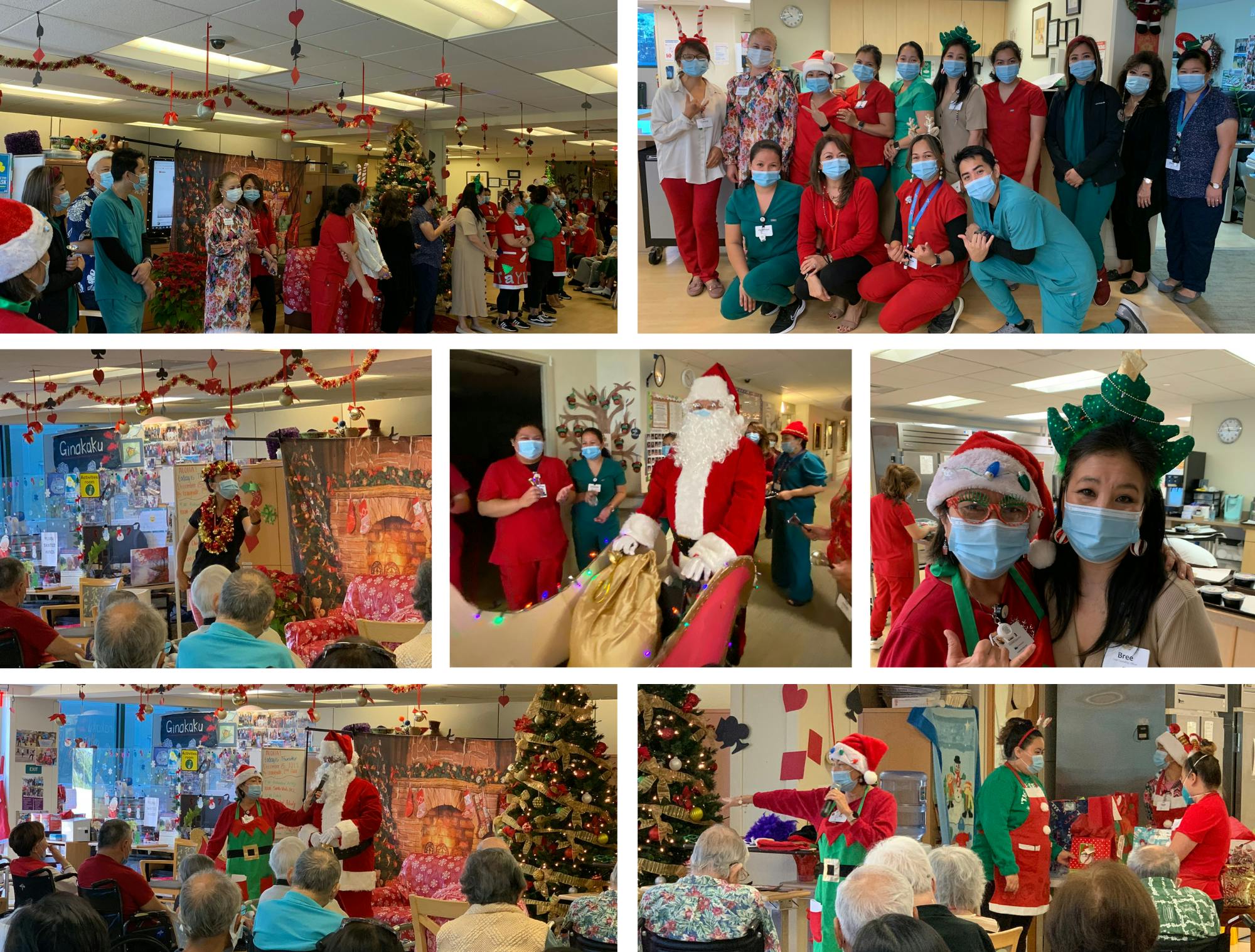 DECEMBER 23, 2022, ISSUE 82
Hoʻomau
Renew, Perpetuate, Persevere
Happy Holidays!
The Health Care Center at 15 Craigside had a great time at their Christmas party! Residents and employees gathered together to spread Christmas cheer and enjoy each other's company. Wellness Trainer, Kawai Crisostomo, performed a hula and Environmental Services Supervisor, Ted Cuizon, dressed as Santa Claus. Every resident received a gift from Santa and took a photo with him. Family members were also in attendance, which made this event even more memorable. Everyone had an amazing time and will look forward to next year's celebration!
Christmas Aloha Hour
Happy Holidays! Arcadia's hula group put on a special Christmas performance during this month's Aloha Hour. They danced to Christmas songs and even had special guests, the kane dancers. The Christmas-themed Aloha Hour featured delicious food, snacks, and drinks. The Main Lounge was filled with happiness, joy, and laughter as the audience sang and danced along with the performers.
Steptaculars and Brian Date
Live entertainment is back! Arcadia Adult Day Care at Central Union Church clients enjoyed a holiday performance by the Steptaculars, an all-female group. The Steptaculars are young at heart dancers who perform tap, jazz, and Broadway dance numbers. In addition to the Steptaculars, clients also enjoyed music by their longtime friend, Brian Date, who returned to perform classical Christmas songs.
Honolulu City Lights
Residents from 15 Craigside's Health Care Center visited the Honolulu City Lights. They really enjoyed seeing all of the festive decorations, old and new. The Honolulu City Lights started when Mayor Frank F. Fasi created a free event that included a lighted tree, holiday concert, and displays of lights on the trees and buildings. The first official tree lighting ceremony was held on Thursday, December 12, 1985.
Keiki Kani Concert and Y. Hata Carolers
Music filled the air in the Theater at 15 Craigside! The Keiki Kani Choir performed fun, upbeat tunes with dancing, and were accompanied by the Waipahu Strummahs 'N Hummahs ukulele group. Additionally, the Y. Hata Christmas Carolers dropped by the Lobby to sing a few Christmas favorites. The residents joined in with singing and clapping to the beat, it was the perfect way to celebrate the upcoming holidays.
Punahou School Christmas Carols
Punahou's Case Middle School students, led by Reverend Lauren Medeiros, visited Arcadia to sing Christmas carols for the residents. The origin of Christmas carols dates back to the 14th century when Christianity began spreading across Europe. The first carols were produced and performed by Franciscan Friars, who were followers of Saint Francis of Assisi.
Hot Chocolate and Eggnog
We love sweet treats! Residents at 15 Craigside enjoyed a cart service with festive hot chocolate or eggnog topped with whipped cream! It was the perfect treat to warm the soul and get in the holiday spirit. Afterwards, many residents loaded the shuttle to see the beautiful Honolulu City Lights. What a fun night filled with Christmas festivities.
Jam 4 Jesus
Hawaii Baptist Academy's Jam 4 Jesus students came to the Health Care Center at 15 Craigside to sing Christmas songs, and deliver handmade cards and ornaments. The residents loved their performance and enthusiasm for the holiday season. Jam 4 Jesus is an extra-curricular praise and worship band, for students in grades kindergarten through six.
"Christmas is the season of joy, giving and spending time with family and friends – enjoy and cherish it. On behalf of the Arcadia Family of Companies, wishing you and your 'ohana a Mele Kalikimaka!" - Suzie Schulberg, President & CEO