December 30, 2022
Hoʻomau (12/30/22)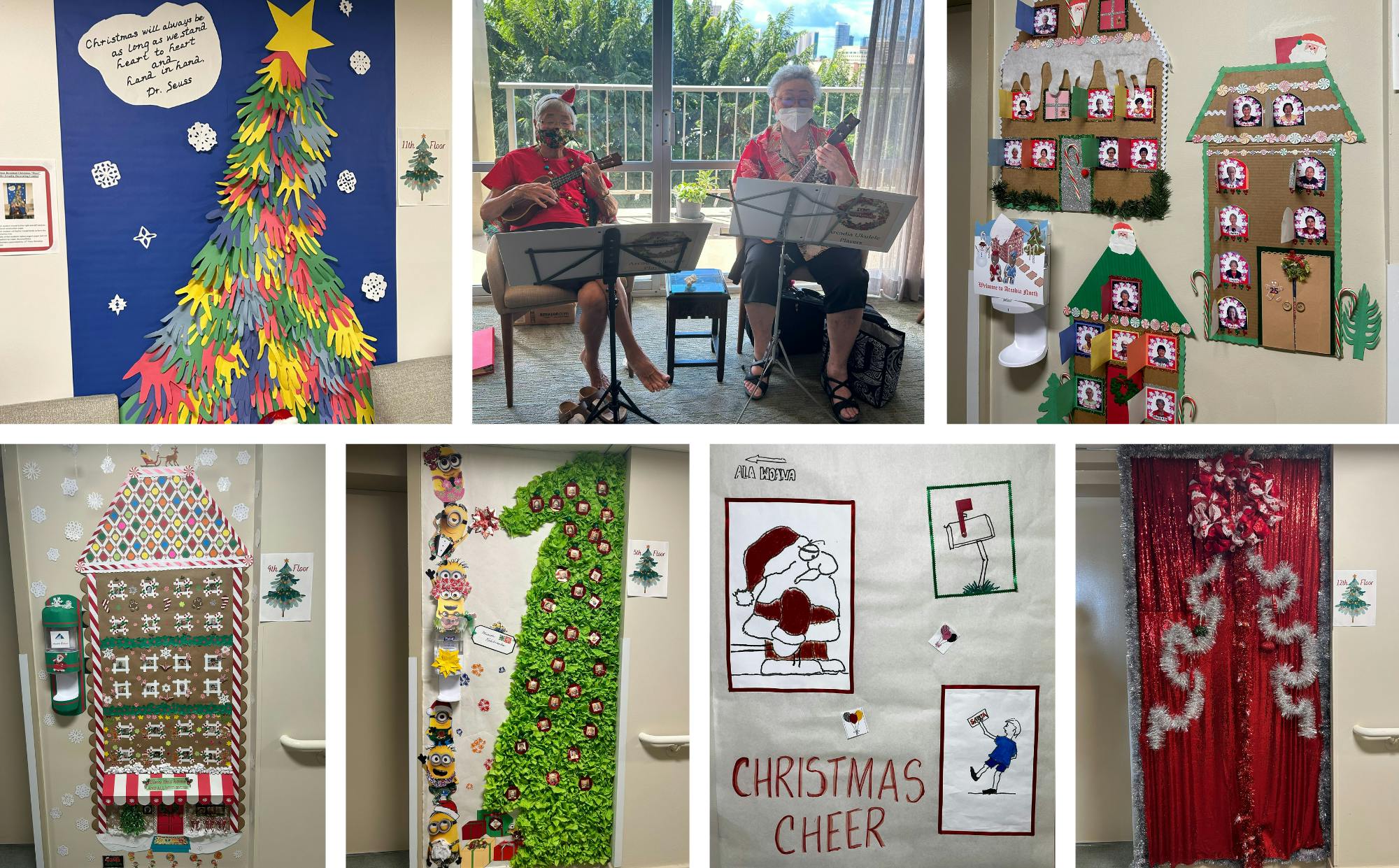 DECEMBER 30, 2022, ISSUE 83
Hoʻomau
Renew, Perpetuate, Persevere
Holiday Open House at Arcadia
Arcadia residents held an open house on December 22nd to welcome their neighbors and staff to drop by and view decorated doors and other holiday decor in their floor lounges.
To get into the spirit of the season, a resident "door" decorating contest was held on wall spaces near the entrances of the floor lounges. Six floors participated and showed off their creativity as seen in the variety of festive designs. Employees explored each floor and voted for their favorites.
During the open house, 6th floor residents provided refreshments of pastries, rum punch and regular punch as well as entertainment for those that stopped by. Residents Ms. Amy Taniguchi (top center photo, left) and Ms. Lauretta Gum (right) played the ukulele and sang Christmas songs to put everyone in the holiday mood!
15 Craigside's Christmas Program
After months of practice and preparation, 15 Craigside's very own ukulele group and singers entertained everyone with a wonderful Christmas program. Two drummers kept the beat, singers shook bells to the rhythm, and the ukulele players strummed in unison. It was so special for the residents to be able to perform together again in front of friends. The performance concluded with "Hawaii Aloha," where the audience joined in holding hands and singing together.
Gingerbread House Decorating Contest
For the second year in a row, Arcadia held a gingerbread house decorating contest in which residents were able to compete individually or as a team. Programs supplied everything needed but contestants were also able to bring their own decorations to add unique touches. Everyone had a blast expressing themselves during the friendly competition. Once completed, the gingerbread houses were put on display for other residents and staff to vote on. The first place gingerbread house was designed by Ms. Bobbie Aisaka and Mrs. Rose Miller (right photo)!
Delivering Joy to Kupuna
Kaneohe Bay Navy Corpsman, Meghan Munson (left photo, center), generously donated Christmas gifts to The Center's clients. She had seen a similar act of kindness being done in her Florida hometown for nursing home patients and wanted to do the same for the kupuna in her community. Although she planned to rally her co-workers to donate items as well, it didn't work out due to tight restrictions within the Navy and she ended up purchasing all the gifts on her own. Meghan stopped by and handed out a gift to each client and they were all so happy to receive something!
Also making spirits bright were the 8th grade students from Maryknoll School who dropped off beautifully decorated Christmas cards with handwritten notes to Arcadia residents (right photo). The cards were delivered to each floor to be enjoyed by all.
Mahalo, Meghan and Maryknoll - your thoughtfulness really warmed our hearts!
Voices of Aloha
Voices of Aloha visited both 15 Craigside and Arcadia during the holiday season and entertained residents with beautiful Christmas-themed performances. The choir is comprised of about 30 members who span a range of ages and backgrounds. Their unifying passion is a love of music and singing. Did you know that Arcadia resident Ms. Amy Taniguchi is a choir member? Thank you, Ms. Taniguchi and Voices of Aloha for sharing your talents with us!
Cheery Christmas Craft
At the Arcadia Adult Day Care Center at Central Union Church, there's always an abundance of crafts to celebrate the seasons! Ahead of Christmas, clients made brightly-colored wooden ornaments perfect for hanging on trees or using as holiday decor. Each one-of-a-kind piece was topped with a star and adorned with sparkly sequins.
Season of Giving
The Home and Community-Based Services (HCBS) team generously donated 20 gifts to kupuna in the community through the Salvation Army's Angel Tree. The special Christmas wish from each kupuna included a fan, toaster oven, purse, backpack and more! Thank you, HCBS for helping those in need feel the magic of Christmas during this special time of year!
Tapping Into the Holidays
On December 17th, Aloha Tap Co. visited Arcadia and entertained residents with an amazing holiday tap dance performance. Students ranging from ages 12-18 wowed the audience with their rhythm, musicality, and showmanship! Initially a fusion of British and West African musical and step-dance traditions in America, tap emerged in the southern United States in the 1700s.
"Hauoli Makahiki Hou! May the new year bring you peace, prosperity and happiness." - Suzie Schulberg, President & CEO