February 17, 2023
Ho'omau (2/17/23)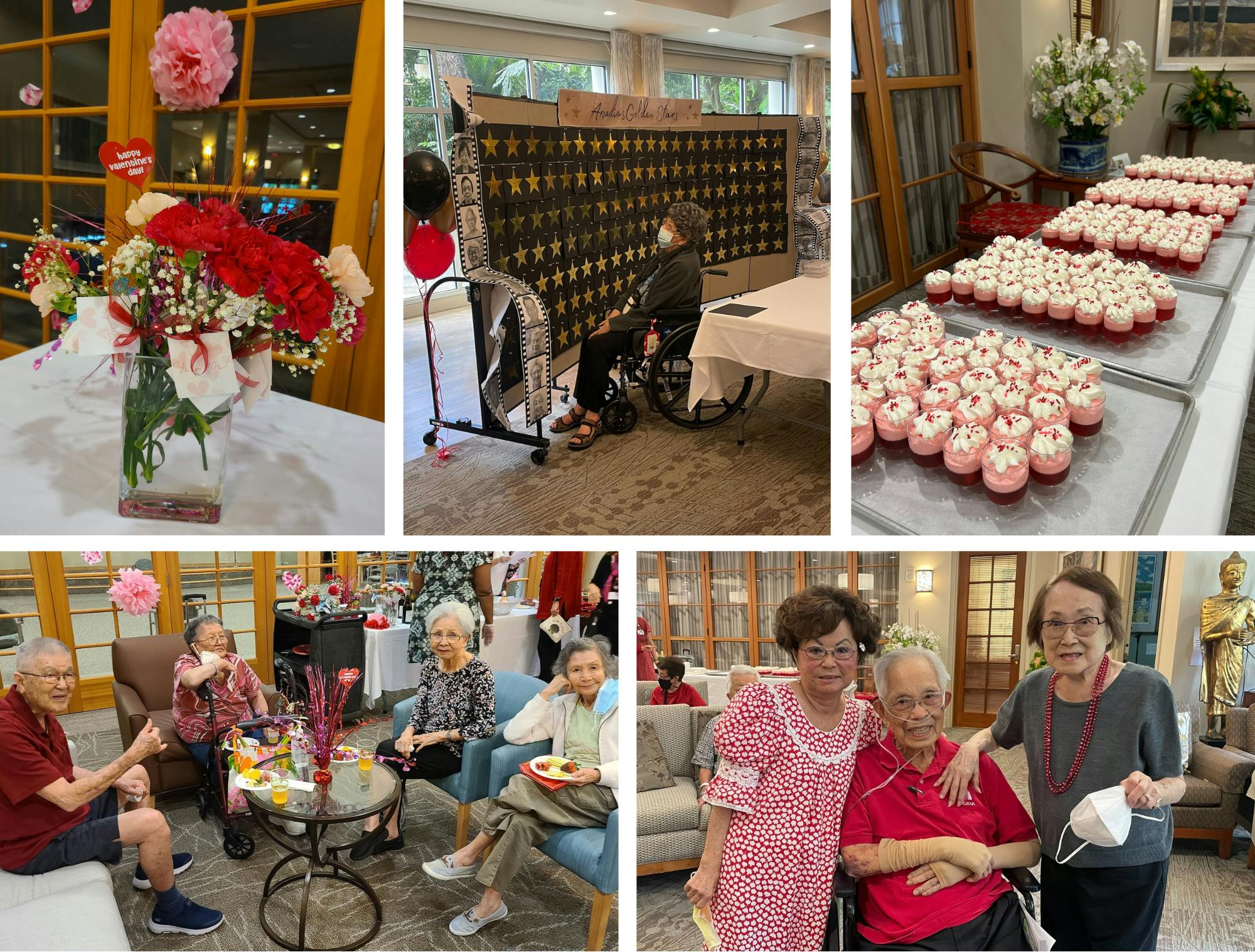 FEBRUARY 17, 2022, ISSUE 90
Hoʻomau
Renew, Perpetuate, Persevere
Yay 90s and Golden Stars!
On Valentine's Day, 15 Craigside and Arcadia celebrated residents turning 90 years or better in 2023! 15 Craigside held their first "Yay 90s" in the Lobby where everyone was invited to join. There were chocolate-covered strawberries, pepperoni and salami in the shape of roses, cheese, crackers, and beverages. Residents who are 90 or better received a beautiful carnation with baby's breath. Formerly the "Gay 90s," Arcadia held their first "Golden Stars" program in the Main Lounge. Each resident was recognized and honored with a golden star on the wall of shining stars. Attendees enjoyed the refreshments which included a Valentine's Day-themed Jell-O parfait. It was so refreshing to come together and honor our residents who have surpassed this incredible milestone!
Valentine's Day Tea Party
Hale Ola Kino by Arcadia celebrated love with a fancy tea party! Residents enjoyed hot tea and delicious desserts including chocolate-covered fortune cookies, pink vanilla petit fours, frosted brownies, cookies, and heart-shaped veggie straws for those watching their sugar intake. Everyone loved getting dressed up and sharing their piece of advice about long-lasting love.
Chocolate Truffle Decorating
On Thursday, February 9th, residents at 15 Craigside celebrated Chocolate Day! Participants rolled and decorated their own chocolate truffles with nuts, sprinkles, and peanut butter. One resident showed his Valentine's Day spirit and molded the truffles into little hearts! French patissier, Louis Dufour, created chocolate truffles because he ran out of ideas for Christmas treats and decided to try something new.
National Pizza Day
To celebrate National Pizza Day, 15 Craigside residents had a cheesy and sauce-filled lunch service. They had a choice between a slice of supreme or vegetarian pizza and a soda. Pizza arrived in the United States in the early 20th century, along with waves of Italian immigrants who settled primarily in the large cities of the northeast. It got a boost of popularity after soldiers stationed in Italy returned from World War II.
Super Bowl Party
Residents at Hale Ola Kino by Arcadia put their game faces on for the largest matchup in sports. Everyone watched the game while enjoying chips and dip, pretzels, cookies, and refreshing root beer. In addition, they were given a tiny foam finger to wear and wave around. According to the United Food and Commercial Workers Union, Super Bowl Sunday is the second highest day of food consumption after Thanksgiving!
Football Sunday Service
Did you root for the Kansas City Chiefs or the Philadelphia Eagles? On Super Bowl Sunday, Arcadians were treated with a delicious spread of mochiko chicken, poke, boiled peanuts, beers, sodas, and more. Some residents gathered in the Chapel to watch the game while others decided to enjoy it in the comfort of their apartments. Everyone had a great time!
Tune In On Monday!
Hale Ola Kino by Arcadia will be featured on HINow! The air dates are Monday, February 20th, between 7:00-7:45am and Saturday, February 25th, at 6:00pm. Yoga ball drumming is one of the activities highlighted. It combines exercise, music, and rhythm to improve one's physical and mental well-being. We look forward to next week's news segment!
Annual Cupid Crew
15 Craigside's Health Care Center and Arcadia received hundreds of roses from AARP's (American Association of Retired Persons) 10th Annual Cupid Crew, a nationwide effort to connect with older adults. Special thanks to Lee Henry-Chang, Arcadia Resident Services Manager, and Leilyn Yamamoto, 15 Craigside Programs Manager, for coordinating with AARP!
"This Valentine's Day, we celebrated residents at 15 Craigside and Arcadia who are and will be 90 years old or better in 2023. Thank you to our residents, clients and members for sharing your extraordinary lives and amazing experiences with us!" - Suzie Schulberg, President & CEO