March 17, 2023
Ho'omau (3/17/23)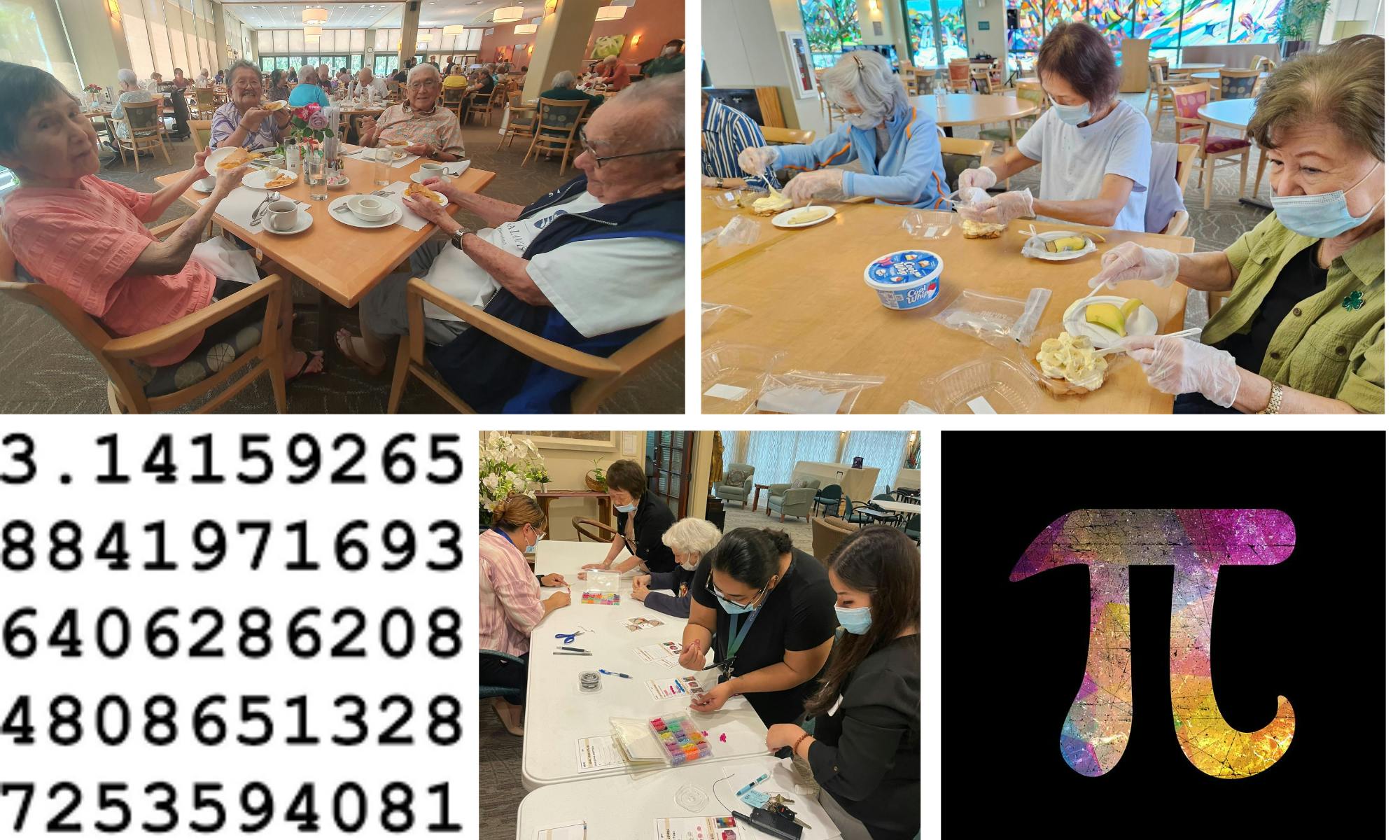 MARCH 17, 2023, ISSUE 94
Hoʻomau
Renew, Perpetuate, Persevere
National Pi Day
15 Craigside and Arcadia celebrated National Pi Day with some fun festivities! Residents at 15 Craigside made deconstructed banana cream pies. They layered vanilla wafers, vanilla and banana pudding, and topped it with whip cream and banana slices. In addition to the activity, residents enjoyed a pie service with a slice of pear peach pie from Hawaiian Pie Company in the Dining Room. Arcadia celebrated the day making pi themed bracelets. Residents and staff were invited to make their own unique accessory using colorful beads. Participants picked their colors and number of beads based off of the digits of pi (3,1,4,1,5,9). National Pi Day is an annual celebration of the mathematical constant and is observed on March 14th since three, one, and four are the first three significant figures of the symbol. What exactly is pi? Pi is the ratio of a circle's circumference to its diameter. After measuring circular objects for thousands of years, it has been determined that a circle is a little more than three times its width around, hence the infinite value as seen above in the bottom left photo.
National Corn Dog Day
To celebrate National Corn Dog Day, Arcadia residents enjoyed mini corn dogs, served with ketchup and mustard! Corn dogs have been around for less than 100 years, yet the creator of this American favorite is still unknown. In 1942, corn dogs gained tremendous popularity when Neil and Carl Fletcher decided to start selling "corny dogs" at the Texas State Fair, but the yummy snack had been around decades before.
Saint Patrick's Day Fun
Hale Ola Kino by Arcadia is getting ready for Saint Patrick's Day! Residents created and decorated miniature leprechauns to be used as centerpieces in the Dining Room. In addition, they were asked, "what would you do with a pot of gold?" and the answer was written and hung on the wall for additional decorations. The original Irish name for leprechaun is "lobairsin" meaning "small-bodied fellow."
Brain Awareness Week
March 13th-19th is Brain Awareness Week! Home and Community-Based Services (HCBS) staff participated in physical and mental activities including a memory matching game, brain knowledge quiz, and cardio exercise led by Claire Bailey, HCBS Clinical Manager and Certified Physical Trainer. Brain Awareness Week is a global campaign to increase public awareness of the progress and benefits of brain research.
Steakhouse Night
Residents at Arcadia were delighted with a special steakhouse night! The Dining Room was decorated to reflect the look and feel of a real steakhouse. Everyone loved the mouthwatering steak, along with salad and other sides. Did you know tenderloin is the most expensive cut of steak because it only makes for one percent of the total cow!
Little Big Band
Little Big Band visited Arcadia to perform song favorites from the 40's and 50's. Residents enjoyed the lively, energetic, and nostalgic entertainment, some residents even got up to dance! The band is known for their big sound, inspired by classical swing, jazz, and Latin genres. The most popular dance styles of this time were swing, rumba, samba, and foxtrot!
Lucky Paintings
Clients at the Arcadia Adult Day Care at Central Union Church used watercolor to create beautiful March paintings! Why is the four-leaf clover considered lucky? One legend is when Adam and Eve were leaving the Garden of Eden, Eve is said to have plucked a single four-leafed clover and this religious connection has led people to believe it brings good luck!
Nancy Shoop-Wu Students
Music is in the air! Two brothers who attend Punahou School performed in the Main Lounge at Arcadia. They are violin students of Nancy Shoop-Wu, a violinist with the Hawaii Symphony. She does a brilliant job using the "voice" of her instrument to sing of the beauty that is found in Hawaii. Nancy is known for her strong compositions and genuine emotion.
" This week we celebrated our Administrators, Social Workers and Dietitians across the organization! Mahalo nui to these compassionate individuals for their commitment and dedication to providing the best quality care and services to our kupuna!" - Suzie Schulberg, President & CEO