April 14, 2022
Hoʻomau (4/14/22)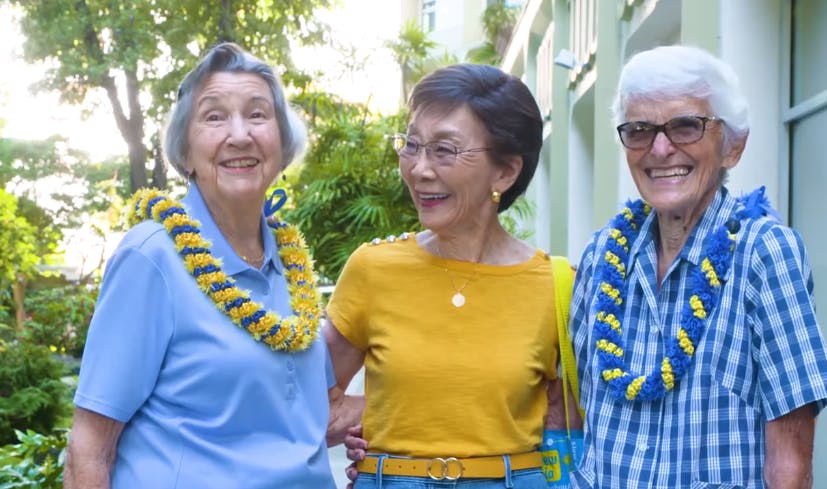 APRIL 14, 2022, ISSUE 46
Hoʻomau
Renew, Perpetuate, Persevere
Lasting Friendships
Arcadians and Punahou School alumna, Mrs. Vonnie Turner, Mrs. Elva Yoshihara and Mrs. Peg Foster showed their buff 'n blue spirit by participating in video promoting the school's Giving Day. The wonderful piece celebrating their special connection was featured on Punahou School's Instagram page on April 7th.
The three ladies graduated from Punahou nearly 75 years ago in 1948 and have maintained their friendship over the years. They have become even closer since moving into Arcadia and often enjoy meals together. All three are also longtime donors to the school's Punahou Fund that supports every student, teacher, program and facility, ensuring that Punahou's tradition of innovation and excellence endures. As the group beautifully summed up, "Punahou brought us together. Punahou is family. Punahou is home."
Easter Bunny Stamping
The Arcadia Adult Day Care Center clients made Easter art out of recycled cardboard tubes. The tubes were dipped in paint and stamped to create cute bunnies complete with big ears. Check out the variety of faces that the clients added to make them their own. Thank you to Anela Bartels, Activities Coordinator, for always finding unique ways to celebrate the holidays. Hoppy Easter everyone!
Save & Share Easter Cards
As a part of the Save & Share program of using recycled holiday cards, 15 Craigside residents like Ms. Shigeyo "Amy" Baba have been working on Easter cards for the 2nd Floor Health Care Center. By using strips of recycled cards, they pieced together unique designs in the shape of an Easter egg. The residents can't wait to share these with a heartfelt Easter message to their friends on the 2nd floor!
Easter Egg Bunny Bookmarks
15 Craigside residents used the egg-shaped cutouts from the Save & Share Easter cards to create adorable Easter egg bunny bookmarks. What a clever way to transform the egg! After decorating their egg, cute bunny feet and ears were added. The bookmarks will surely come in handy when saving their spot in the current book they're reading! Pictured are Mrs. Ann Kealoha (left) and Mrs. Margaret Murakami (right).
Easter Baskets
The Arts and Crafts Committee at Arcadia hosted an Easter basket-making event led by Mrs. Sheila Black. Residents chose between cloth or tissue paper for the main part of the basket and embellished them with various ribbon, appliques, stickers and more. After decorating, residents filled their baskets with grass and chocolate eggs.
Happy Birthday, Mrs. Boyer!
Mrs. June Honda shared this photo of outstanding Arcadian, Mrs. Marge Boyer on her birthday with husband, Dr. Carl Boyer. Mrs. Honda writes, "There are several wives here who can be seen supporting and caring for their husbands. I feel that they are wonderful examples and they in-spire me to be a better wife and person in general. Happy Birthday, Marge!"
Easter Suncatchers
Clients at the Arcadia Adult Day Care and Day Health Center at Central Union Church celebrated the season by making colorful egg-shaped suncatchers. Small pieces of tissue paper were used to create the look of stained glass. The lovely suncatchers could be attached to a glass window or door for a festive decoration just in time for Easter!
Easter Lily Display
Arcadia residents were able to purchase a lily plant for Easter and donate or dedicate it to someone special. The lilies smell lovely and adds Easter cheer to the Main Lounge for all to enjoy. Thank you to the Programs team for creating the beautiful display! Did you know the Easter lily is native to the Ryukyu Islands of southern Japan and symbolize new life and new beginnings?
"Celebrate this Easter with a heart filled with love and peace. Wishing you a wonderful Easter with your ohana." - Suzie Schulberg, President & CEO