April 21, 2023
Hoʻomau (4/21/23)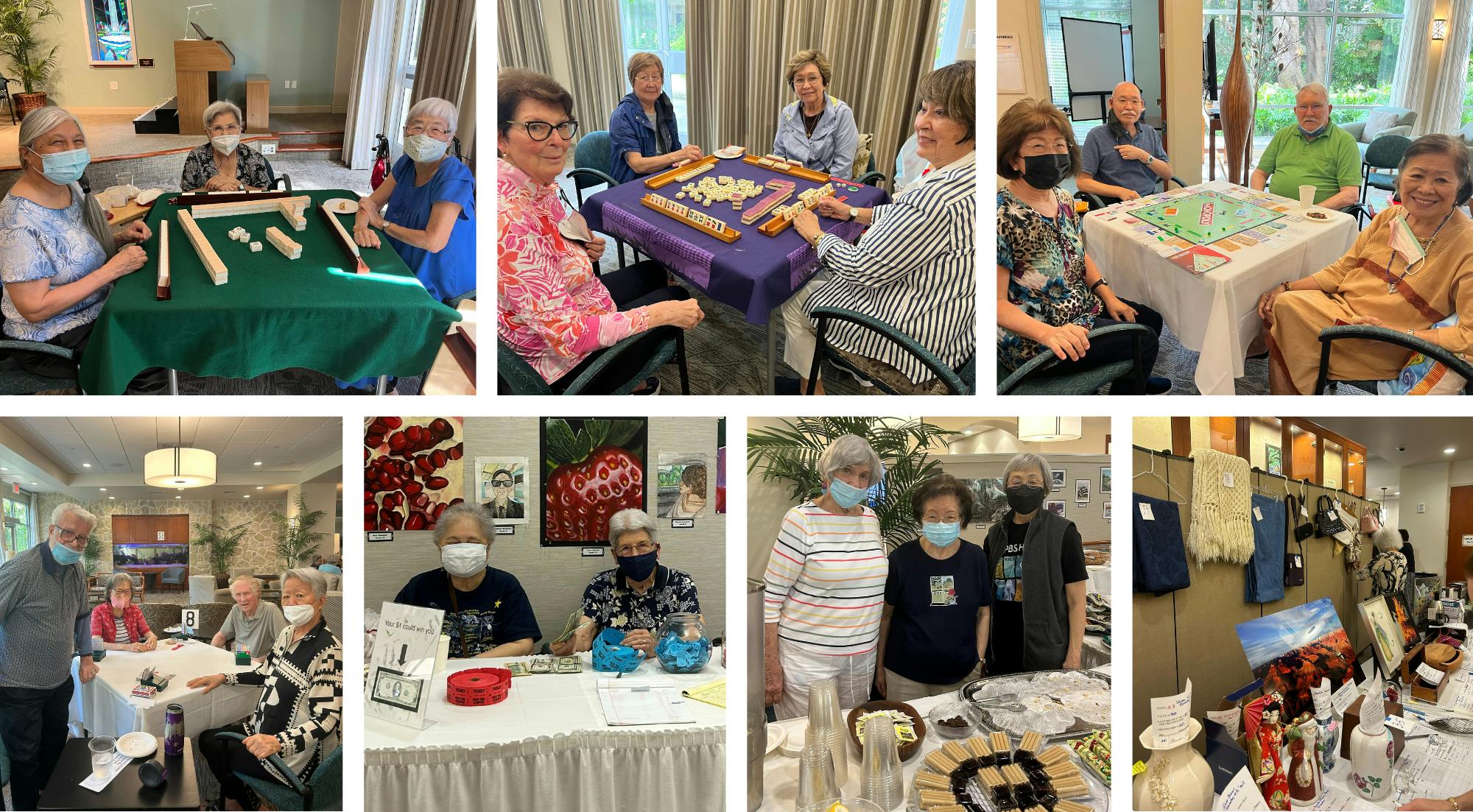 APRIL 21, 2023, ISSUE 99
Hoʻomau
Renew, Perpetuate, Persevere
Card/Games Party
On Thursday, April 13th, Arcadians turned up the fun for the 2023 Card/Games Party! This special annual event raises funds for resident committees and is the only Arcadia Residents' Association (ARA) fundraiser.
For a small donation, all were welcome to enjoy games, prizes and snacks. Games including bridge, mahjong, hanafuda and Monopoly were available to play along with a spread of treats to munch on. Residents and employees also tried their luck by purchasing a $1 raffle ticket for a chance to win $100! Congratulations to the one lucky resident and one lucky employee with the winning tickets. Everyone was also able to bid on an assortment of treasures such as bottles of wine, artwork, décor, quilts, purses, household items, and more at the silent auction.
Mahalo to the residents and Programs team at Arcadia for a successful Card/Games Party. Everyone is looking forward to more fellowship, food, and friendly competition next year!
CPR and AED Awareness Event
Residents at 15 Craigside attended a CPR (cardiopulmonary resuscitation) and AED (automated external defibrillator) awareness event presented by the AED Institute of America and Kids 4 CPR nonprofit foundation. Participants were educated on the difference between a heart attack and cardiac arrest, learned about compression-only CPR, and how to use an AED device. Some residents even practiced these skills on CPR manikins. Even if they are unable to do compressions, they now have the knowledge to help if there is an emergency. A special thank you to resident Mrs. Sharon Maekawa for organizing and presenting this important event!
More CPR and AED Training at HCBS
Like 15 Craigside, Home and Community-Based Services hosted a CPR and AED training session for Arcadia At Home members, and Arcadia Adult Day Care Center and Arcadia Home Health Services clients' families. Also included in the event at Central Union Church was an informative safe falling lesson by Kupuna Aikido and a stretching class led by AFC Wellness Manager Jody Takata. Mahalo again to 15 Craigside resident, Mrs. Sharon Maekawa, for helping to coordinate this training to make us safer and ready to respond to cardiac emergencies.
Homemade Blueberry Pastries
Arcadians took part in a fun baking activity and made blueberry toaster pastries. Residents were supplied with pie crusts that they filled with delicious blueberry pie filling and sealed. After baking, some finished their creations with a pretty blueberry glaze for the ultimate sweet treat.
National Pet Day and Woofing You a Happy Birthday!
In the spirit of National Pet Day on April 11th, Hale Ola Kino (HOKA) made doggie toys during their Crafts and Creations class. Using donated t-shirts, residents simply braided strips together to create a toy for dogs to play tug-of-war with. HOKA plans to donate the finished products to the humane society and other animal shelters. Li'i, HOKA's "Joy Ambassador," gave the toys her seal of approval.
In more doggie fun, Lokahi, who has been HOKA's other "Joy Ambassador" since she was six months old, recently celebrated her third birthday with the residents. She and Li'i enjoyed dog-friendly treats while everyone else partook in human-friendly cupcakes. Happy birthday, Lokahi!
Robot Technology
The Arcadia Family of Companies strives to stay up-to-date with the latest technology. Take a look at the latest innovation - a robot in the Dining Room! If implemented, the robot will not eliminate employee positions but rather enhance the customer service experience. The robot would assist in delivering orders and/or help with the bussing of tables. Amazing!
Back-To-Basics Privacy Training
Arcadia Home Health Services (AHHS) aides completed a back-to-basics privacy training. Mahalo to Mimi Andrian, AFC Director of Compliance, Compensation and Benefits, for completing the training and AHHS Administrator Jenelle Honbo, AHHS CNA Manager Mae Young, and AHHS Client Services Manager Arlene Lui, for completing the department-specific training.
Papana Jazz Ensemble
April is Jazz Appreciation Month! In honor of one of America's earliest and most iconic art forms, Arcadia welcomed the United States Air Force Band of the Pacific's Papana Jazz Ensemble back for a dazzling performance. Their lively tunes are music you can dance to and some residents rose to their feet to do just that! Mahalo nui loa for entertaining us!
"The Arcadia Family of Companies recently held Service Anniversary Luncheons to celebrate and honor our employees who marked 1, 5, 10, 15, 20, 25, 30, 35 and 40 years of service in 2022. Please join me in expressing our heartfelt gratitude for their dedication!" - Suzie Schulberg, President & CEO