May 6, 2022
Hoʻomau (5/06/22)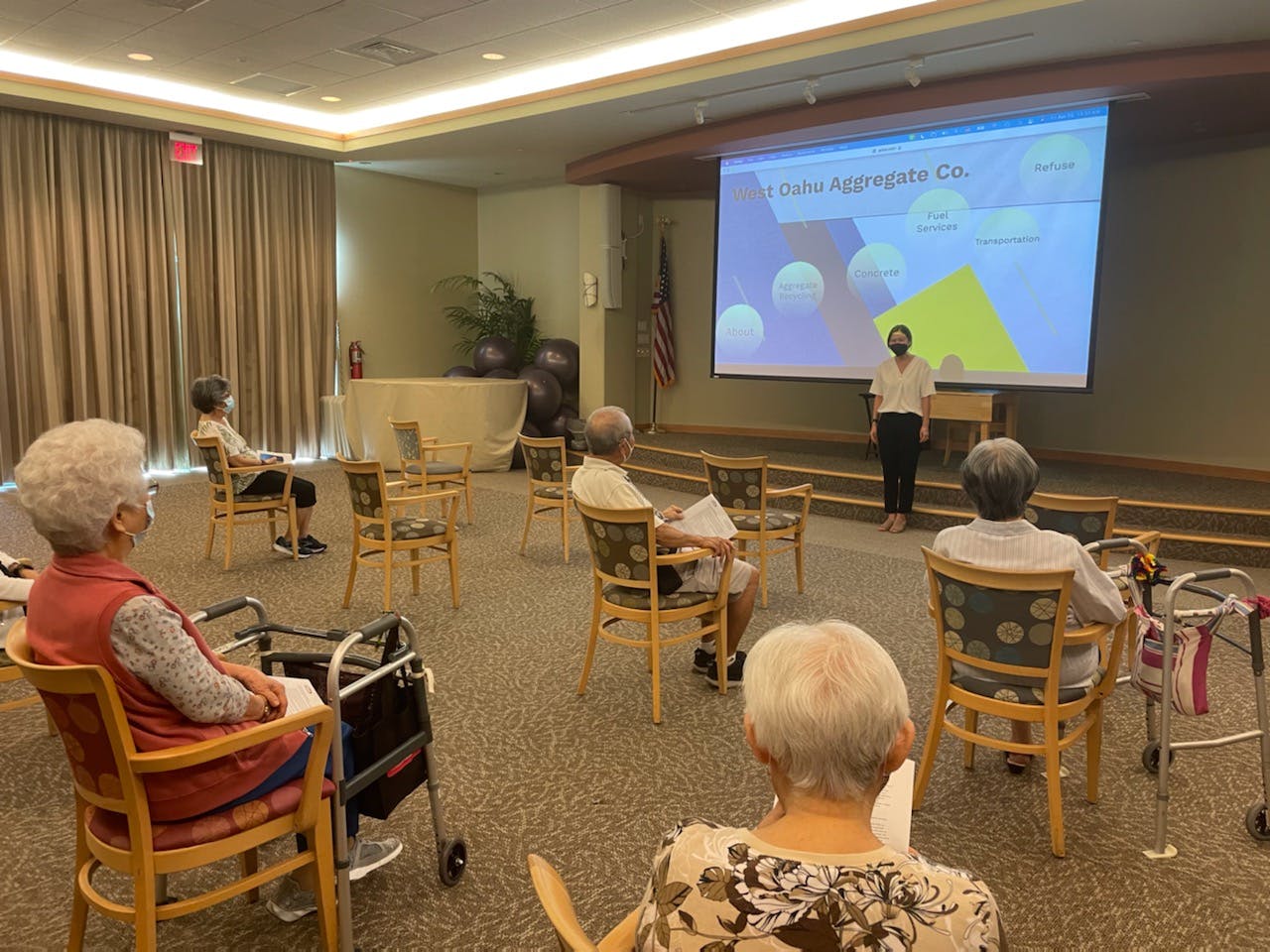 MAY 6, 2022, ISSUE 49
Hoʻomau
Renew, Perpetuate, Persevere
Trash and Recycling Presentation
In honor of Earth Day last month, 15 Craigside hosted a presentation by West Oahu Aggregate, the community's trash and recycling service provider. Residents learned about the company's services and how waste management helps the overall recycling efforts of the state. Topics included: where trash goes, how it is processed, and which plastics are recyclable. Special thanks to guest speaker, Jill Kono, who happens to be the daughter of Joyce Nishikawa, AFC Executive Assistant.
Lunalilo Scholar, Benedict "Benny" Corpuz
Benny Corpuz is a Lunalilo Scholar and has been a CNA in Arcadia's Health Care Center since November 2021. The Lunalilo Scholars Program is an opportunity for non-college bound students to transform their lives through education at Kapiolani Community College. The program was designed to uniquely serve and support students who demonstrate academic potential, but lack the family and financial support to attend college. Being the first in his family to go to college, Benny shared, "I want to be an inspiration for others." He also expressed that Arcadia is a "paradise for seniors and I'm blessed to be here!" In addition to being a Lunalilo Scholar, Benny was recently selected to study abroad in Ireland. Congratulations, Benny, on your achievements! We are happy that you are a part of the Arcadia Family of Companies and can't wait to hear about your adventures in Ireland!
Aloha Attire Day
In celebration of May Day, the Arcadia Family of Companies had a family-wide aloha attire day on April 29th. Showing their aloha spirit are: Arcadia At Home member, Mrs. Adele Chong (left photo); 15 Craigside residents, Mrs. Roberta Kaneshiro, Mr. Gene Kaneshiro, Mrs. Sharon Shiraki and Mr. Joseph Imai (center photo); Arcadia At Home members, Mr. Adolf Mader and Mrs. Emma Mader (right photo). Mr. Mader is shown wearing an aloha shirt made by Mrs. Mader. As Mrs. Mader explained, "with patterns and a sewing machine, for years while Adolf was teaching at UH, I sewed aloha shirts for Christmas and his birthdays." He was with UH for 40 years and has a collection of 40 shirts today.
Origami Picture Frames
Residents at 15 Craigside used colorful paper to create origami picture frames to house their favorite photos. The paper frame added a special touch to photos and could even make a special gift for a friend or loved one. Mrs. Violet Kawakami brought a picture of her and her husband, Mr. Herbert Kawakami, to frame.
Italy Bell Tower Puzzle
Arcadia Adult Day Care Activities Coordinator, Anela Bartels (left), and a client (right), show another completed 3D puzzle. If you are interested, these kits can be purchased at Daiso, the discount store where most items are priced at $1.50.
Fruit Bouquets
What's better than a bouquet of flowers? A bouquet you can eat! Arcadians created arrangements of fruit and candies for the perfect springtime treat. Don't you love the cute addition of the bunny Peeps? Pictured are Dr. Lida Chase (left) and Mrs. Beverley Tasato (right).
Haku Lei Making
For May Day, Arcadia residents created their own lovely haku lei! With just two supplies - flowers and raffia - the lei was assembled by cutting and wrapping each element. What a beautiful outcome! Shown are Mrs. Eleanor Hasebe (left) and Mrs. Betty O'Rourke (right).
Wall of Words
The Arcadia Adult Day Care has a "Did You Know" door where a question is written and clients and staff can add their answers. A recent topic was "What makes you happy?" There was a wide variety of responses, including, Zumba dancing, having grandkids, coming to The Center, having my nails done by Anela, fresh air, sunshine and a nice glass of wine!
Lyon Arboretum
Arcadia residents hopped on the shuttle for a visit to the Lyon Arboretum in lush and rainy Manoa Valley. The group went on a guided tour of native Hawaiian plants and an exotic spice garden. An easy hike led the group through majestic blue marble trees and under a canopy of the rainforest to view the palm collection, roses of Siam, and more!
Wear Pajamas to Work Day
Do you ever have those days when you want to wear your pajamas all day? The team members at the Arcadia Adult Day Care recently got to do just that! Activities Coordinator, Anela Bartels, said, "clients love when we dress up!" Did you know that before 1950, it was common for one-piece pajamas to have a drop seat or rear flap to make it easier to use the bathroom?
"Happy Mother's Day to all the loving, patient, hard-working, strong, inspiring and all-around rock-star mother figures out there!" - Suzie Schulberg, President & CEO