May 15, 2023
Ho'omau (5/12/23)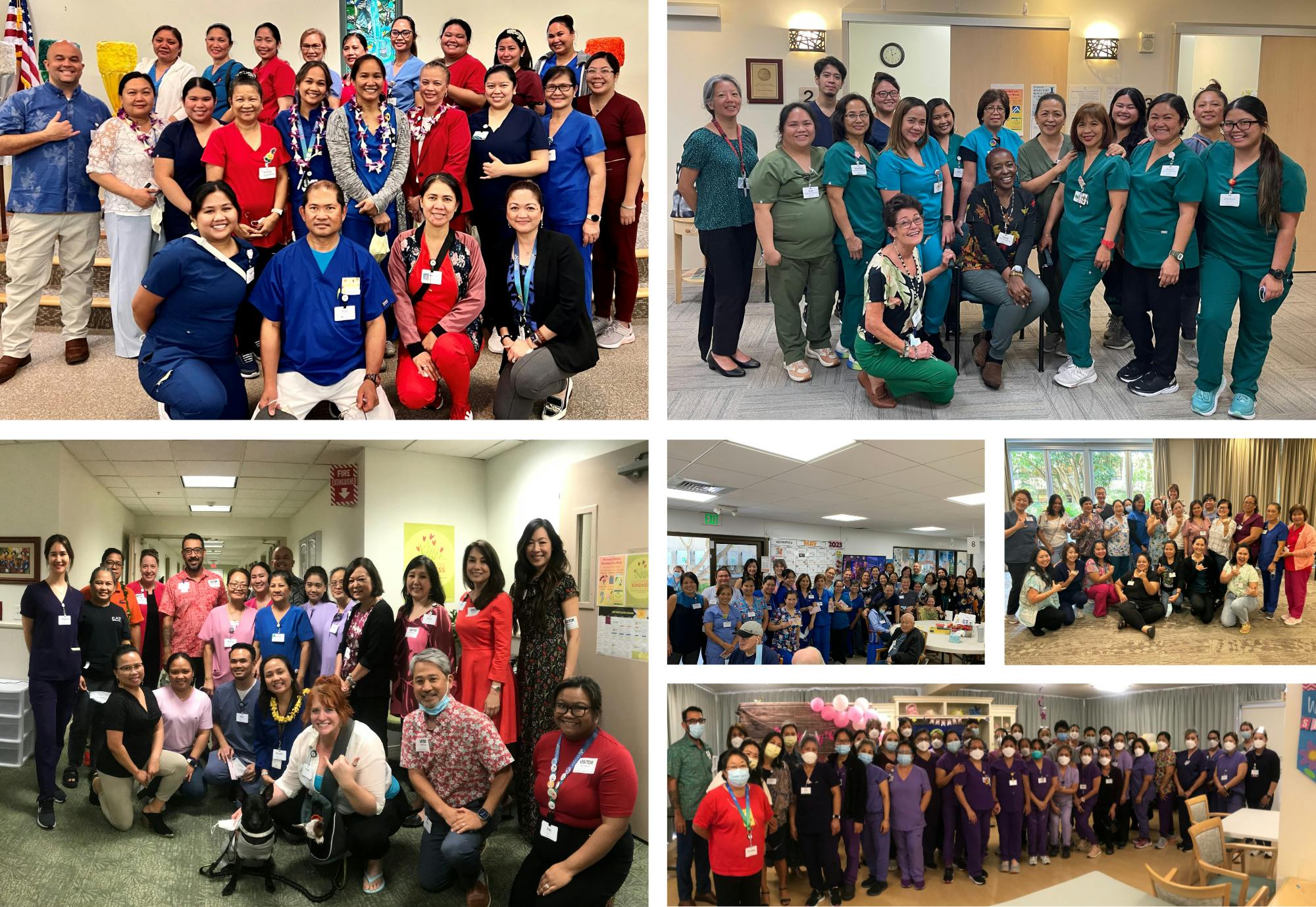 MAY 12, 2023, ISSUE 102
Hoʻomau
Renew, Perpetuate, Persevere
Happy Nurses Week!
The Arcadia Family of Companies is very fortunate to have a workforce that leads with heart and love. The week of May 8th-May 12th was Nurses Week and our chance to show gratitude for their hard work, kindness, and compassion. We appreciate their dedication to improving the lives of our residents, clients, and members each and every day. Mahalo! National Nurses Week begins each year on May 6th and ends on May 12th, Florence Nightingale's birthday. She is known as the founder of modern nursing. As of 1998, May 8th was designated as National Student Nurses Day and as of 2003, National School Nurse Day is celebrated on the Wednesday within Nurses Week. It as become an established recognition event throughout America.
Volunteer Aloha Hour and Hot Fudge Sundaes
To honor the many dedicated volunteers of 15 Craigside, residents enjoyed refreshments and pineapple upside down cupcakes made by Chef Jordan Salvador at the Volunteer Happy Hour! In addition, there was a hot fudge sundae service during lunch. Thank you to all of the residents who serve on the Resident Association, Advisory Board, as floor coordinators, and many committees that keep the community vibrant!
Ice Cream Parlor
Arcadia's Dining Room was transformed into an ice cream parlor! Residents loved the decorations, bright colors, and wide variety of ice cream flavors. It was the perfect after lunch treat that was refreshing, sweet, and delicious!
Assets High School Volunteers
Assets High School students, freshman to juniors, volunteered at The Center! They created an activity plan which included crafts, bingo, and singing songs with the clients! Everyone had a wonderful time getting to know each other and spending quality time together.
Shave Ice Service
15 Craigside celebrated May Day with a delicious afternoon shave ice treat. Residents and employees picked up their custom orders with choices of vanilla ice cream, azuki, condensed milk and gummy pineapples, and an assortment of flavors including strawberry, vanilla, pineapple and banana. Some popular shave ice spots on Oahu are Waiola, Matsumoto, Lahaina, and Uncle Clay's House of Pure Aloha.
World Parkinson's Day
To celebrate World Parkinson's Day, Arcadia held a special speaker session in the Main Lounge. Hawaii Pacific Neuroscience talked to residents about Parkinson's disease, current treatments, recent research, and available clinical research trials that are looking to slow down the progression of the disease.
Jenna Takenouchi
Representative Jenna Takenouchi, who represents House District 27 returned to 15 Craigside for an update with the residents. After hearing concerns about the feral chickens, she introduced a bill for feral chicken management and updated them that it hasn't gained traction. She plans on continuing to fight for the bill to be passed.
"Happy Mother's Day to all of the mothers and mother figures! Mahalo for your guidance, patience, and unconditional love! We celebrate and thank you for making a difference in our lives." - Suzie Schulberg, President & CEO