May 13, 2022
Ho'omau (5/13/22)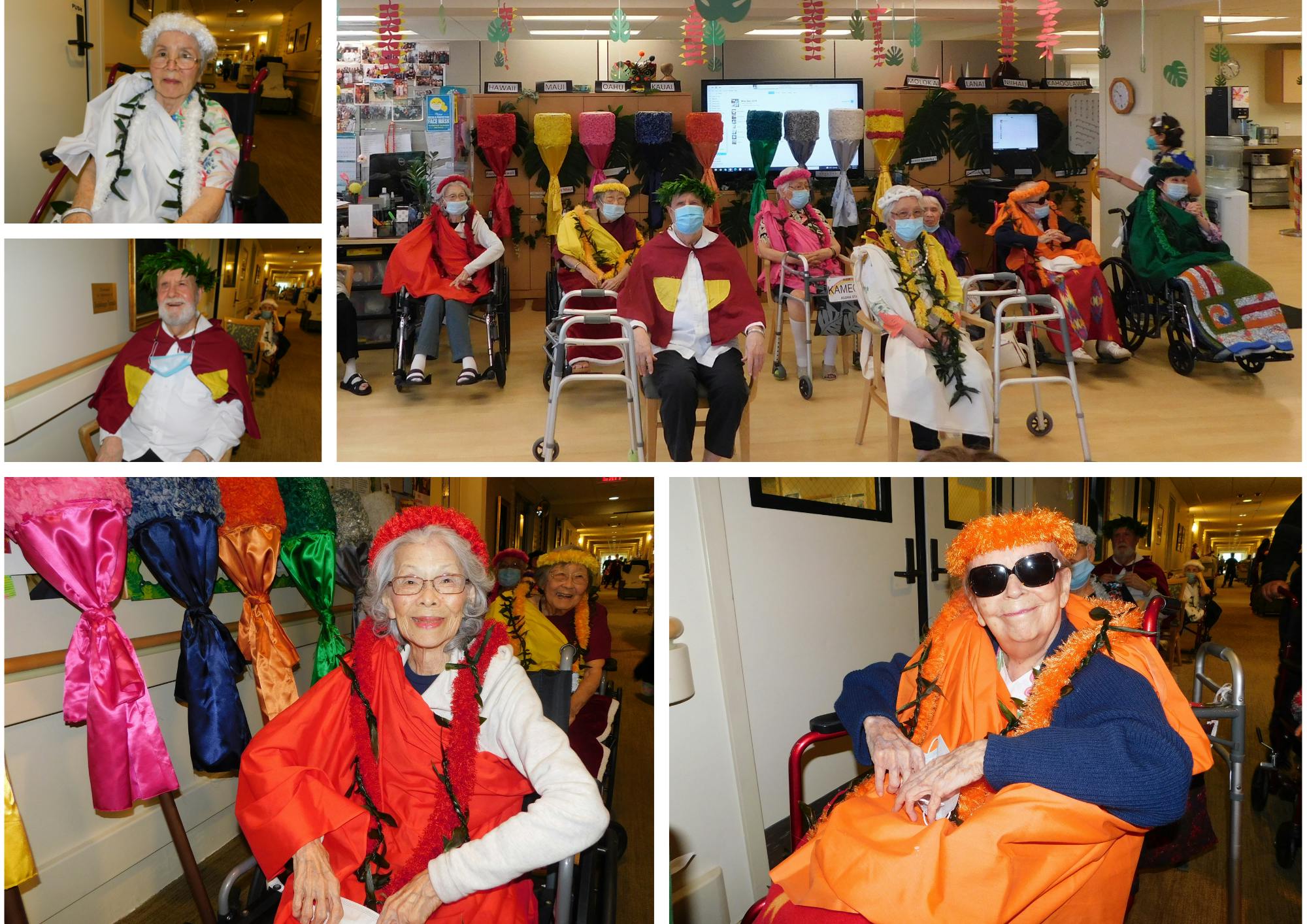 MAY 13, 2022, ISSUE 50
Hoʻomau
Renew, Perpetuate, Persevere
15 Craigside Health Care Center May Day Program
To celebrate May Day, the residents in the HCC at 15 Craigside participated in a   traditional program. The staff provided entertainment, including a few hula performances and renditions of Hawaiian songs such as "May Day is Lei Day" and "Hawaii Aloha." In 1928, Lei Day was a suggestion of writer, Don Blanding, who thought Hawaii should celebrate a day of its own, in honor of making, wearing, and giving a lei. A hallmark of Lei Day is the royal court procession of eight princesses, each one representing a different island. They are accompanied by a man carrying a kahili, a feathered staff used in ancient times as a symbol of royalty. Residents took part in that tradition and had a royal court of their own, each person wearing a different color for each of the islands. They had a lot of fun being part of a court and it brought back some good memories! (Masks were removed for picture taking only.)
Arcadia Health Care Center May Day Program
We can't forget about Arcadia's HCC May Day program! Similar to the program at 15 Craigside, residents were able to dress up as the royal court to represent the different islands. Each island has its own Lei Day symbol that consists of a color and flower. Arcadia's Garden Club made ti leaf lei for the royal court to wear during the program. This was a great way to celebrate the Hawaiian culture and our beautiful home! (Masks were removed for picture taking only.)
Arcadia Staff Shoutout from Mrs. June Honda
The staff at Arcadia is amazing! Mrs. June Honda, Arcadia resident, shared that Lee Henry-Chang, Resident Services Manager, distributed quarantine treats, Daisy Balbas, Dining Services Baker, prepared a very special treat for Cinco de Mayo, and Jackie Que, Waitstaff member, delivered delicious sundaes. Mrs. Honda said, "The dining staff reflects Ryan Nomura's leadership. They know all of us by name and anticipate our needs. This is the place to be if you want to be spoiled rotten!"
 Mint Julep Service
In honor of the 148th running of the Kentucky Derby, Arcadia residents got into the spirit with the mint julep! The mint julep, an iced drink consisting of bourbon, mint, and sugar syrup, has been the official drink of the race since 1939. Residents enjoyed this refreshing drink while celebrating the most unbelievable upset in derby history. Rich Strike, one of the competing horses and unanimous underdogs, was named this year's champion. Riders up!
Boys' Day Treat Pick Up
On May 5th, the "boys" at 15 Craigside got a special treat for Boys' Day or "Tango no Sekku." The residents enjoyed a mochi covered strawberry with azuki bean from Happy Hearts. This dessert is known as kashiwa mochi, sometimes wrapped in oak or bamboo leaves. Boys' Day celebrates the health and happiness for boys, and was officially changed to Children's Day ("Kodomo no Hi") in 1948. Pictured above is 15 Craigside residents, Gene Kaneshiro and Masaru Abe enjoying their mochi!
Earth Day Crafts
 The Earth Day celebrations continue at the Adult Day Care Center! These colorful art pieces were made from coffee filters. Markers were used to color the earth and water, allowing the ink to seep into the filter. After the filter dried, a few fun details were added to customize their piece and form the final product. Their creations look amazing!
Arbor Day Tree Giveaway
 To celebrate National Arbor Day, 15 Craigside had a tree giveaway for staff. The saplings that were available included soursop, Samoan coconut, calamansi, avocado, lemon, and ginger. The lemon trees were grown from seeds by residents last year. Check out our employees, Christina Ulufale & Ray D'Arton, posing with their new plant babies!
Sweet Pea Seedlings Update
A few weeks ago, Arcadia residents planted sweet pea bombs in honor of Earth Day. Residents have been taking very good care of their seedlings, watching them grow and flourish everyday. The plants are developing full, strong leaves with a thick consistency in the soil. We will keep you updated as they continue looking after their sweet peas!
"We recognize and are grateful for our nurses, CNAs and NAs today and beyond. Maya Angelou said it best. 'As a nurse, we have the opportunity to heal the heart, mind, soul and body of our patients, their families and ourselves.'" - Suzie Schulberg, President & CEO
"