May 19, 2023
Hoʻomau (5/19/23)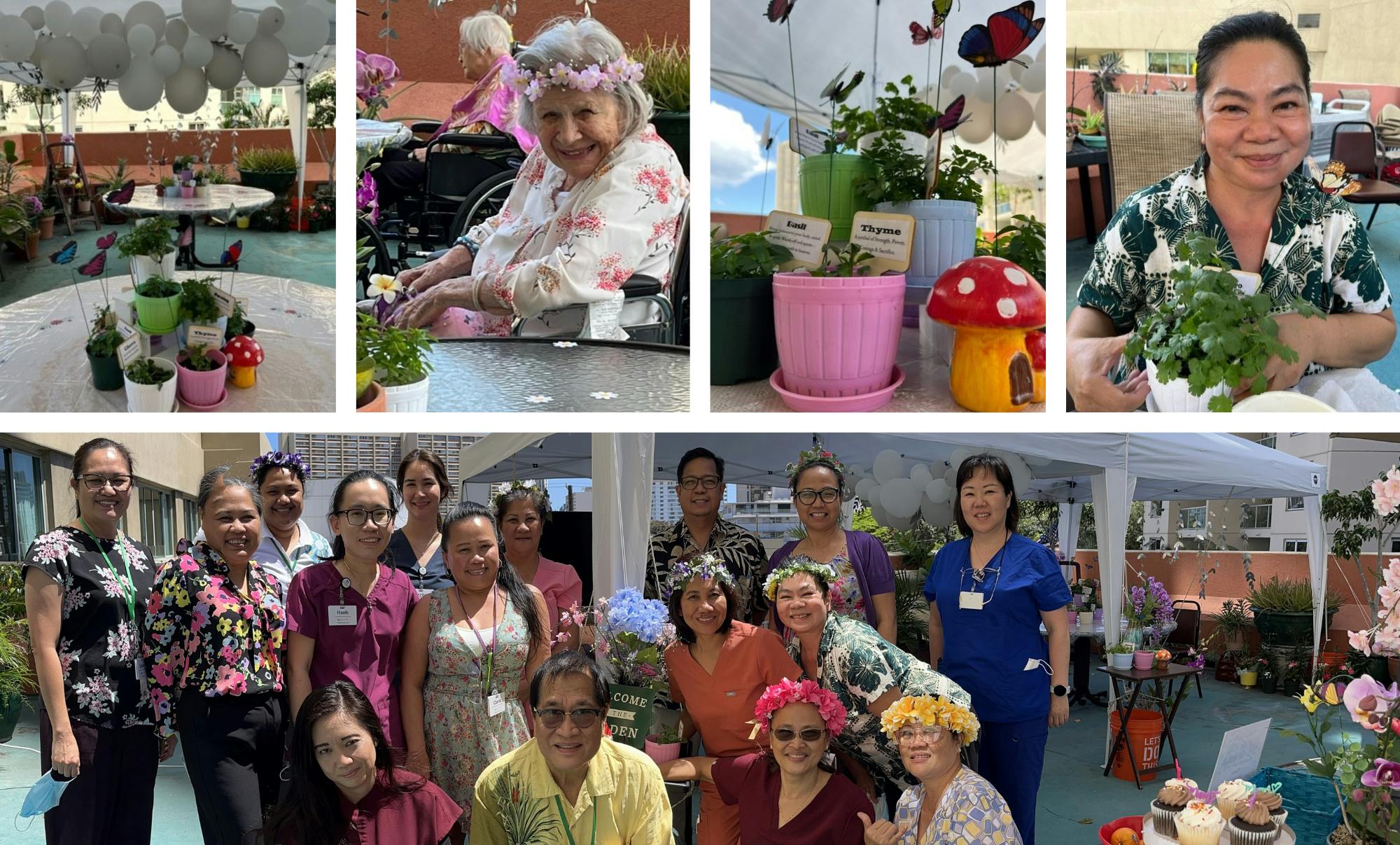 MAY 19, 2023, ISSUE 103
Hoʻomau
Renew, Perpetuate, Persevere
"Cultivating Kindness" Garden Party
Hale Ola Kino by Arcadia (HOKA) kicked off National Skilled Nursing Care Week with a festive garden party!
The theme of the week for 2023 is "Cultivating Kindness" and in keeping with this message, HOKA staff were gifted little pots of herbs to take home. The planning started ahead of time and last month, seeds were planted and nurtured. Team members were able to select from colorful pots filled with mint, basil, cilantro, parsley and thyme.
The lanai was decorated and turned into a garden oasis for residents and staff to enjoy fresh air and sunshine surrounded by flowers and plants! HOKA's weekly church service was held on the lanai and residents dined outside as well. Employees were able to stop by and enjoy sweet treats during their breaks. Residents and staff also decked themselves out in all things floral for the party!
Arcadia At Home Luncheon at Ruscello
Arcadia At Home members gathered for their monthly luncheon at Ruscello, located on the 3rd floor of Nordstrom Ala Moana. The restaurant features delicious Italian and Mediterranean-inspired cuisine. Tomato bisque soup, clam chowder, truffle parmesan french fries, chicken lemon pesto gnocchi, a prime roast beef french dip sandwich, and a panko-crusted chicken salad were a few of the appetizers and entrees selected. Father Anatole Lyovin took advantage of the restaurant's bar and ordered the Belgian lager Stella Artois to go with his meal. Mr. James Yuen also explored the restaurant's drink options and tried a zesty ginger beer.
Nachos Bar
15 Craigside residents enjoyed a special nachos appetizer with their lunch to celebrate Cinco de Mayo! Each plate of nachos was customized to the residents' liking and could be loaded with queso, guacamole, salsa, sour cream, pinto beans, jalapenos and black olives. Yum!
Fabulous Fascinators
In honor of Mother's Day, Arcadia's Programs department and Arts and Crafts Committee partnered to create beautiful fascinators to wear to a special tea party. A fascinator is a high-society headpiece that is often worn by women at weddings and other events in the U.K. It's an alternative to a hat and usually consists of a large decorative design attached to a band or clip.
Nurses Week Shave Ice
Refreshing shave ice was enjoyed by the residents and staff of 15 Craigside's Health Care Center in recognition of Nurses Week. The nurses received thank you cards made by residents and a gift of chocolates to show their appreciation for the amazing care that they provide.
"MoMs" Treats
Arcadia Adult Day Care clients received "MoMs" M&M'S treats made by the creative staff for Mother's Day. Here are a couple of fun facts about M&M'S:
The iconic "m" stamped on each candy is to distinguish real M&M'S from inferior imitators
M&M'S were the first candy in space
Mother's Day Tea Party
Arcadia Health Care Center residents had a tea party for Mother's Day complete with finger sandwiches, sweets and festive decor. To complete the festive mood, everyone also wore hats and fascinators created by the talented Activities team.
Cinco de Mayo Service
Cinco de Mayo was the perfect day for Arcadians to enjoy nachos and ice-cold margaritas! The standard margarita recipe calls for tequila, Cointreau (an orange-flavored liqueur), lime, and salt to garnish but there are several creative spins on the cocktail. For a tropical feel, peaches, mangoes, or pineapples can be added and sometimes the salt is replaced with sugar.
Boys' Day Koinobori
Clients at The Center crafted colorful koinobori (carp windsocks) in observance of Boys' Day. In Japanese culture, the koi symbolizes courage and strength because of its ability to swim up a waterfall. Traditionally, koinobori has been set up vertically on a tall pole. However, a new horizontal way of display has become more popular year by year at festivals in Japan.
Thrilling Taiko
Pacific Buddhist Academy (PBA) students returned for another spectacular taiko drum performance at 15 Craigside. For PBA's seniors, it was their last show together with the group before graduation. Their high energy and passion had the entire audience enthralled. One resident said, "I've never seen anything like this. It gave me chills."
"The Arcadia Family of Companies celebrated National Skilled Nursing Care Week this past week. Join me in honoring and sharing our Aloha with the employees of 15 Craigside's and Arcadia's Health Care Centers and Hale Ola Kino by Arcadia. Mahalo nui for making a difference in the lives of our residents!" - Suzie Schulberg, President & CEO