May 5, 2023
Hoʻomau (5/5/23)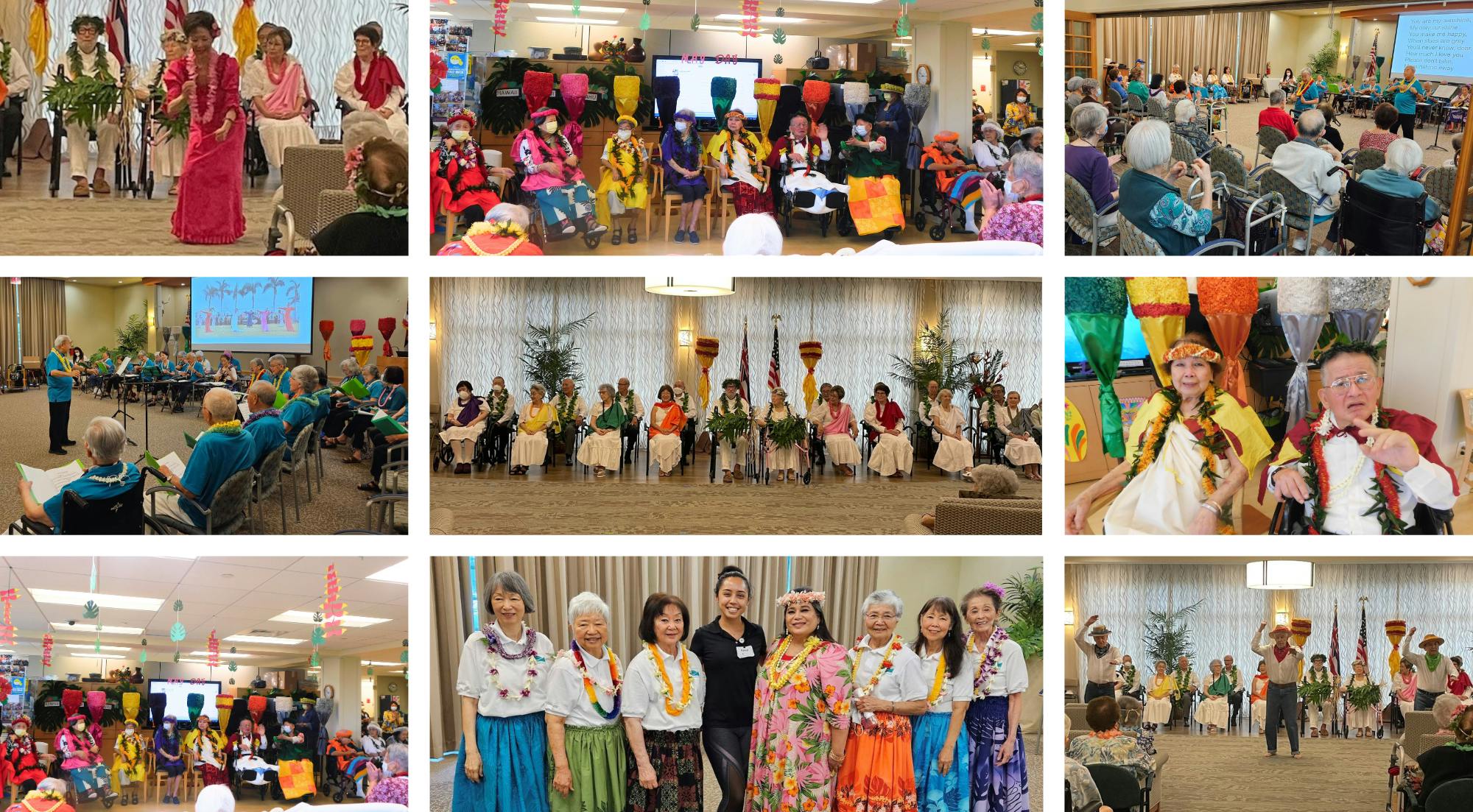 MAY 5, 2023, ISSUE 101
Hoʻomau
Renew, Perpetuate, Persevere
May Day Festivities
Our communities were filled with wonderful performances and the aloha spirit as we celebrated May Day throughout the week!
On May 1st, 15 Craigside's Health Care Center held its annual May Day program that featured a royal court of residents and amazing entertainment provided by employees including hula and a Samoan dance.
The festivities continued on May 2nd with Arcadia's inaugural May Day program produced and directed by resident Mrs. Yvonne Toma. The event included a May Day court and highlighted the talents of residents including hula and Hawaiian mele.
On May 3rd, residents of 15 Craigside enjoyed favorite Hawaiian songs by The Sound of Craigside – a group of resident singers and ukulele players – during their May Day program. The resident group, 15C Hula Dancers, also performed a couple of lovely numbers accompanied by their kumu hula.
A big mahalo to all the residents and employees for your dedication and hard work to make this May Day memorable and special for everyone!
Aloha Attire Day
In addition to the May Day programs, across the Arcadia Family of Companies, we showed our aloha in a family-wide dress-up day. Check out the aloha attire at the Arcadia Adult Day Care and Hale Ola Kino!
Beer Tasting at Hana Koa Brewing
Arcadians visited Hana Koa Brewing in Kakaako for a personalized tasting of their handcrafted beers. Head Brewer and co-founder of the brewery, Josh Kopp, talked the residents through each beer and shared how the brewery got its start. He also explained how beer concepts are created and how he and his wife worked to make Hana Koa the brewery it is today. In addition to the beer tasting, everyone also enjoyed a delicious lunch from the menu offering a broad range of choices.
Those Who Teach Change the World
The Arcadia Adult Day Care celebrated Teacher Appreciation Week by honoring clients with jars filled with flower pens and candies. Eleven clients are retired educators including three sisters (center photo) who chose teaching as their profession. Mahalo for your heart, dedication and everything you have done to inspire students!
Excursion to Kamaka Ukulele and H Mart
15 Craigside residents recently ventured to Kakaako for an excursion to Kamaka Ukulele's factory. Fred Kamaka Jr., the grandson of founder Sam Kamaka Sr., began the tour with the history of the ukulele and the story of how the company was built. The group walked through the factory and saw all that goes into making each ukulele. After the visit, residents walked down the street to H Mart, the largest Asian supermarket chain in America, for shopping and lunch. Some even continued to stroll around the area with a trip to Fisher Hawaii, a large office supply store.
Beautiful Haku Lei
On May 1st, Arcadians made haku lei for May Day. Residents cut flowers and leaves from colorful bouquets to construct their unique creations. Many wore their pretty finished products to dinner and saved them to complement their outfits to the May Day program as well. Fun fact: in Hawaiian, "haku" means "to braid" or "to create" and "to arrange in order."
Kalani Health Academy
Sophomores and juniors from Kalani High School's Health Academy are volunteering with Dining Services at 15 Craigside. The experience provides the students with hands-on experience in a healthcare environment. The partnership allows the Arcadia Family of Companies to provide opportunities and exposure to senior living to our local high schoolers early on.
April Holoholo Ride
Arcadia residents went holoholo again - this time to Kahala and Kaimuki. The ride included a stop at Moiliili's Niu Soft Serve Parlour which serves dairy-free desserts in flavors such as coconut, ube and pandan. Enjoying their ice-cold treats are Ms. Sumie Higa, Ms. Amy Taniguchi, Ms. Jacqueline Hayashida, Ms. Bobbie Aisaka and Ms. Sylvia Koike.
"From May 8th through May 12th, we celebrate Nurses Week. Join me in expressing our heartfelt gratitude to our RNs, LPNs, CNAs and NAs for their dedication and commitment in caring for our kupuna. Mahalo for making a difference in the lives of our residents, clients and members." - Suzie Schulberg, President & CEO