June 13, 2022
Ho'omau (6/10/22)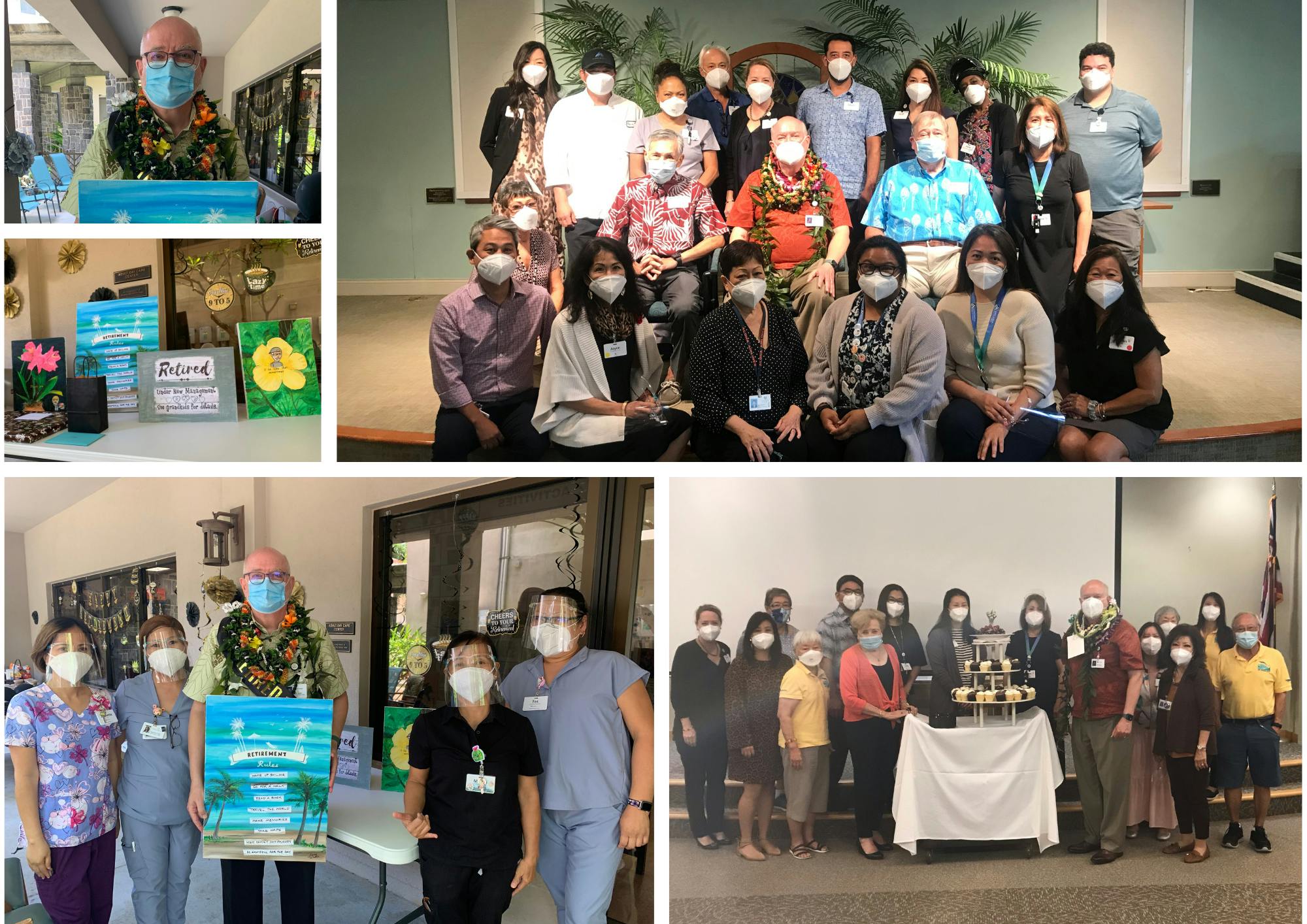 JUNE 10, 2022, ISSUE 54
Hoʻomau
Renew, Perpetuate, Persevere
Philip Issacs' Retirement
After 17 years of service to the Arcadia Family of Companies, Philip Isaacs, Director of Sales for Home and Community-Based Services, retired on May 31st. Over the years, Philip was a vital part of many teams including Dining Services, the Adult Day Care, and Arcadia Home Health Services. In addition, he also helped launch Arcadia At Home. Philip will be spending quality time with family in Hawaii and on the mainland. The family will be welcoming a new granddaughter in the summer and adopting a puppy in June. We will miss Philip's vibrant, positive energy that he effortlessly spread throughout the communities. He always made our residents, clients, members, and his fellow coworkers feel welcomed, comfortable, and loved. We wish him well in his retirement!
15 Craigside Aloha Hour
15 Craigside residents were excited to welcome back their monthly Aloha Hour! On May 26th, residents gathered in the Lobby and Theater for some fun festivities. Pianist Terry Tom played the residents' favorite tunes while they enjoyed tortilla chips, queso, guacamole, black olives, and jalapenos. They also sipped on refreshing margaritas or Sprite as a non-alcoholic option. They look forward to next month's Aloha Hour!
World Oceans Day Crossword Puzzle
June 8th was World Oceans Day and Arcadia residents celebrated by working on an ocean themed crossword puzzle. The official designation of this day is an opportunity to raise global awareness of the current challenges faced by the international community in connection with the oceans. The puzzle allowed residents to collaborate and test their ocean knowledge. It is so important to protect our beautiful oceans!
Thinking of You Photo Wall
Smile Arcadians! The Programs team put together a decorative backdrop where residents were able to get their photo taken. The photos are going to be turned into postcards for the residents to share with their friends and family. This is such a creative way to stay in contact with their loved ones. Pictured here are Mrs. Betty Nakaji, Mr. Dean Anzai, Mrs. Sheryl Anzai, and Mrs. Eva Kama.
National Doughnut Day
15 Craigside residents celebrated National Doughnut Day, June 3rd, by enjoying delicious doughnuts. Many residents were intrigued to try maple glazed doughnuts topped with crispy bacon. National Doughnut Day was established to honor the volunteers who served during World War I, serving soldiers doughnuts and other treats to help keep their morale up. So cool!
Marianne Kimura Retirement
AFC employees celebrated the retirement of Marianne Kimura, VP of Commercial Real Estate Division at First Hawaiian Bank. Over the years, she has helped 15 Craigside and Arcadia with financing projects and consistently made donations for residents' arts and crafts. Thank you to Marianne for being a trusted banker, partner, and friend of the AFC ohana!
Ice Cream Kick-off
To kick off the summer, Arcadia Health Care Center residents enjoyed a refreshing ice cream treat. They were initially supposed to have an ice cream social, but with the recent rise of Covid-19 cases, the event had to be cancelled. Instead, the yummy ice cream was passed out individually and it really cheered up the residents!
2 Big Hawaiians Performance
In honor of King Kamehameha Day, Arcadians enjoyed a live performance by local music duo, 2 Big Hawaiians. They played all the residents' local favorites that brought them back to the good old days. 2 Big Hawaiians plan to return for another performance at the end of the month. What a great way to celebrate King Kamehameha and the unity of Hawaii!
"King Kamehameha I (c. 1758-1819) is generally recognized as the most important figure in Hawaiian history. He was a wise ruler who enacted laws to protect the defenseless and to bring order to a newly united kingdom. As an astute statesman, he encouraged foreign trade and the use of foreign technology, while avoiding foreign rule. His greatest achievement, through warfare and diplomacy, was the unification of the Hawaiian Islands. Happy King Kamehameha Day!" - Suzie Schulberg, President & CEO