June 17, 2022
Hoʻomau (6/17/22)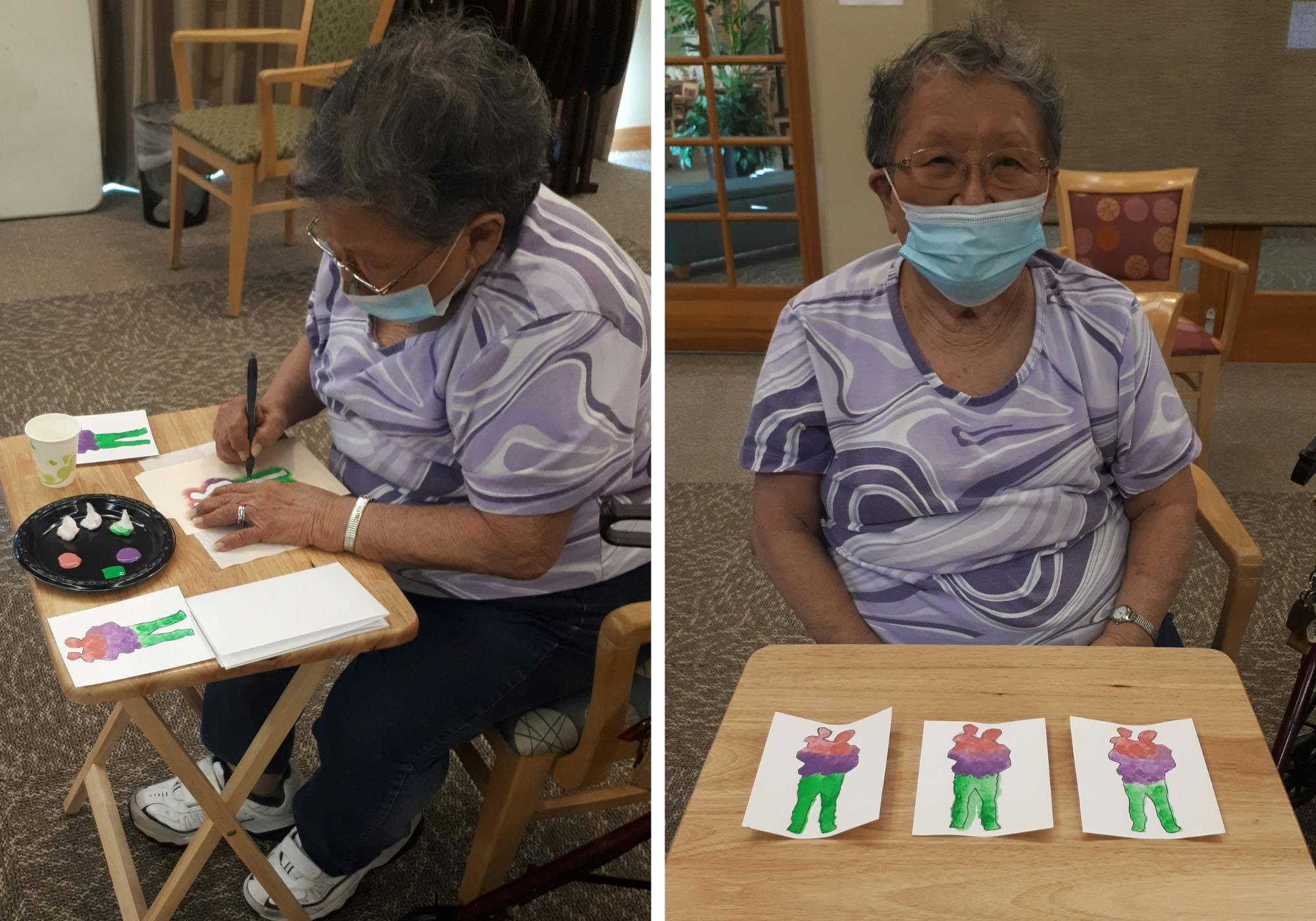 JUNE 17, 2022, ISSUE 55
Hoʻomau
Renew, Perpetuate, Persevere
Father and Son Stencil Art
To get ready for Father's Day on June 19th, 15 Craigside residents made special father and son silhouette paintings. By using a stencil of the silhouette, the outline was traced and then several colors were used to fill in the image. Mrs. Violet Kagawa made one for each of her sons!
Do you know the history behind Father's Day? The idea of the holiday was conceived more than a century ago by Sonora Dodd of Spokane, Washington. Dodd wanted a special day to honor her father, William Smart, a widowed Civil War veteran who was left to raise his six children on a farm. In 1966, then-President Lyndon Johnson issued a proclamation setting aside the third Sunday in June to honor fathers. Father's Day has been celebrated annually since 1972, when then-President Richard Nixon signed a law making it a permanent national holiday.
Kakaako Ocean Friendly Garden
June 8th was World Oceans Day and Arcadia residents marked the day with a visit to the Surfrider Foundation's Ocean Friendly Garden in Kakaako. The official designation of this day is an opportunity to raise global awareness of the current challenges faced by the international community in connection with the oceans. The 11,000 square foot garden is located across from the John A. Burns School of Medicine on land provided by Kamehameha Schools. The garden serves as a community gathering space and supports native plants and fruit trees. What was once a trash-filled lot has been transformed into a beautiful thriving garden and a model for ocean protection as it filters storm water runoff and helps local food security.
Sing Along
15 Craigside residents gathered together for a monthly sing along, accompanied by pianist Elisabeth Jeong. Everyone had a grand time as they sang old-time favorites such as "Go For Broke," "Do-Re-Mi" from The Sound of Music, and US military songs to name a few. Singing strengthens the immune system and releases endorphins to make one feel energized and uplifted!
The Center Welcomes Back Live Entertainment!
The Arcadia Adult Day Care welcomed back live entertainment for the first time in over two years! 808 Ukulele and Orchestra, including Dr. Sidney Wong, Arcadia At Home (AAH) member, treated clients to a performance of traditional Hawaiian tunes as well as Chinese and Japanese songs. Everyone was happy to hear the beautiful music and one client even did a special number of his own after the group's performance.
Diamond Head Lighthouse
Arcadia resident, Mr. Ted Trimmer, recently ventured to the Diamond Head area and captured this beautiful black and white image of the lighthouse.
Located on the southern cliffs of Oahu, the lighthouse's red light can be seen 17 nautical miles from the shoreline. Originally built in 1899, the first lighthouse's concrete began to crack so it was rebuilt in 1917. The structure stands 147 feet above sea level and its actual height is 55 feet. The U.S. Coast Guard assumed responsibility for maintaining the facility in 1932 and the lighthouse has been on the National Register of Historic Places since 1980.
Mahalo, Mr. Trimmer, for sharing your stunning photo!
HBA Students Give Back
Students from Hawaii Baptist Academy (HBA) shared a video with clients at the Arcadia Adult Day Care that featured their musical and baking talents, and personal testimonials. In addition, special goodie bags of teacups, tea, honey sticks and preserved flowers were created for each client. Thank you, HBA, for reaching out and brightening the day for our kupuna!
Galliard String Quartet
On a recent morning, the Galliard String Quartet serenaded Arcadia residents with a lovely performance of musical favorites including Florence Price, Tchaikovsky, Borodin, and Jessie Montgomery's Strum. The quartet is known throughout the islands for their commitment to performing the musical masterpieces of the past and today.
Sweet Celebration
Birthdays are always a reason to celebrate at the Arcadia Adult Day Care and Day Health Center at Central Union Church. Festively frosted cupcakes and ice cream were enjoyed by all! Did you know that "Happy Birthday to You" is the most recognized song in the English language? That's according to the Guinness Book of World Records.
"Thank you to all the fathers, grandfathers, and father figures out there for their never-ending love, wisdom, guidance and support. Happy Father's Day!" - Suzie Schulberg, President & CEO