June 24, 2022
Ho'omau 6/24/22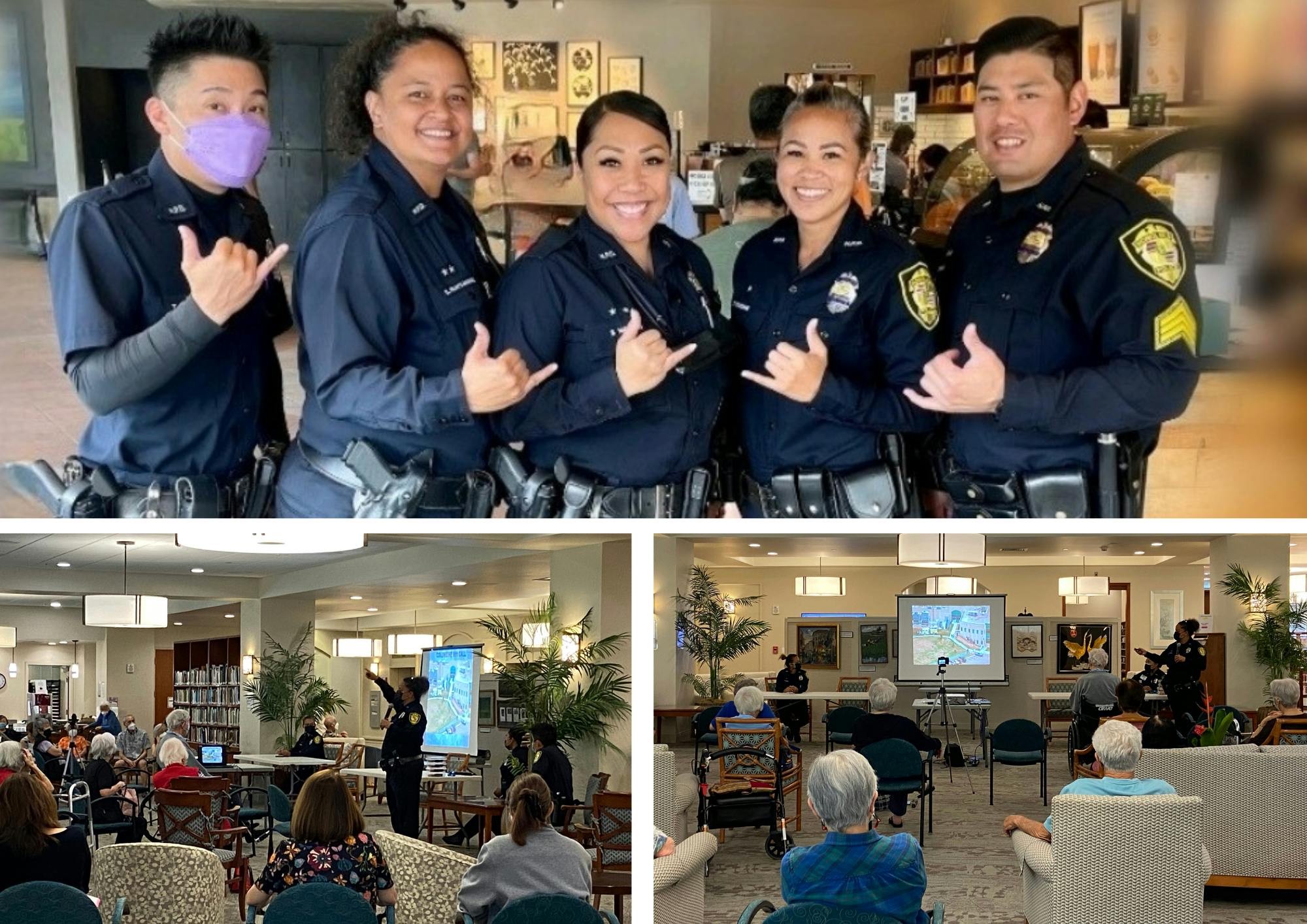 JUNE 24, 2022, ISSUE 56
Hoʻomau
Renew, Perpetuate, Persevere
Honolulu Police Department Safety Sessions
Last Thursday, police officers from the Honolulu Police Department (HPD) held two informational sessions for Arcadia residents and employees. Due to the increase of crime and homelessness in the area, the police officers educated us on ways to remain safe. HPD presented footage and phone calls of previous mass shootings, including the 1999 incident at the Xerox Corporation in Honolulu. When we are presented with an immediate threat, they introduced us to the "Avoid, Deny, Defend" protocol. Residents were able to ask questions to ensure their safety in Arcadia as well as in the neighborhood. This was a great program to educate our community and we're excited announce 15 Craigside will be having a similar session in July!
Feast Diner Delivery
Let's eat! June 15th was National Lobster Day and Arcadia At Home celebrated by enjoying a delicious meal from a tucked away eatery in Manoa. Members received a diner delivery from Feast by Chef Jon Matsubara, home of the original Hawaiian style lobster rolls. On the same day as the delivery, Feast was featured in an article in Star Advertiser's "Crave" section. You must try this quintessential summer sandwich!
Ice Cream Floats
June 21st was the first day of summer and 15 Craigside residents got to cool off with some delicious ice cream floats. Residents had a choice between root beer, Coke, or Sprite. This classic treat dates back to the late 19th century when Robert Green operated a soda shop that used carbonated water, syrup, and cream to make tasty treats. Green ran out of cream one day and used ice cream instead. The rest is history!
Walk Around Magic Island
What better way to jump start your morning than appreciating mother nature! Residents at 15 Craigside enjoyed a change in scenery by taking an early morning stroll around Magic Island. The residents left for the excursion at 7:00 am and embraced the morning sun and ocean breeze on the newly renovated path around the park. Special thanks to resident, Mr. Gordon Nishiki, for capturing the beautiful photos.
Clay Earring Making
Arcadians are taking jewelry to a whole new level! Residents chose two colors of polymer clay to which they rolled out and roped together, repeating the process to create a marbled swirl. They then rolled out the clay and used small shaped cutters to mold into their preferred shape before putting them in the oven. Once the clay set and hardened, they were able to add the jewelry hardware and try on their creations.
Embroidery Bag Making
Arcadians add a little spice to their bags! This activity was the perfect way for residents to learn or practice basic embroidery skills. Each resident received a mesh bag and various colors of yarn. Using a needle and yarn, they created this beautiful pattern, as seen in the photos. Organizing will be a lot more fun with this special touch on their bags.
Cactus Painting
More arts and crafts! Arcadia residents used acrylic paint to create these adorable cactus pots. They were able to use their creativity and artistic skills to personalize their designs. Fun fact about cacti is their life circle lasts from 15 to 300 years, depending on the species. Pictured here is Mrs. Hazel Theodore showing off her creation. They all came out so nice!
Make It, Take It
Arcadia residents are getting into the 4th of July spirit! They created patriotic windsocks by adding red stripes to a paper plate, cutting out a blue star, and then cutting the plate into a spiral. This is the perfect addition to their apartment doors to celebrate the upcoming holiday. Check out their creations swaying with the breeze in Arcadia's hallways!
"COVID-19 is here to stay, so please remember to stay vigilant and safe! Thinking of and sending hugs to all of our employees, residents, clients, and members who are recovering from COVID." - Suzie Schulberg, President & CEO