June 3, 2022
Hoʻomau (6/3/22)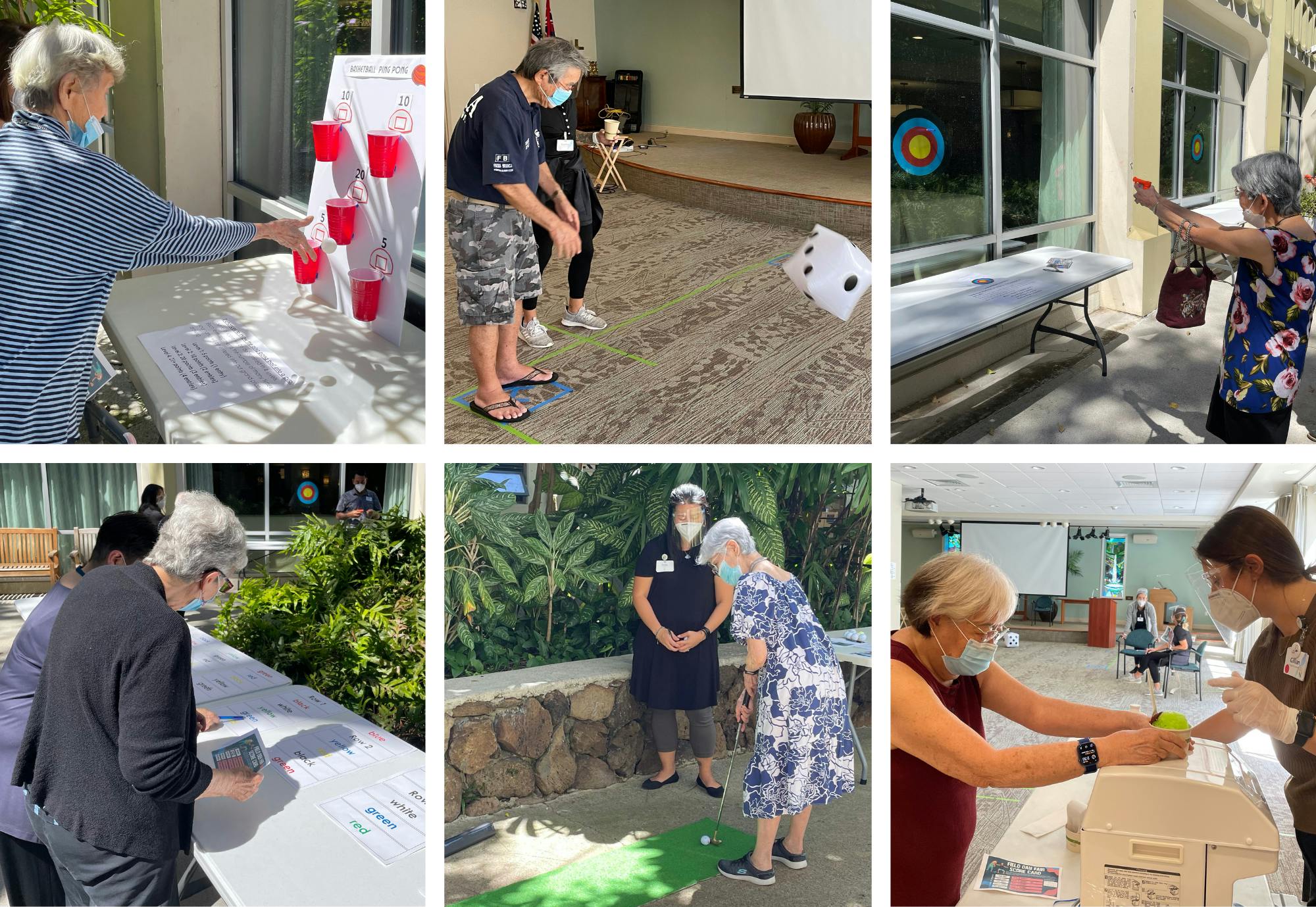 JUNE 3, 2022, ISSUE 53
Hoʻomau
Renew, Perpetuate, Persevere
Field Day Fair at Arcadia
May 25th was National Senior Health and Fitness Day and the residents of Arcadia celebrated with a Field Day Fair. Programs and Wellness co-hosted the event which showed the importance of wellness for ongoing health and illness prevention, all while having fun! Stations were set up in the Garden and Chapel and included a variety of low-impact games such as mini golf, Nerf darts, ping pong basketball, dice baseball, and Stroop effect test, which many residents said was their favorite be-cause it challenged them mentally. Everyone enjoyed the friendly competition and the chance to win a prize. All participants received a refreshing shave ice for a job well done!
Ikebana with 15 Craigside Flora
For the latest ikebana lesson led by resident Mrs. Irene Nakamoto, students were able to use the plants that surround 15 Craigside. Designs were arranged from the leaves of the snake plant (mother-in-law's tongue), pothos (Devil's Ivy) and palm trees, which grow abundantly at the community. Who knew you could create such beautiful displays from the flora around us?
Painting Together Initiative
Painting Together is a new program that promotes collaboration between residents and resident floors. Programs visits a floor each week to encourage residents to stop by their floor lounge to paint. Each participant receives a section from a painting to finish however they would like. Once all the floors are done, the painted tiles will be placed together, displaying the artwork from all the floors as one original piece. Pictured above are Mrs. Proserfina Strona (left) and Mrs. Barbara Schatz (right).
May Diner Delivery: Shingen
For May's Diner Delivery, Arcadia At Home members got a taste of Japan from Shingen, an izakaya-style restaurant known for their udon and soba. Specialty noodle choices included ube udon and moringa soba. Moringa contains very high levels of antioxidant and anti-inflammatory compounds. High quality moringa from the Philippines is kneaded into Shingen's buckwheat noodles and creates a refreshing green color.
Aris Doike Quartet
Arcadians enjoyed a wonderful piano, cello, violin, and viola performance on May 31st. The quartet played pieces by composers Mozart and Dvorak. The residents were impressed by the caliber of the musicians and loved the live music!
Meet and Greet
With election season upon us, political candidates will be visiting 15 Craigside for "Meet and Greets." First up was Vicky Cayetano, who is running for Governor. She spoke about her background, why she is running, and answered questions from the residents. Be on the lookout for more candidates coming in the next few months before Election Day.
Forever In Our Hearts
Memorial Day is traditionally a time to remember those who were lost in battle and has since grown to include all who are no longer with us. At Arcadia, a wall honored those who are gone but never forgotten. Following the theme of "Forever In Our Hearts," residents were able to write the name of a loved one in a heart, and pin it to the wall in their memory.
Coffee Filter Butterflies
Arcadia Adult Day Care clients recently made beautiful butterflies out of coffee filters and pipe cleaners. Everyone showed their creativity with their color selection and unique wing designs. Did you know that butterflies need heat to be able to move? When you see them resting in the sunshine, they are warming up their wings so they can fly.
Piano and Cello Performance
On May 28th, the Masaki School of Music filled the air of Arcadia's Main Lobby with beautiful sounds. A group of five local students, consisting of pianists and cellists, entertained the delighted audience. Many of the students have trained, competed, and performed nationally, so it was a treat to welcome them to our community to showcase their talents.
"In honor of Pride Month (June), I share a quote from George Takei, 'We should indeed keep calm in the face of difference, and live our lives in a state of inclusion and wonder at the diversity of humanity.'" - Suzie Schulberg, President & CEO