July 31, 2022
Ho'omau (7/29/22)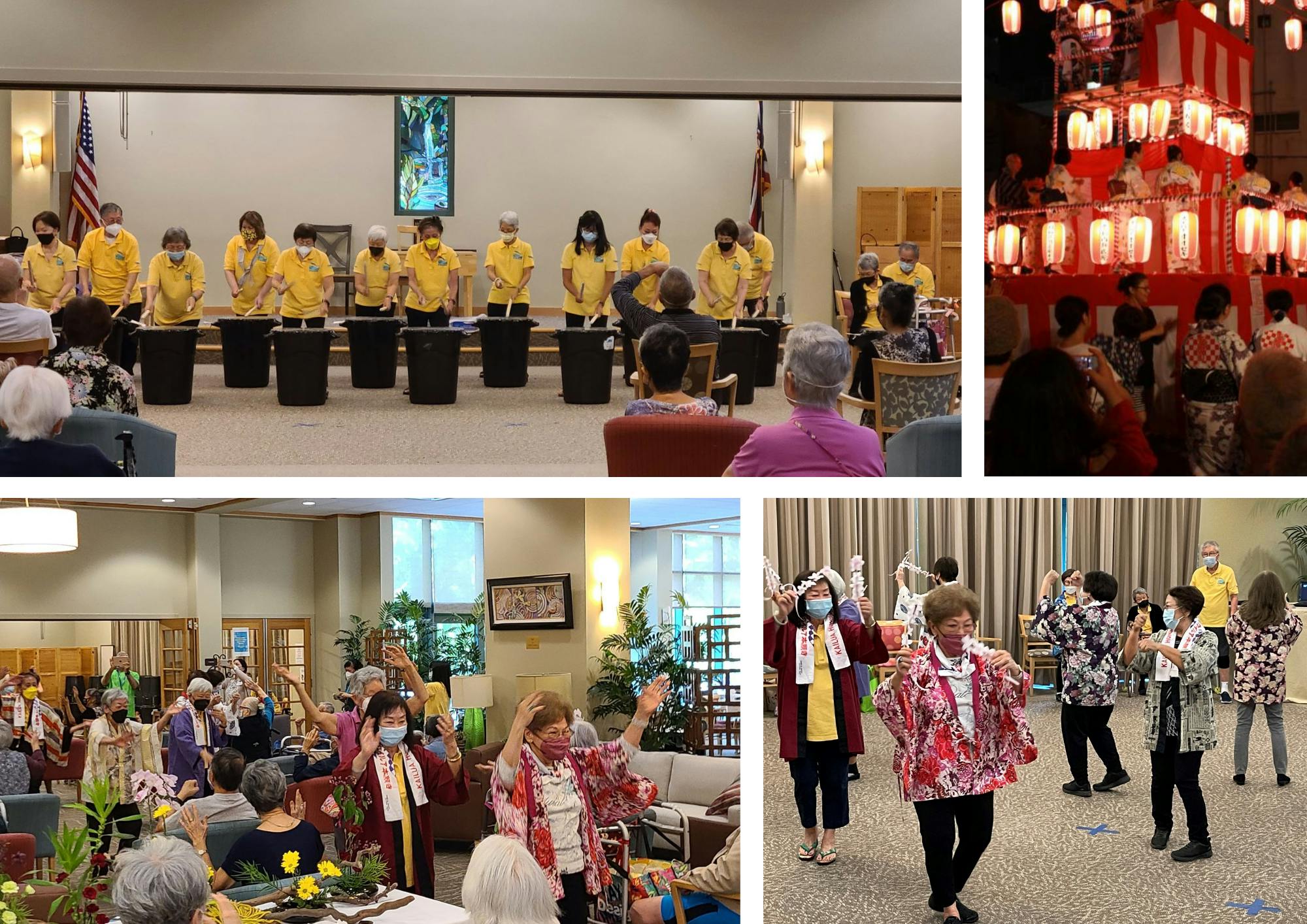 JULY 29, 2022, ISSUE 61
Hoʻomau
Renew, Perpetuate, Persevere
Bon Dance
Happy Obon season! Taiko drums and traditional Japanese songs filled the Theater and Lobby at 15 Craigside on Monday, July 25th. Residents, Ms. Carol Okutani and Mr. Masaru Abe led fellow residents in creative drumming of a taiko drum song, which they have been practicing for months. Residents and friends led the bon dances to songs such as "Tanko Bushi," "Beautiful Sunday," and "Ka Cha Shi." Other residents watched and joined in from the Lobby. The ikebana students, led by resident Mrs. Irene Nakamoto, also created special flower arrangements for the occasion. Bon dances take place during the summer months, which is said to be when ancestral spirits return to be with family and friends.
Ice Cream Social
July 17th was National Ice Cream Day and Arcadia celebrated with sweet and delicious treats. The Programs team created an ice cream truck where residents were able to pick up their ice cream of choice. In 1984, President Ronald Reagan proclaimed July as National Ice Cream Month and established National Ice Cream Day as the third Sunday in July. He encouraged the people of the United States to celebrate all of their hard work!
Violin Students of Iggy Jang
Residents love live performances! Students of Iggy Jang from the Hawaii Youth Symphony came for a special strings performance at 15 Craigside and Arcadia. They are a part of the Solo & Strings Program at Pacific Institute and performed together in trios and quartets with five different musical compilations. What a treat to have string music fill our residences again with these talented young musicians.
Kupuna Spelling Bee Finals
Can you spell w-i-n-n-e-r? Seniors from across the state came together on Oahu to show off their skills for the Kupuna Spelling Bee Grand Championships on Saturday, July 23rd. Arcadia resident, Mrs. Betty O'Rourke (right photo), finished in 1st place in the 70-79 age category and 2nd place overall. Thank you to all of the participants who represented the Arcadia Family of Companies, we are so proud of you. Congratulations!
Sunflower Craft
Sunflowers will brighten your day! Arcadia Adult Day Care clients created these beautiful sunflower crafts that symbolize loyalty and adoration. In addition to their sun-like appearance, sunflowers exhibit a trait called heliotropism, which means that they turn to face the sun. They will actually track the sun throughout the day and move accordingly. These flowers grow best with about six to eight hours of sun a day.
Meet and Greet
Ikaika Anderson, who is running for Lieutenant Governor, visited 15 Craigside and Arcadia to share his campaign plans for Hawaii. He answered questions and addressed concerns from residents to help them make their decision of who to vote for. This is the latest candidate from our "Meet and Greet" series. The Hawaii Primary Election is Saturday, August 13th .
Rock Painting
The Arcadia Adult Day Care at Central Union Church always has fun activities in store! Clients participated in rock painting where they were able to add their own style and imagination to create unique pieces. The best paint to use on rocks is acrylic because of its strong water and weather resistance. Check out their beautiful creations!
Water and energy conservation reminders from 15 Craigside residents, Ms. Charlene Oshiro and Ms. Irene Zane
Save Energy. Save Mankind
Save water. Oahu depends on you.
"We are in the midst of a surge! Mahalo to all of our AFC employees for your dedication and commitment to caring for our residents, clients, members and fellow employees! Wishing all of our COVID+ residents, clients, members and employees love and well wishes as they recover. We're thinking of you!"- Suzie Schulberg, President & CEO