August 25, 2023
Hoʻomau (8/25/23)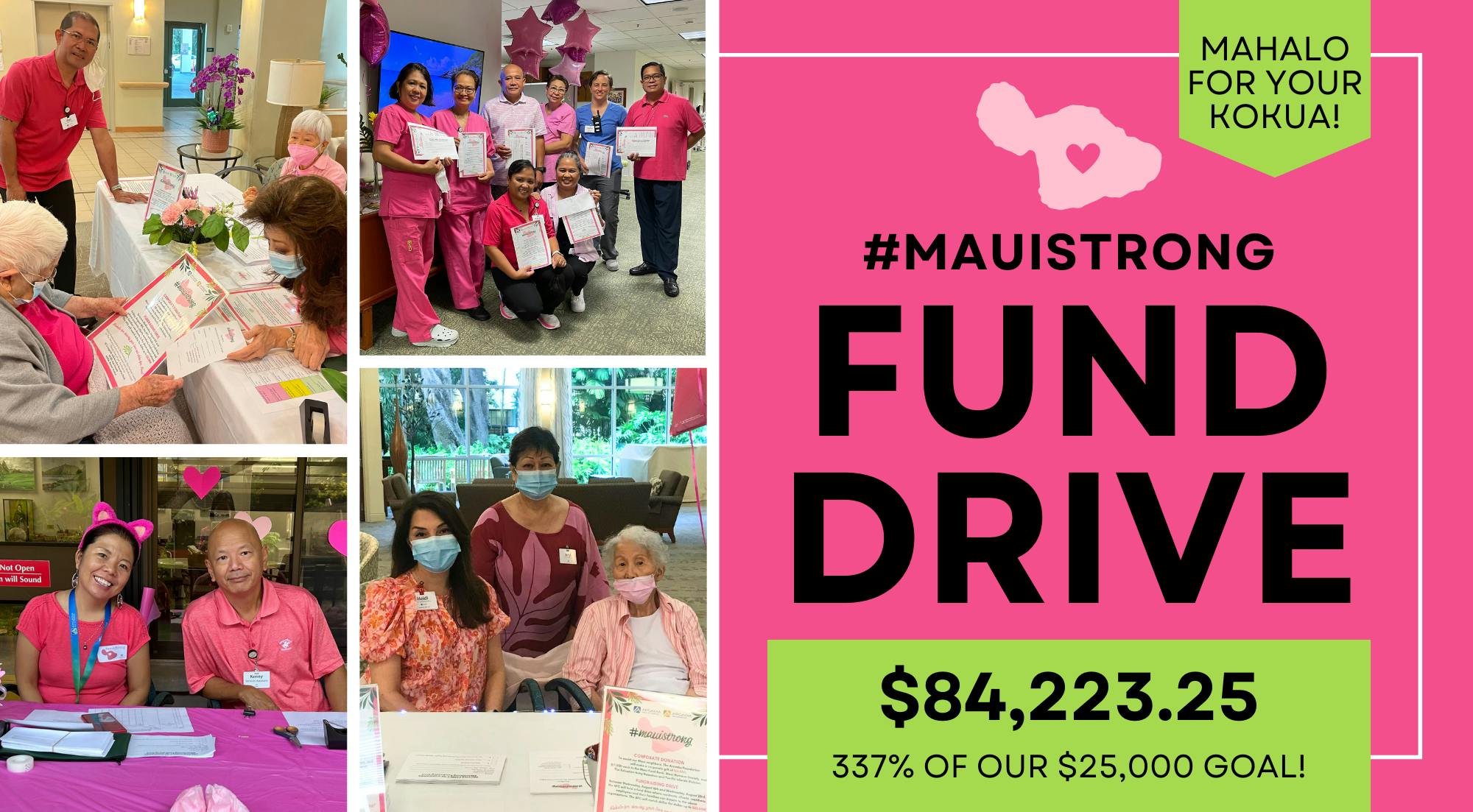 AUGUST 25, 2023, ISSUE 117
Hoʻomau
Renew, Perpetuate, Persevere
Mahalo for Your Support!
In just three days, from August 16th to August 18th, residents, clients, members, employees and families raised an amazing $84,223.25 to assist our Maui ohana - 337% of our $25,000 goal! Along with The Arcadia Foundation's donation of $51,000 and dollar-for-dollar matching up to $25,000, the total Arcadia Family of Companies donation is $160,223.25! The donation will be distributed among three non-profit organizations – the Maui Food Bank, Maui Humane Society, and The Salvation Army Hawaiian and Pacific Islands Division. Mahalo to the residents of 15 Craigside, Arcadia and Hale Ola Kino by Arcadia, clients of the Arcadia Adult Day Care & Day Health Center at Central Union Church and Arcadia Home Health Services, members of Arcadia At Home, employees, and families for your generosity. Your contributions toward fire disaster relief for our neighbors on Maui will provide financial resources to support shelter, food, financial assistance, and other services. We are truly touched by your kindness and selflessness.
Tied to Our Culture Sharing Campaign
15 Craigside resident, Mr. Gene Kaneshiro, visited Arcadia to share about the Hawaii Okinawan Restaurant Project which he was a part of. The project documents eateries that were opened by Okinawan immigrant entrepreneurs. The presentation also featured traditional Okinawan music and dance. Accompanying Mr. Kaneshiro were fellow 15 Craigside residents Mrs. Kyoko Hijirida, Mrs. Roberta Kaneshiro, Mrs. Sharon Shiraki, and Mrs. Ruth Tokumaru, sanshin player Dexter Teruya, and cybrarian Shari Tamashiro who spoke about the restaurant project. Arcadia residents, including Mr. John Tasato, President of the Worldwide Uchinanchu Business Association, were able to join in on the fun and interactively experience Okinawan culture.
Poke Bar
The poke shop came to 15 Craigside on Statehood Day! Residents created bowls with poke choices including ahi ginger scallion, California, shoyu with limu, kamaboko, tako, and beet over a bed of sushi rice or leafy greens. An assortment of topping choices such as bubu arare, furikake, green onions, pickled ginger, ocean salad and taegu perfectly complemented the custom bowls. To finish the meal, everyone enjoyed a lava float made of strawberry soda, pineapple juice and vanilla ice cream!
Summertime Sunflowers
Hale Ola Kino by Arcadia's August theme is sunflowers! Residents assembled felt sunflowers, decorated letters in yellow, orange and black, and created fresh arrangements with the cheery bloom to brighten the mood and celebrate Director of Nursing Roselle Salon's birthday.
Piece by Piece
Arcadia Adult Day Care Center clients often enjoy putting together puzzles. The health benefits of puzzles are significant. They can increase your mood, improve your mental reasoning and spatial awareness, as well as enhance your short-term memory and help with problem-solving. Solving puzzles can even lower stress levels!
Hohoholo and Snacks
Arcadians recently went holoholo to the Kakaako/Ala Moana area. The ride included a snack stop at Thrills Soft Serve - a locally-owned ice cream shop that specializes in unique flavors like white peach daifuku and matcha cookie butter.
Celebrating Obon Season
Residents recently held a bon dance in the 15 Craigside Solarium. Dancing to popular favorites like "Tanko Bushi," "Beautiful Sunday," and "Tokyo Ondo," hand motions were demonstrated before each song so the audience could follow along to the beats. Everyone also enjoyed andagi made by Chef Jordan Salvador and the Dining Services team!
Cruising to Waimanalo
Arcadia Health Care Center residents boarded the shuttle for a holoholo ride to Waimanalo on the windward side of Oahu. Everyone enjoyed the coastal views as they passed scenic spots like Makapuu, Rabbit Island and Waimanalo Beach. Waimanalo means "potable water" and refers to the many brackish ponds in the area that were used for irrigation.
National Senior Citizens Day
Mr. Herbert Kawakami, Mr. Avin Oshiro and Mrs. MaryAnn Oshiro celebrated National Senior Citizens Day on August 21st by providing awareness that being an older adult can be fun and exciting. Dressed in bright attire, they celebrated the day by handing out candies to residents and staff. It's a "shout out" to the world how proud they are to be residents of 15 Craigside!
Hawaii's Best 2023
Thank you to the readers of the Honolulu Star-Advertiser and to our supporters for your votes! You helped us win the Hawaii's Best 2023 people's choice awards. Arcadia Adult Day Care & Day Health Center was selected as a finalist in the Adult Day Care category and 15 Craigside/Arcadia was chosen as a finalist in the Senior Living Facility category.
"It is times like these that we see the strength of the AFC community. I'm proud and humbled to share that the AFC will donate $160,223.25 to three amazing Maui non-profit organizations who are on the front line helping the people of Maui to recover, rebuild and take it one day at a time. Mahalo nui loa to each and every one of you for your outpouring of support." - Suzie Schulberg, President & CEO