August 26, 2022
Hoʻomau (8/26/22)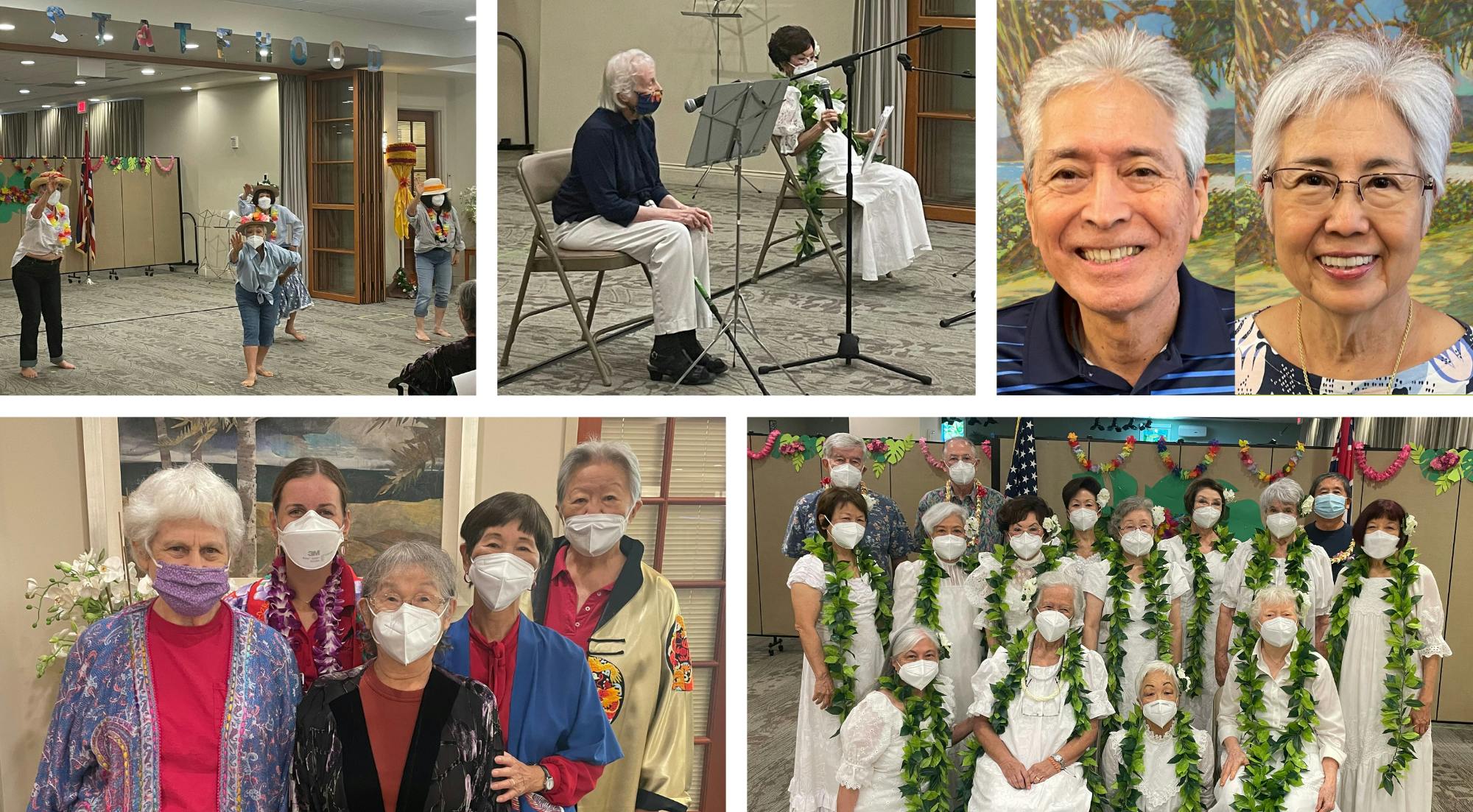 AUGUST 26, 2022, ISSUE 65
Hoʻomau
Renew, Perpetuate, Persevere
Arcadia's Annual Statehood Day Performance
Statehood Day was on Friday, August 19th, and Arcadia residents put on a festive show in celebration. This year, the large audience enjoyed performances by various resident groups including hula, Readers' Theatre, line dancing, and a trombone and piano duo! Each group worked tirelessly to prepare and it was great to see their final numbers.
Hula (top left): Mrs. Marge Boyer, Mrs. Sheila Black, Mrs. Yvonne Toma, Mrs. Betty O'Rourke
Readers' Theatre (top center): Mrs. Rae Alice Hall, Mrs. Mazie Kozuki
Trombone and Piano Duo (top right): Mr. Roy Miyahira, Mrs. Catherine Miyahira (Mrs. Miyahira was unable to perform in person and made a recording of her piano accompaniment to Mr. Miyahira's trombone)
Line Dancers (bottom left): Mrs. Esther Geil, Mrs. May Hiraoka (front); Korina Krueg/former Wellness Trainer, Mrs. Nanci Billings, Mrs. Lorna Sylvester (back)
Hula (bottom right): Mrs. Betty O'Rourke, Mrs. June Shimoda, Mrs. Sheila Black, Dr. Audrey Maurer (front); Ms. Christine Wada, Mrs. Marjorie Murakami, Mrs. Mazie Kozuki, Ms. Takako Jenkins, Mrs. Marge Boyer, Mrs. Yvonne Toma (middle); Mr. Edgar Kimsey (Narrator & Music Controller), Mr. Gary LeMann (Narrator), Mrs. Eva Kama, Mrs. Colleen Chun, Mr. Herbert Hamada (Recorder) (back)
Bon Dance at 15 Craigside's Health Care Center
June through Labor Day is bon dance season in Hawaii and 15 Craigside's Health Care Center took part in this summer tradition. Residents and staff had a blast dancing around the handmade yagura and under strings of colorful lanterns. Everyone also enjoyed bon dance food favorites of andagi, spam musubi and shave ice!
Lunch at Asahi Grill
Clients at the Arcadia Adult Day Care recently dined at Asahi Grill, a local spot for classic island-style dishes. The eatery is known for favorites like oxtail soup, loco moco, fried rice and much more! According to the restaurant, here's how to eat oxtail soup: There's definitely a few must-haves among locals when "inhaling" our oxtail soup. You need the rice and ginger soy sauce for the tender meat! Throw the rice in the soup or keep it separate. Dip the meat in the ginger soy sauce or mix it in with your soup. There's really no wrong way to eat oxtail soup!
Arcadia's August Aloha Hour
Rock 'n' roll was Arcadia's Aloha Hour theme for August. Delicious deviled eggs and chicken wings were served, and pianist, Terry Tom, played rock 'n' roll tunes as residents enjoyed each others' company. Themed décor included guitars and records for "Arcadia Residents Rock!" - gold records for "Best Residents" (record held since 1967) and "Best Aloha Hour" (2022), and silver records for "Best with Rockin' & Rollin' with COVID-19" for 2020, 2021 and 2022.
Dandelions and Hot Air Balloons
15 Craigside residents got creative with paper and made a couple of cheery crafts. Do you remember blowing on a dandelion as a kid and making a wish as you watched its seeds float away? This childhood memory was recreated by making cuts on a paper circle and adding pompoms to create the white globes of exposed seeds. For the second craft, colorful construction paper was pieced together into 3D hot air balloons! As a finishing touch, a basket was suspended under the balloon with string. One resident said she would make more with a bigger basket and fill it with candy as a cute treat for friends! Pictured: Mrs. Margaret Murakami (left) and Mr. Kenneth Kaneshiro (right).
Staying Sharp
At 15 Craigside, the Health and Wellness resident subcommittee organized a talk on the Five Pillars of Brain Health with guest speaker and AARP volunteer, Patricia Bemis. The pillars include learning new things, staying socially engaged, exercising, eating a brain-healthy diet and sleeping better/reducing stress. Patricia also added, and moving into a community like 15 Craigside!
Cold Summer Treats
Just like 15 Craigside residents, clients at The Center also beat the summer heat on National Ice Cream Sandwich Day with the frozen dessert. No one knows the exact date when the ice cream sandwich was first invented, but the earliest versions were called "hokey pokeys." Street vendors sold them for just a penny in New York City at the turn of the 20th century.
Nature Photography
Have you ever had a beautiful pheasant visit your backyard? Mr. Martin Zorn, Board Chair of the Arcadia Family of Companies, lives on the island of Maui on the slopes of Haleakala and recently captured this image of one that stopped by for a refreshing drink of water. Thank you, Mr. Zorn, for always sharing your amazing photography skills!
"Let's get vaccinated! In preparation for the upcoming flu season, the Arcadia Family of Companies is holding flu shot clinics for residents, clients, members and employees in September. Remember to sign up if you haven't done so already." - Suzie Schulberg, President & CEO