September 9, 2022
Hoʻomau (9/9/22)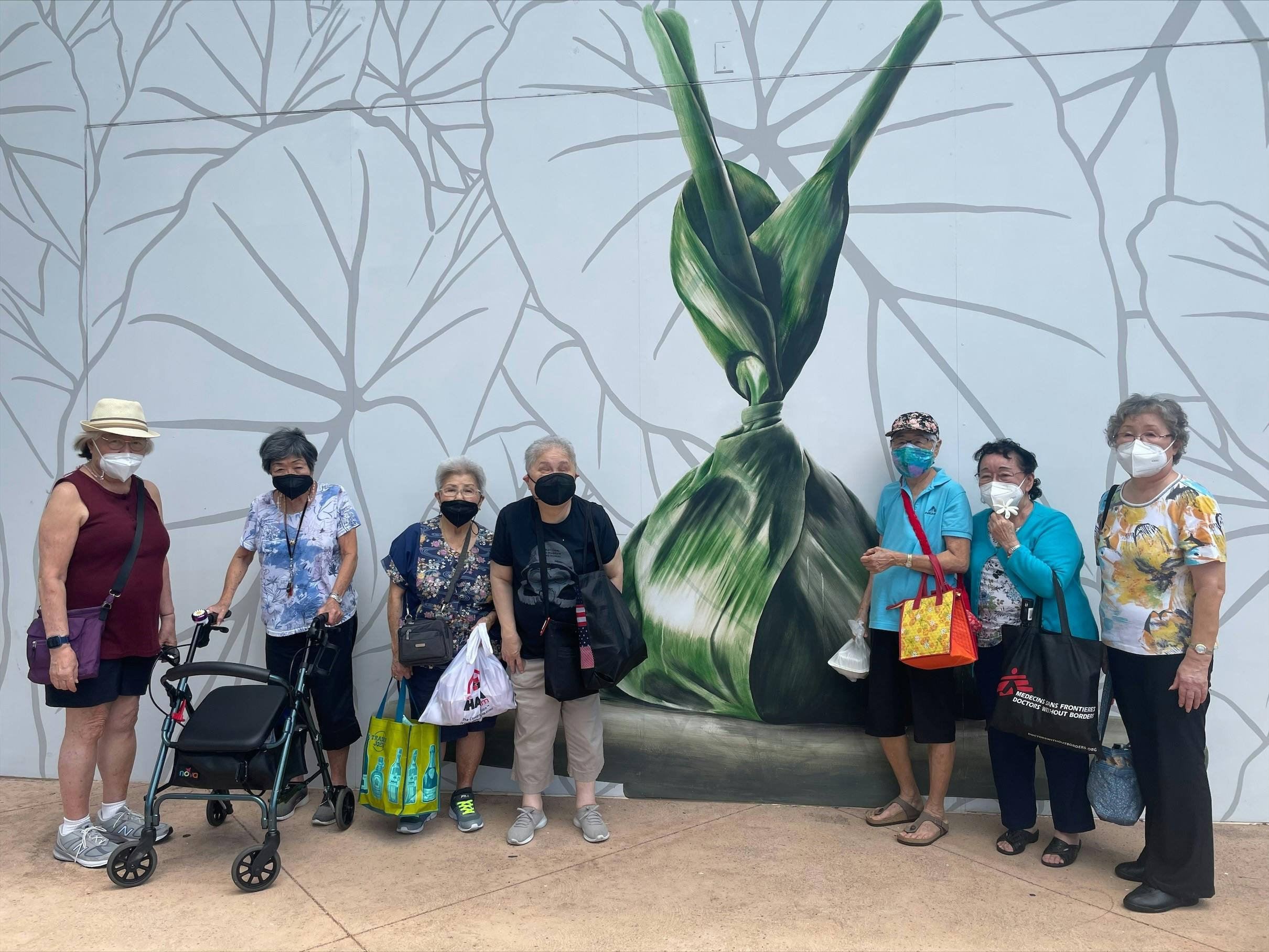 SEPTEMBER 9, 2022, ISSUE 67
Hoʻomau
Renew, Perpetuate, Persevere
Outing to Kapolei
Have you tried Crumbl Cookies? To mark National Chocolate Chip Cookie Day, Arcadia residents ventured out west to Kapolei Commons to visit this new shop and indulge in their sweet treats.
After purchasing their cookies, an outdoor lunch was enjoyed at Young's Fish Market. The eatery opened their original location in 1951 on Liliha Street and now have two locations (City Square and Kapolei Commons) where they serve ono local food. They have everything to satisfy any Hawaiian food craving, from their famous laulau and kalua pork plates to poke and other favorites.
Top photo (left to right): Ms. Bobbie Aisaka, Mrs. Ethel Nakagawa, Ms. Florence Matsuda, Ms. Cynthia Hirakawa, Ms. Amy Taniguchi, Ms. Sylvia Koike, Mrs. Takako Jenkins.
Tabletop Game Fun
Residents came down to 15 Craigside's Theater to play some good old-fashioned tabletop games. Ms. Charlene Oshiro and Mr. Francis Shiroma tested their luck and strategy at Jenga, the nerve-wracking wooden block stacking game. Ms. Mabel Sekiya played Chinese checkers with the Programs team and succeeded in getting all her game pieces to the other side first!
Digital Art Show Featuring Arcadia Resident
Our residents have amazing talents! Arcadian, Mrs. Ellen Chapman, is one of nine artists featured in the Digital Art Society of Hawaii (DASH) Members Fine Art Exhibit. The opening reception will be held on Thursday, September 15th from 4:30 to 6:30 pm at the Pauahi Tower Gallery on Bishop Street and all are welcome to attend. The exhibit runs from September 10th through November 5th. DASH was founded in 1988 and is a non-profit organization made up of artists dedicated to encourage and guide the development of digital fine art. Their mission is to create greater public awareness for digital fine art through collaboration, education, and exhibitions. Shown on the left is Buddha Twins, one of Mrs. Chapman's beautiful pieces. Thank you for sharing your artistry with us!
Adventures in Montana and Washington
Mr. Martin Zorn, Board Chair of the Arcadia Family of Companies, continues to amaze us with his stunning nature photography. During a visit to Montana and Washington, he captured beautiful images of Eureka, Deer Lagoon, the Spokane River and Whidbey Island. Thank you, Mr. Zorn, for sharing and taking us along on your scenic travels!
Cherry Blossom Painting Workshop
Last month, Punahou student, Isabel Cheever, once again visited Arcadia to lead a painting workshop. Using various shades of pink, residents created their own unique cherry blossom trees and branches using Q-tips and paintbrushes. Although the spring-time bloom of cherry blossoms is brief, these Arcadians are now able to enjoy the pink flowers year-round with their finished canvases!
Autumn Table Decor
15 Craigside is getting ready for fall by creating centerpieces for the Dining Room. In two craft sessions, residents cut colorful leaves and attached them to pipe cleaners and chopsticks. The festive decor is sure to brighten the tables for autumn! Pictured: Ms. Harumi Sato, Mrs. Violet Kawakami, Mrs. Edith Harada, Mrs. Hisako Toyooka, Mrs. Nellie Lum (left to right).
S'mores Hand Pies
Arcadians celebrated National S'mores Day with a twist! Residents took the things they love about s'mores - melty chocolate and gooey marshmallows - and put them into a buttery pie crust instead of between graham crackers. Shown with their finished flower-shaped versions of the popular campfire treat are Mrs. Ethel Nakagawa (left) and Ms. Florence Matsuda (right).
Water and energy conservation reminders from 15 Craigside residents, Ms. Charlene Oshiro and Ms. Irene Zane
"Anything else you're interested in is not going to happen if you can't breathe the air and drink the water. Don't sit this one out. Do something. You are by accident of fate alive at an absolutely critical moment in the history of our planet." - Carl Sagan
When it's BRIGHT, switch off the LIGHT.
"Sunday, September 11th, is Grandparents Day. Thank you to all the grandparents out there for their care, guidance, hugs, patience, support, wisdom, and most of all, love." - Suzie Schulberg President & CEO