September 16, 2022
Ho'omau (9/16/22)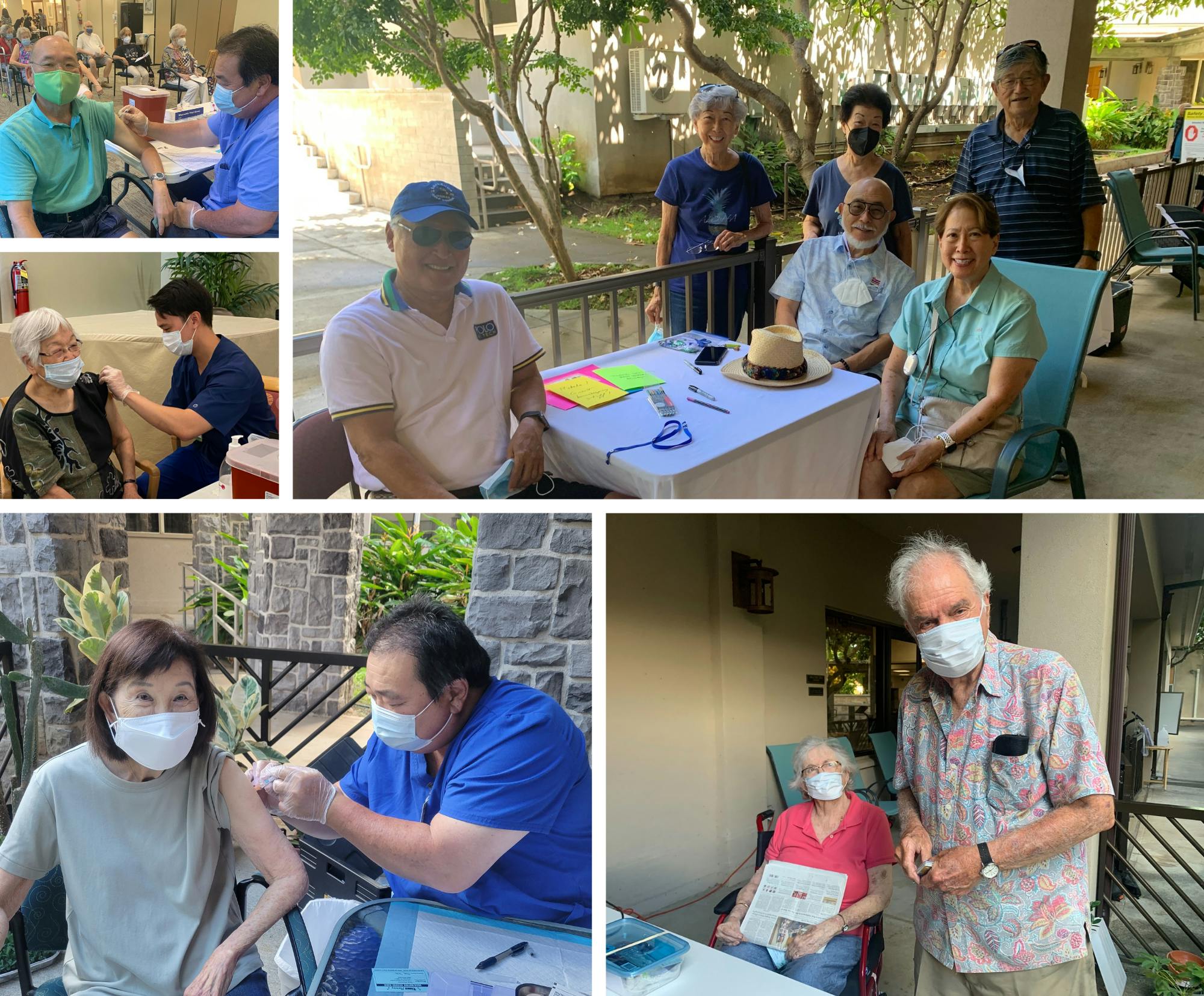 SEPTEMBER 16, 2022, ISSUE 68
Hoʻomau
Renew, Perpetuate, Persevere
Flu Shot Clinics
Don't forget to get vaccinated! The Arcadia Family of Companies hosted flu shot clinics for residents, clients, members, and employees. Every year, millions of people get the flu. The good news is that the seasonal flu vaccine can lower the risk of getting the flu by 50% and is the best way to protect yourself from the virus. Getting the vaccine not only protects yourself, but protects the people around you. Especially in present times, it is important to keep our community safe and healthy!
Foodbank Produce Sorting Outing
In honor of National Food Bank Day, Arcadia residents visited Hawaii Foodbank to assist in inspecting and sorting produce donations. They checked the integrity of food products and prepared items for warehouse storage. In addition, Arcadia is hosting a food bank drive open to residents and staff who want to donate to those in our community who struggle with food insecurity. The drive ends on September 23rd!
Popoki & Tea
15 Craigside residents took a "purrific" excursion to the Popoki & Tea Cat Café. Cat lovers spent the afternoon petting and playing with adoptable cats and kittens at the cute café in Kaimuki. The café offers handcrafted milk tea, iced tea, and cat-themed coffee selections. What a great way to relax, reduce stress, and increase happiness with some temporary pet therapy!
Hawaii's Best 2022
Thank you to the readers of the Honolulu Star-Advertiser and to our supporters for your votes! You helped us win the 2022 "Hawaii's Best" awards. Arcadia Adult Day Care & Day Health Center was selected as a finalist in the Adult Day Care category and 15 Craigside/Arcadia was selected as a finalist in the Senior Living Facility category.
Macramé Keychain Making
Arcadians got crafty during a macramé keychain making activity. Macramé is a form of textile produced using knotting techniques. The first accounts of macramé are credited to 13th-century Arab weavers who used extra thread to create knotted decorative threads on handmade fabrics. Pictured here are Mrs. Ethel Nakagawa (left) and Ms. Cynthia Hirakawa (right) showing off their adorable keychains.
Vaccination Presentation
The Health and Wellness Programs Committee organized another informative presentation at 15 Craigside. Guest speaker Geriatrics Pharmacist, Joy Higa, educated residents on vaccinations needed by adults 65 and older. Recommendations include influenza (flu), pneumonia, shingles, tetanus, diphtheria and pertussis (Tdap) and the COVID-19 vaccines.
AAH Appreciation Boards
Shannon Miyazaki, Member Services Manager at Arcadia At Home, put together appreciation boards for the Arcadia Home Health Services Housekeeping team. The boards feature hand-written notes from members to express gratitude to our employees. Pictured here are Ms. Georgiana Yap (left) and Ms. Marian Okada (right).
15 Craigside and Arcadia AL teams on "Rainbow Day" to celebrate National Assisted Living Week !
"Happy National Assisted Living Week to our hardworking staff who play a vital role in improving the lives of our residents, clients, and members." - Suzie Schulberg President & CEO