October 27, 2023
Ho'omau (10/27/23)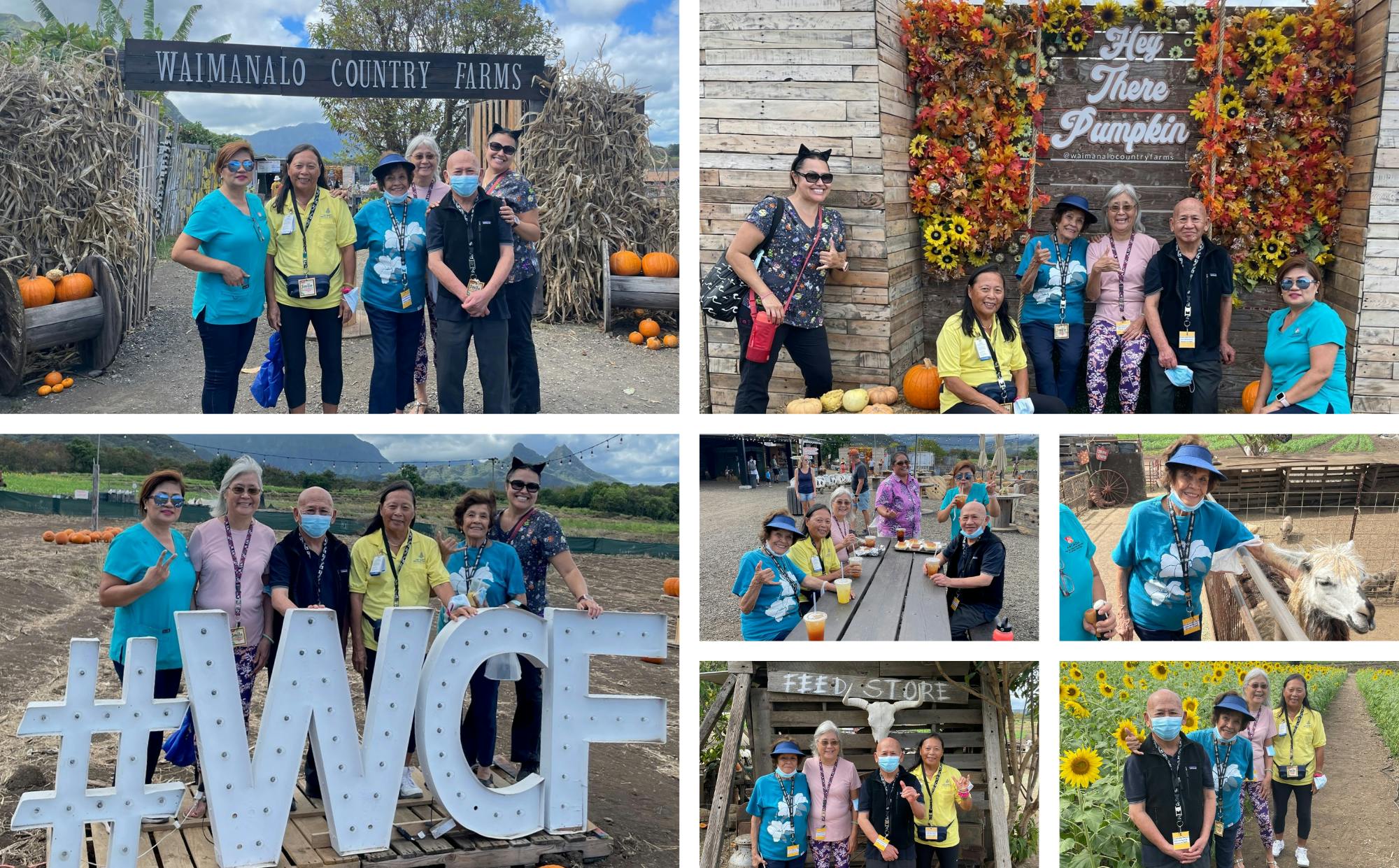 OCTOBER 27, 2023, ISSUE 126
Hoʻomau
Renew, Perpetuate, Persevere
Waimanalo Country Farms
The Arcadia Adult Day Care clients took a trip to the east side to visit Waimanalo Country Farms! Every year, the farm puts on a Fall Harvest Festival with many fun activities to get into the autumn spirit! The festivities started with a hayride and clients learned all about the history of the 52-acre family-run holding. The farm has adorable mini pigs, goats, alpacas, llamas, mini cows, and chickens galore that attendees were able to feed. Everyone frolicked through the sunflower fields and pumpkin patch, some even decided to take a pumpkin home! There were also so many decorative photo opportunity spots including a swing with a sign that says, "hey there pumpkin." This was the perfect outing to welcome in the new season and everyone had a great time. This year, the farm is celebrating 75 years!
Cocktail Hour
The 15 Craigside Lobby transformed into a relaxing lounge at the Na Mea Ono (The Delicious Place) Cocktail Hour. Residents enjoyed holiday punch, sangria, beer, and wine along with delicious pupu including smoked salmon with cucumber dill, prosciutto and Boursin cheese puff pastry, shrimp cocktail, and baba ganoush crostini. To top it off, Shaun Gomban, ukulele player and singer, performed beautiful Hawaiian music.
Sweet Treats
Hale Ola Kino by Arcadia residents grabbed their sun hats and took a field trip to Baskin-Robbins for a yummy sweet treat. Family members volunteered to assist the residents in their "walk and roll" trip from Kalakaua Avenue to South King Street. It was a beautiful day for everyone to embrace the warm weather and enjoy each other's company. Residents and family members always look forward to this outing!
Tradition Coffee Roasters
Arcadia residents went on an exciting excursion to Tradition Coffee Roasters in Kailua. They took a coffee tour and got a behind-the-scenes look of the roasting process. Everyone also enjoyed a coffee tasting, it was intriguing to learn how the flavors and aromas are created. The company believes coffee is what brings people together. From our greatest accomplishments to our most challenging days, all you need is a cup of joe.
Rai Rai Ramen
The Arcadia Adult Day Care clients had a mouthwatering lunch at Rai Rai Ramen. The restaurant offers many different dishes including ramen, gyoza, chicken katsu, and fried rice. Their unique ramen noodles are made fresh daily with machines and flour imported from Japan. It contains no preservatives or additives and is natural, healthy, and delicious!
Take Me Back to 2013
Arcadia residents gathered in the Chapel to commemorate the 10-year anniversary of Mr. Jack Cione's 2013 Arcadia Follies "This is a Great Country." Residents who took part in the 2013 production and attended the showing are pictured from left to right: Miss Phyllis Zerbe, Ms. Jackie Hayashida, Mrs. Mazie Kozuki, Mrs. Elaine Stroka, and Mr. Jack Cione.
The Legacy Performance
15 Craigside residents were excited to welcome back The Legacy singing group for a fun-filled performance. They played a medley of classic favorites that had the residents rocking and tapping their feet in their seats. After the performance, residents expressed their thoughts: "Thumbs up, terrific!" and "So good, brings back so many memories."
Hooray for Baby Koi Fish!
For the first time in many years, the Arcadia koi pond has baby koi fish! The residents were very happy with this surprise and look forward to watching them grow. Koi is actually the informal name for this species — they are often referred to as Japanese koi or their Japanese name, Nishikigoi. Nishikigoi symbolizes luck, prosperity, and good fortune.
"Next to Christmas, Halloween is the second largest commercial holiday. Consumers spend approximately $8 billion on Halloween candy, decorations and costumes. Wishing all of you a safe and happy Halloween!" - Suzie Schulberg, President & CEO