January 6, 2022
Technology Trends for Older Adults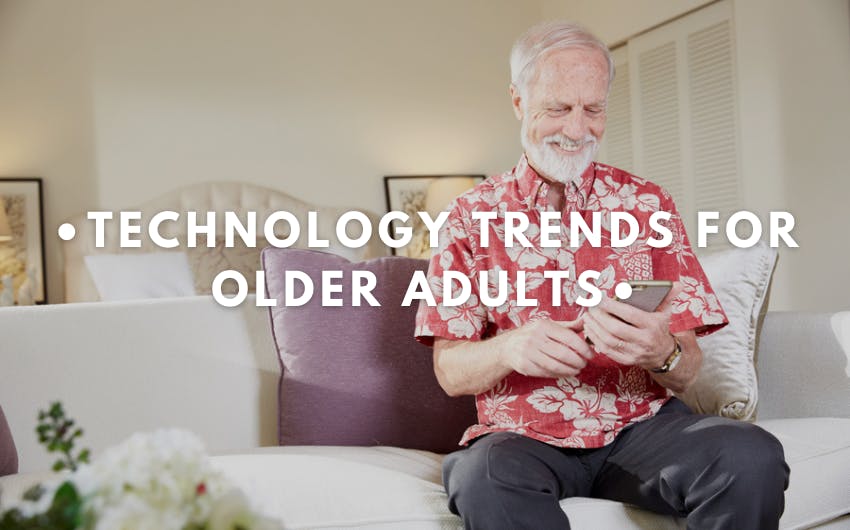 Technology is not just for the young and savvy. In fact technology has made great advancements in helping kupuna in every day life. What is the latest in technology, trends and more importantly, how they can be used to make life easier.
How is technology helping older adults lead fuller, safer lives
Whether for medical reasons, to assist with fitness, or simply to make life a little bit easier, technology is available to help older adults in different ways. Let's take a closer look at what these technologies are and how they can help.
Wearable Technologies
Wearable technologies can help track and monitor areas of health and well-being: quality of sleep, calories, steps and heart rate, just to name a few. Having access to this information can help a loved one keep track of progress and decline by having a history record to review and compare.
Personal Emergency Response Systems (PERs) allow family and friends to keep track of a loved one's whereabouts and can even detect a fall which can help alleviate worry. Many PERs devices have a built-in two-way calling system that automatically connects to a 24-hour help desk that can call an ambulance.
GPS trackers allow kupuna and medical professionals to locate the person wearing the device if one is lost. This is especially beneficial for those who have Alzheimer's, Dementia, or other memory impairment conditions that can make it difficult to remember current location or home address.
Voice assistants and activated systems
Voice assistants can answer most questions instantly instead having to use an external computer or mobile phone to look up this information. Also, these voice assistants can help with things such as controlling the temperature in your home, lighting and even locating objects such as a phone or keys.
Telehealth
One of the most practical new technologies is Telehealth, conducted over the phone or Zoom connecting older adults with a doctor, nurse, or other medical professionals at a moment's notice without the need to book an appointment or travel to the doctor's office.
Lyft
Ride-sharing services such as Lyft, are perfect for older adults who prefer to stay independent but are unable to drive or do not like to rely on others for rides. Best of all, this service can be set up and monitored online by the senior themself or by a caregiver. Because it is a cashless based system, Kupuna need not worry about carrying cash or tipping.
Predictions for future technology for seniors
It's predicted that technology will be much more integrated into seniors' daily lives. Voice assistants and embedded communication channels will make it easier to communicate with family, friends, and medical professionals by just saying "call the doctor" or "call my son."
Virtual reality and artificial intelligence make diagnosing and treating medical conditions much easier. Artificial Intelligence uses algorithms and machine learning to collect, analyze and interpret data to help with personalized help such as virtual assistants.
How technology will impact living communities/senior housing and home care
As technology becomes more available to help older adults, life plan communities have adopted these types of technologies to provide their residents with an integrated experience designed to keep them happy and healthy. Many older adults living in independent and assistant housing already enjoy voice activated devices and can ask "Alexa" to play music or dim the lights.
For those receiving home care, wearable PERs devices are provided by the health care provider helping clientele stay safe so they can continue to live independently at home. Home aides can help kupuna with scheduling and conducting telehealth visits with their physicians providing an alternative to in person visits.
Advancements in older adult technology continue to grow at a fast pace and there seems to be no end in sight as technology becomes more accessible and affordable to all ages, including older adults.