June 2, 2022
LGBTQ+ Older Adults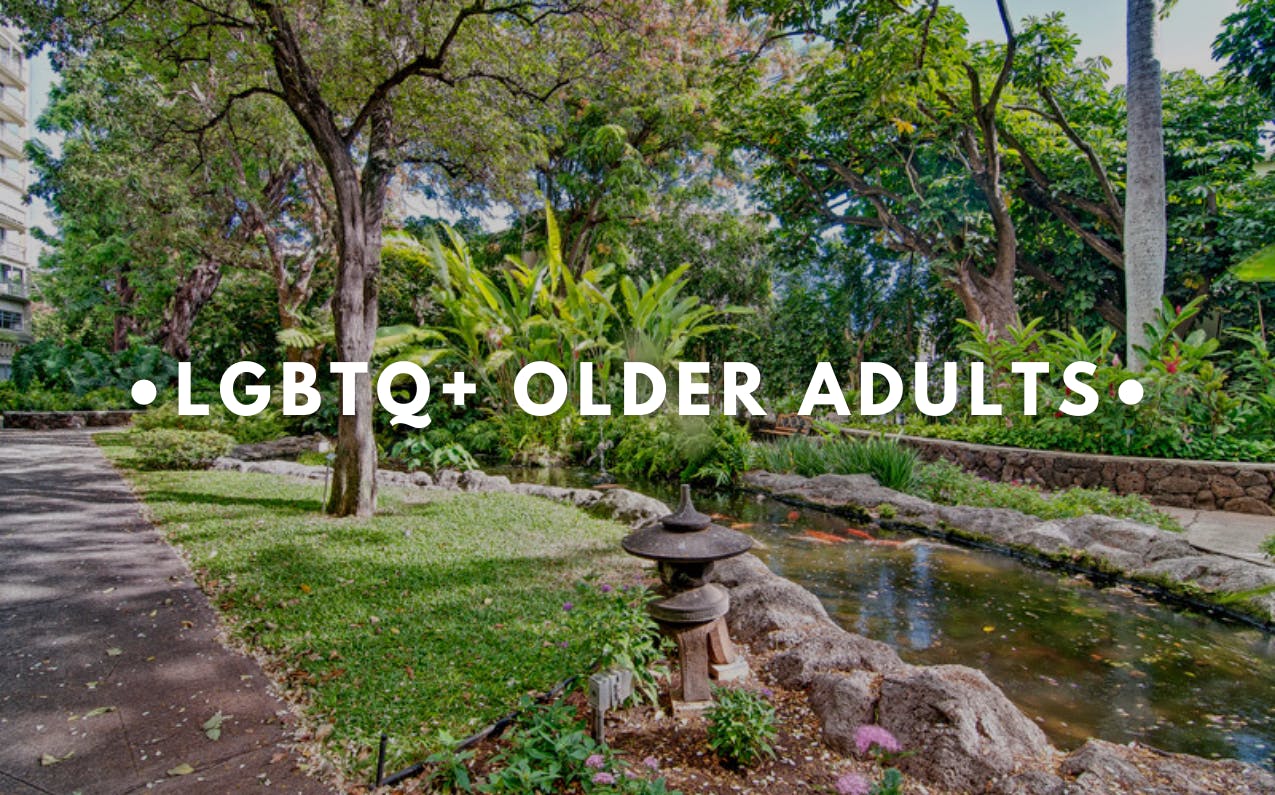 As you age, it's natural to be concerned about things such as housing and care. Access to quality senior housing and care provides comfort and a sense of belonging. But not every senior has access to the same sense of community and belonging. For LGBTQ+ adults there is unfortunately a lack of LGBTQ+ senior communities.
An estimated 2.4 million seniors in the U.S. identify as lesbian, gay, bisexual, or transgender. While that's a large number—the number of LGBTQ-centered senior housing options do not reflect the population. Without a sense of community, there is a greater risk for feelings of isolation and depression. This could also lead to greater health risks as well.
Advocates in the Continued Care Retirement Communities (CCRC) industry are looking to change that—because everyone deserves to feel comfortable and accepted as they age.
Housing Challenges by Seniors in the LGBTQ+ Community
Finding comfortable housing is one of the biggest challenges for many older LGBTQ+ adults. In general, senior housing should be able to accommodate people with physical limitations such as arthritis, vision problems, hearing loss, or cognitive impairments. People who are aging should also have access to communities that provide the opportunity to learn new skills and develop new interests. These communities should be providing services and activities that promote health and well-being as well.
Essentially, community and care should be at the core of housing for older adults. While there are plenty of excellent senior living communities that provide all of the above—there is still a lack of senior housing communities that create a sense of inclusion and acceptance for older LGBTQ+ adults. Fortunately, more CCRCs are recognizing the need for LGBTQ+ senior housing communities and care.
Finding LGBTQ+ friendly retirement communities
There are a variety of different retirement communities and each of these communities provide different amenities and experiences.
If you're in a same-sex marriage or partnership, it may be increasingly difficult to find a community for you and your partner—depending on where you live. Some retirement communities welcome same-sex couples, while others are very selective.
When looking for a LGBTQ-friendly community, here are things to consider:
●     Is it affordable? Rates vary and it's best to compare rates before making any decisions.
●     Does it have a good reputation? Read reviews from other residents and children of residents.
●     Does it have amenities like pools, gyms, spas, etc.? These are important if you enjoy keeping active.
●     How does it treat its residents? Is the staff respectful and helpful? Do they make sure everyone feels included? Schedule a tour and observe the interaction between staff and residents.
●     What kind of social events are available? For example, are there groups for retirees interested in sports, arts, crafts, travel, volunteering, etc.?
●     What kind of activities can you engage in? Does it have classes for those who want to stay active?
If you find a place that seems right for you, contact the management company to ask about their policies regarding same-sex couples. They may have special programs available for you.
The Movement to Create Niche LGBTQ+ CCRCs
Retirement communities are an option for aging adults, but wouldn't it be even better if aging LGBTQ+ adults were able to find retirement communities that catered explicitly to them? That's what the LGBTQ+ CCRC movement is seeking to create.
One of the fastest-growing housing segments for the elderly in the U.S. is niche housing. Niche housing catered towards the LGBTQ+ community falls under this umbrella.
LGBTQ+ niche housing offers a variety of benefits, including:
●     A sense of belonging
●     Access to services tailored to meet your needs
●     A greater chance of meeting new friends
●     More control over your environment
In 2012, the National Gay & Lesbian Task Force (NGLTF) created the "National Aging Policy Project" to advocate for the creation of niche housing communities. NGLTF believes that these communities would provide much-needed resources for aging LGBTQ+ seniors.With more niche communities, older LGBTQ+ adults will be able to find comfort as they age.
Overcoming Social Isolation as an LGBTQ+ Adult
Unfortunately, housing isn't the only problem faced by aging LGBTQ+ results. Aging LGBTQ+ adults are at greater risk for isolation. This isolation also puts these older adults at a greater risk for depression and possibly suicide. If you or a loved one suffer from feelings of isolation—here are a few solutions:
Community Centers
Most cities offer community centers where older adults can get together and make new friends. Many of these facilities offer activities such as bingo, competitive games, exercise classes, and art workshops.
Support Groups
Many cities now offer support groups for older adults who identify as lesbian, gay, bisexual, transgender, queer, or questioning. Some of these groups meet at churches, while others operate out of private homes.
Hospitals
If you're looking for help with your healthcare needs, ask your doctor about local hospitals that offer services tailored to the needs of older adults. For instance, some hospitals provide geriatric medicine clinics specializing in treating older patients.
Your Local Area Agency on Aging (AAA)
If you want to learn more about senior services in your area, contact your local AAA office. They can let you know whether there are any services offered in your city, geared toward older adults.
Aging as LGBTQ+ Adults
Many LGBTQ+ adults face challenges that other adults don't. Fortunately, there are communities and solutions available to help combat those challenges.
If you or a loved one are looking for a sense of community as an older adult, the Arcadia Family of Companies is committed to providing inclusive and supportive senior living options. Our continuum of care includes lifetime residency in our Life Plan Communities, aging in place in your home, home health services, and adult day care and day health services. Services such as these can help combat feelings of isolation and give aging adults a sense of comfort and care.