January 8, 2021
Silver Linings of COVID-19 (Issue 1/08/21)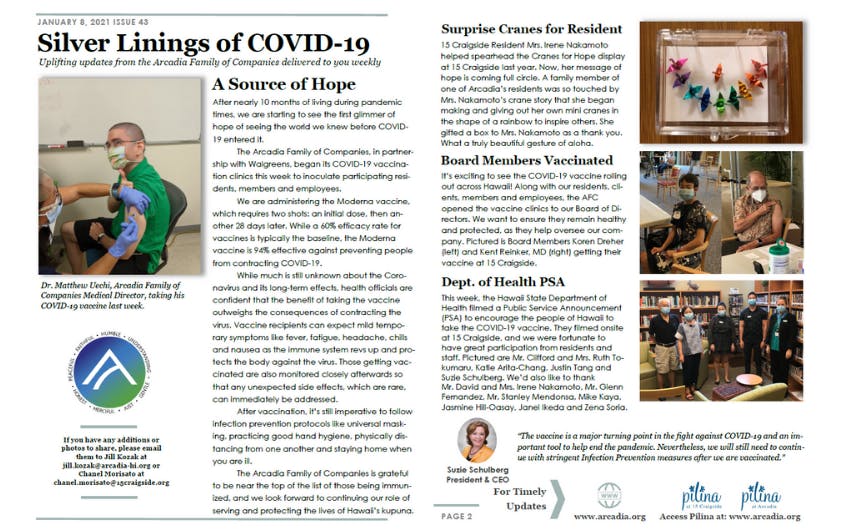 CLICK HERE TO READ THE FULL ISSUE
JANUARY 8, 2021 ISSUE 43
Silver Linings of COVID-19
Uplifting updates from the Arcadia Family of Companies delivered to you weekly
A Source of Hope
After nearly 10 months of living during pandemic times, we are starting to see the first glimmer of hope of seeing the world we knew before COVID-19 entered it.
The Arcadia Family of Companies, in partnership with Walgreens, began its COVID-19 vaccination clinics this week to inoculate participating residents, members and employees.
We are administering the Moderna vaccine, which requires two shots: an initial dose, then an-other 28 days later. While a 60% efficacy rate for vaccines is typically the baseline, the Moderna vaccine is 94% effective against preventing people from contracting COVID-19.
While much is still unknown about the Coronavirus and its long-term effects, health officials are confident that the benefit of taking the vaccine outweighs the consequences of contracting the virus. Vaccine recipients can expect mild temporary symptoms like fever, fatigue, headache, chills and nausea as the immune system revs up and protects the body against the virus. Those getting vaccinated are also monitored closely afterwards so that any unexpected side effects, which are rare, can immediately be addressed.
After vaccination, it's still imperative to follow infection prevention protocols like universal masking, practicing good hand hygiene, physically distancing from one another and staying home when you are ill.
The Arcadia Family of Companies is grateful to be near the top of the list of those being immunized, and we look forward to continuing our role of serving and protecting the lives of Hawaii's kupuna.
Surprise Cranes for Resident
15 Craigside Resident Mrs. Irene Nakamoto helped spearhead the Cranes for Hope display at 15 Craigside last year. Now, her message of hope is coming full circle. A family member of one of Arcadia's residents was so touched by Mrs. Nakamoto's crane story that she began making and giving out her own mini cranes in the shape of a rainbow to inspire others. She gifted a box to Mrs. Nakamoto as a thank you. What a truly beautiful gesture of aloha.
Board Members Vaccinated
It's exciting to see the COVID-19 vaccine rolling out across Hawaii! Along with our residents, clients, members and employees, the AFC opened the vaccine clinics to our Board of Directors. We want to ensure they remain healthy and protected, as they help oversee our company. Pictured is Board Members Koren Dreher (left) and Kent Reinker, MD (right) getting their vaccine at 15 Craigside.
Dept. of Health PSA
This week, the Hawaii State Department of Health filmed a Public Service Announcement (PSA) to encourage the people of Hawaii to take the COVID-19 vaccine. They filmed onsite at 15 Craigside, and we were fortunate to have great participation from residents and staff. Pictured are Mr. Clifford and Mrs. Ruth Tokumaru, Katie Arita-Chang, Justin Tang and Suzie Schulberg. We'd also like to thank Mr. David and Mrs. Irene Nakamoto, Mr. Glenn Fernandez, Mr. Stanley Mendonsa, Mike Kaya, Jasmine Hill-Oasay, Janel Ikeda and Zena Soria.
"The vaccine is a major turning point in the fight against COVID-19 and an important tool to help end the pandemic. Nevertheless, we will still need to continue with stringent Infection Prevention measures after we are vaccinated." - Suzie Schulberg, President & CEO