February 26, 2021
Silver Linings of COVID-19 (Issue 2/26/21)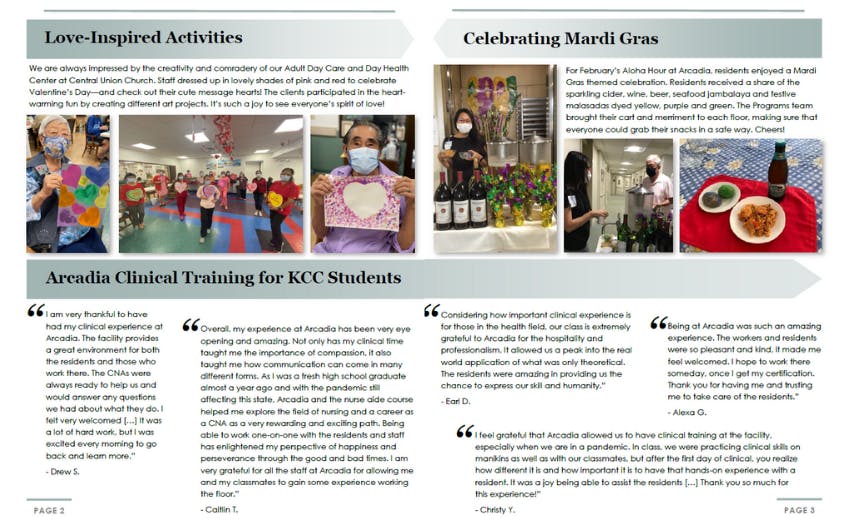 FEBRUARY 26, 2021, ISSUE 50
Silver Linings of COVID-19
Uplifting updates from the Arcadia Family of Companies delivered to you weekly
Arcadia's Urban Paradise
For those who may not know, Arcadia has a rich history. It was the site of Hawaii's first governor's mansion in 1907. When Arcadia was later built in 1967 as our state's first continuing care retirement community, many of the original trees were preserved.
Our current arborist, Heidi Bornhorst, has done an amazing job of maintaining and enhancing the lush beauty of Arcadia's garden. She was recently featured in Honolulu Magazine for her incredible accomplishments and interesting personal connection to plants—trees in particular.
Did you know: "One of Arcadia's rainbow shower trees was propagated from Hawaii's original rainbow shower tree. They're a made-in-Hawaii hybrid. Rainbow showers are like a mule—they're sterile." (Source: Honolulu Magazine).
As we live our lives, let it be in harmony with nature. There is so much to appreciate about the world around us and it starts with being in tune with our surroundings.
Love-Inspired Activities
We are always impressed by the creativity and comradery of our Adult Day Care and Day Health Center at Central Union Church. Staff dressed up in lovely shades of pink and red to celebrate Valentine's Day—and check out their cute message hearts! The clients participated in the heart-warming fun by creating different art projects. It's such a joy to see everyone's spirit of love!
Arcadia Clinical Training for KCC Students
"I am very thankful to have had my clinical experience at Arcadia. The facility provides a great environment for both the residents and those who work there. The CNAs were always ready to help us and would answer any questions we had about what they do. I felt very welcomed […] It was a lot of hard work, but I was excited every morning to go back and learn more." - Drew S.
"Overall, my experience at Arcadia has been very eye opening and amazing. Not only has my clinical time taught me the importance of compassion, it also taught me how communication can come in many different forms. As I was a fresh high school graduate almost a year ago and with the pandemic still affecting this state, Arcadia and the nurse aide course helped me explore the field of nursing and a career as a CNA as a very rewarding and exciting path. Being able to work one-on-one with the residents and staff has enlightened my perspective of happiness and perseverance through the good and bad times. I am very grateful for all the staff at Arcadia for allowing me and my classmates to gain some experience working the floor." - Caitlin T.
"Considering how important clinical experience is for those in the health field, our class is extremely grateful to Arcadia for the hospitality and professionalism. It allowed us a peak into the real world application of what was only theoretical. The residents were amazing in providing us the chance to express our skill and humanity." - Earl D.
"Being at Arcadia was such an amazing experience. The workers and residents were so pleasant and kind, it made me feel welcomed. I hope to work there someday, once I get my certification. Thank you for having me and trusting me to take care of the residents." - Alexa G.
"I feel grateful that Arcadia allowed us to have clinical training at the facility, especially when we are in a pandemic. In class, we were practicing clinical skills on manikins as well as with our classmates, but after the first day of clinical, you realize how different it is and how important it is to have that hands-on experience with a resident. It was a joy being able to assist the residents […] Thank you so much for this experience!" - Christy Y.
Celebrating Mardi Gras
For February's Aloha Hour at Arcadia, residents enjoyed a Mardi Gras themed celebration. Residents received a share of the sparkling cider, wine, beer, seafood jambalaya and festive malasadas dyed yellow, purple and green. The Programs team brought their cart and merriment to each floor, making sure that everyone could grab their snacks in a safe way. Cheers!
AAH Diner Delivery
Arcadia At Home members recently received their sixth Diner Delivery, this time featuring EARL Sandwich in Kaimuki. "We both enjoyed our sandwiches," said AAH Members, Roy and Catherine Miyahira. "They were hearty, flavorful and worth the price. Thank you for making it possible and working so hard to deliver our meal!" Glad you enjoyed it!
Semi-Annual Facility Audit
We just completed our semi-annual facility audit at 15 Craigside and Arcadia. Members from our AFC Safety Committee were invited to participate. Involving other departments allows for new eyes to see potential issues. Per Shirley Rivera, 15 Craigside Clinic Medical Assistant, "Conducting an audit plays a vital role in identifying safety problems […] and ensuring a safe and healthful workplace."
Handmade Masks from FHB
Our friends at First Hawaiian Bank brought handmade fabric masks for our residents at Arcadia. In December, they usually host a tea party in our community with refreshing snacks and tea—plus a visit from Santa. This year, they got creative and gifted us with masks instead. We appreciate their generosity and kindness. The masks are comfortable and stylish!
"Please keep in mind that despite the vaccine and a successful clinic rollout within our organization, now is not the time to let down our guard. We encourage everyone to continue to practice social/physical distancing, handwashing, wearing masks, staying home when you are sick and not gathering in large groups." - Suzie Schulberg, President & CEO