November 6, 2020
Silver Linings of COVID-19 (Issue 11/6/20)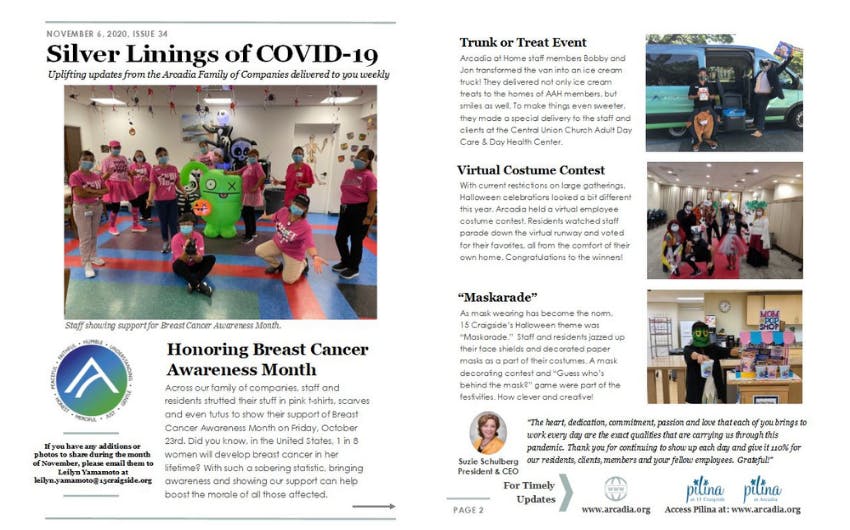 CLICK HERE TO READ THE FULL ISSUE
NOVEMBER 6, 2020, ISSUE 34
Silver Linings of COVID-19
Uplifting updates from the Arcadia Family of Companies delivered to you weekly
Honoring Breast Cancer Awareness Month
Across our family of companies, staff and residents strutted their stuff in pink t-shirts, scarves and even tutus to show their support of Breast Cancer Awareness Month on Friday, October 23rd. Did you know, in the United States, 1 in 8 women will develop breast cancer in her lifetime? With such a sobering statistic, bringing awareness and showing our support can help boost the morale of all those affected.
Trunk or Treat Event
Arcadia at Home staff members Bobby and Jon transformed the van into an ice cream truck! They delivered not only ice cream treats to the homes of AAH members, but smiles as well. To make things even sweeter, they made a special delivery to the staff and clients at the Central Union Church Adult Day Care & Day Health Center.
Virtual Costume Contest
With current restrictions on large gatherings,  Halloween celebrations looked a bit different this year. Arcadia held a virtual employee costume contest. Residents watched staff parade down the virtual runway and voted for their favorites, all from the comfort of their own home. Congratulations to the winners!
"Maskarade"
As mask wearing has become the norm, 15 Craigside's Halloween theme was "Maskarade."  Staff and residents jazzed up their face shields and decorated paper masks as a part of their costumes. A mask decorating contest and "Guess who's behind the mask?" game were part of the festivities. How clever and creative!
"The heart, dedication, commitment, passion and love that each of you brings to work every day are the exact qualities that are carrying us through this pandemic.  Thank you for continuing to show up each day and give it 110% for our residents, clients, members and your fellow employees.  Grateful!" - Suzie Schulberg, President & CEO