November 16, 2020
Silver Linings of COVID-19 (Issue 11/13/20)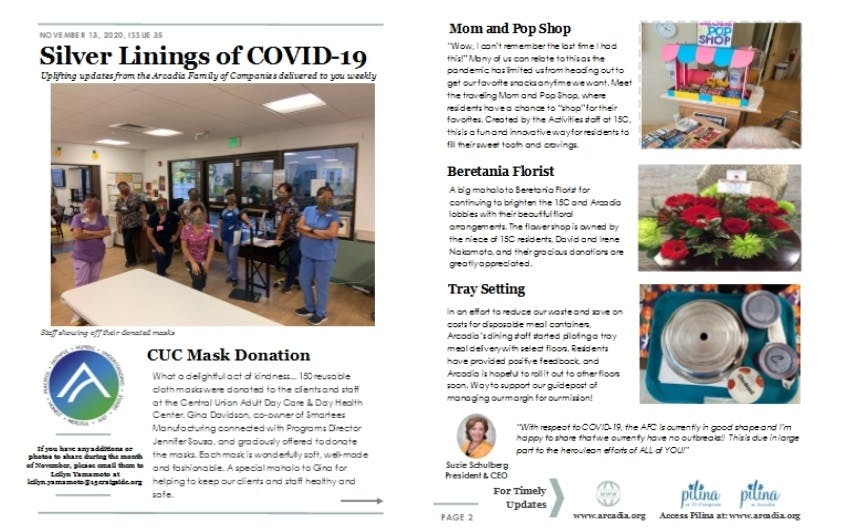 CLICK HERE TO READ THE FULL ISSUE
NOVEMBER 13, 2020, ISSUE 35
Silver Linings of COVID-19
Uplifting updates from the Arcadia Family of Companies delivered to you weekly
CUC Mask Donation
What a delightful act of kindness... 150 reusable cloth masks were donated to the clients and staff at the Central Union Adult Day Care & Day Health Center. Gina Davidson, co-owner of Smartees Manufacturing connected with Programs Director Jennifer Souza, and graciously offered to donate the masks. Each mask is wonderfully soft, well-made and fashionable. A special mahalo to Gina for helping to keep our clients and staff healthy and safe.
Mom and Pop Shop
"Wow, I can't remember the last time I had this!" Many of us can relate to this as the pandemic has limited us from heading out to get our favorite snacks anytime we want. Meet the traveling Mom and Pop Shop, where residents have a chance to "shop" for their favorites. Created by the Activities staff at 15C, this is a fun and innovative way for residents to fill their sweet tooth and cravings.
Beretania Florist
A big mahalo to Beretania Florist for continuing to brighten the 15C and Arcadia lobbies with their beautiful floral arrangements. The flower shop is owned by the niece of 15C residents, David and Irene Nakamoto, and their gracious donations are greatly appreciated.
Tray Setting
In an effort to reduce our waste and save on costs for disposable meal containers, Arcadia's dining staff started piloting a tray meal delivery with select floors. Residents have provided positive feedback, and Arcadia is hopeful to roll it out to other floors soon. Way to support our guidepost of managing our margin for our mission!
"With respect to COVID-19, the AFC is currently in good shape and I'm happy to share that we currently have no outbreaks!!  This is due in large part to the herculean efforts of ALL of YOU!" - Suzie Schulberg, President & CEO