March 26, 2021
Silver Linings of COVID-19 (Issue 3/26/21)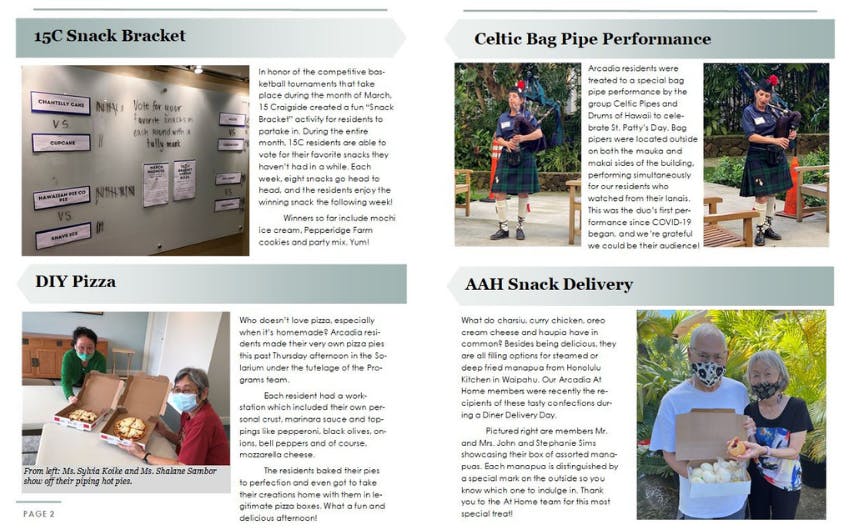 MARCH 26, 2021, ISSUE 54
Silver Linings of COVID-19
Uplifting updates from the Arcadia Family of Companies delivered to you weekly
Engagement Survey Results
This past week, 15 Craigside, Arcadia and the Home and Community Based Programs rolled out the results of the 2020 Resident, Client and Member Engagement Survey. The results this year were presented digitally and highlighted strengths and opportunities for the family of companies. The survey was based on the methodology of the 2016 survey by Holleran Community and Engagement Research and Consulting, a national engagement consulting agency. The 2020 survey was distributed, collected and results tallied electronically.
We're happy to share that overall, those in our programs and communities feel safe and secure and expressed that staff members are friendly and courteous. While the survey reminded us that there's always room for improvement, we're grateful for the opportunity to connect with those whom we serve and improve our care and services going forward.
15C Snack Bracket 
In honor of the competitive basketball tournaments that take place during the month of March, 15 Craigside created a fun "Snack Bracket" activity for residents to partake in. During the entire month, 15C residents are able to vote for their favorite snacks they haven't had in a while. Each week, eight snacks go head to head, and the residents enjoy the winning snack the following week!
Winners so far include mochi ice cream, Pepperidge Farm cookies and party mix. Yum!
DIY Pizza
Who doesn't love pizza, especially when it's homemade? Arcadia residents made their very own pizza pies this past Thursday afternoon in the Solarium under the tutelage of the Programs team.
Each resident had a workstation which included their own personal crust, marinara sauce and toppings like pepperoni, black olives, onions, bell peppers and of course, mozzarella cheese.
The residents baked their pies to perfection and even got to take their creations home with them in legitimate pizza boxes. What a fun and delicious afternoon!
Celtic Bag Pipe Performance
Arcadia residents were treated to a special bag pipe performance by the group Celtic Pipes and Drums of Hawaii to celebrate St. Patty's Day. Bag pipers were located outside on both the mauka and makai sides of the building, performing simultaneously for our residents who watched from their lanais. This was the duo's first performance since COVID-19 began, and we're grateful we could be their audience!
AAH Snack Delivery
What do charsiu, curry chicken, oreo cream cheese and haupia have in common? Besides being delicious, they are all filling options for steamed or deep fried manapua from Honolulu Kitchen in Waipahu. Our Arcadia At Home members were recently the recipients of these tasty confections during a Diner Delivery Day.
Pictured are members Mr. and Mrs. John and Stephanie Sims showcasing their box of assorted manapuas. Each manapua is distinguished by a special mark on the outside so you know which one to indulge in. Thank you to the At Home team for this most special treat!
Celebrating St. Patty's Day
The Adult Day Care and Day Health Center at CUC never misses an opportunity to celebrate a holiday! On St. Patrick's Day, the staff dressed up in green, as no one wanted to get pinched by a leprechaun! Our clients got in the spirit by playing fun St. Patty's Day trivia and crafting leprechaun hats and shamrocks in the afternoon.
CUC Holoholo Ride
There's something about fresh air, blue skies and getting out and about that brings a smile to your face. That couldn't be more true for our clients at the Day Care and Day Health Center at Central Union Church. Check out this shot of clients and Activities Coordinator, Anela, going for a "holoholo" ride. Do you recognize the scenic overlook?
Spring Has Sprung!
March 20th officially marked the start of spring, a much anticipated milestone after a long and rainy winter! Arcadia resident Ms. Sylvia Koike generously donated the festive flower arrangement pictured right to the residents and staff of Arcadia to enjoy. It's her wish for everyone to usher in the new season with this joyous, beautiful arrangement.
We Have the Best Rainbows
UH Professor of Atmospheric Sciences, Dr. Steven Businger, recently asserted that Hawaii is the rainbow capital of the world—and now you can track where and when they happen! Dr. Businger developed a new free smart-phone app called RainbowChase that predicts likely rainbow spots on Oahu based on the angle of the sun and moisture in the air. Now you can hunt for your very own rainbow from the comfort of home.
 "We're taking a gradual, cautious and conservative approach to reopening, with outdoor visitation areas on the lanai of the health care centers and in the gardens for independent and assisted living residents." - Suzie Schulberg, President & CEO