October 2, 2020
Silver Linings of COVID-19 (Issue 10/02/20)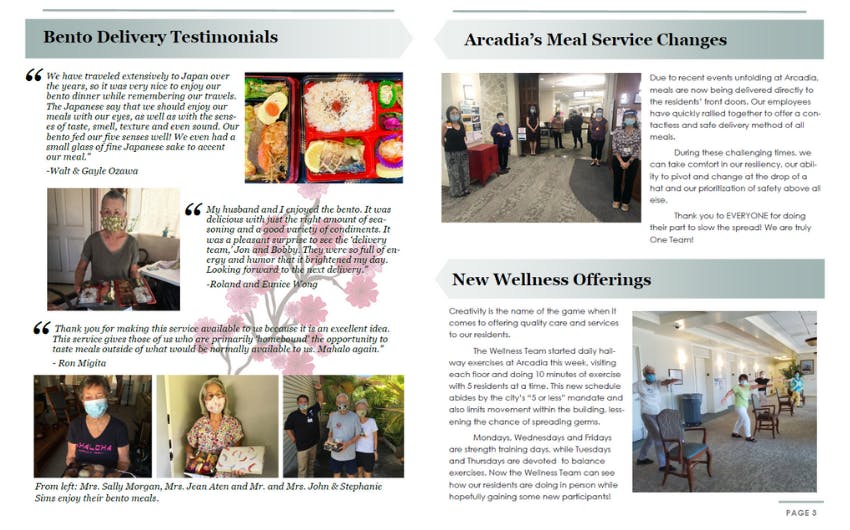 OCTOBER 2, 2020, ISSUE 29
Silver Linings of COVID-19
Uplifting updates from the Arcadia Family of Companies delivered to you weekly
Arcadia At Home Delivers
While things are starting to loosen up around Oahu, the safest thing to do to prevent spreading COVID-19 remains staying at home whenever possible. Luckily, the Arcadia At Home team answered the call of members wishing to try new things by organizing a Diner Delivery event.
Members ordered bentos from Obento Rinka and had them delivered to their homes on Friday, September 25. The delivery personnel were none other than Member Services Manager Bobby Olmstead and Member Services Coordinator Jon China!
Completing 11 stops from Aiea to Hawaii Kai, Bobby and Jon were able to serve 16 members a total of 20 bentos! Accolades poured in about how tasty, well-prepared and presented the bentos were. Read some rave reviews on page 2!
Bento Delivery Testimonials
"We have traveled extensively to Japan over the years, so it was very nice to enjoy our bento dinner while remembering our travels. The Japanese say that we should enjoy our meals with our eyes, as well as with the senses of taste, smell, texture and even sound. Our bento fed our five senses well! We even had a small glass of fine Japanese sake to accent our meal." -Walt & Gayle Ozawa
"My husband and I enjoyed the bento. It was delicious with just the right amount of seasoning and a good variety of condiments. It was a pleasant surprise to see the 'delivery team,' Jon and Bobby. They were so full of energy and humor that it brightened my day. Looking forward to the next delivery." -Roland and Eunice Wong
"Thank you for making this service available to us because it is an excellent idea. This service gives those of us who are primarily 'homebound' the opportunity to taste meals outside of what would be normally available to us. Mahalo again." - Ron Migita
Arcadia's Meal Service Changes
Due to recent events unfolding at Arcadia, meals are now being delivered directly to the residents' front doors. Our employees have quickly rallied together to offer a contactless and safe delivery method of all meals.
During these challenging times, we can take comfort in our resiliency, our ability to pivot and change at the drop of a hat and our prioritization of safety above all else.
Thank you to EVERYONE for doing their part to slow the spread! We are truly One Team!
New Wellness Offerings
Creativity is the name of the game when it comes to offering quality care and services to our residents.
The Wellness Team started daily hallway exercises at Arcadia this week, visiting each floor and doing 10 minutes of exercise with 5 residents at a time. This new schedule abides by the city's "5 or less" mandate and also limits movement within the building, lessening the chance of spreading germs.
Mondays, Wednesdays and Fridays are strength training days, while Tuesdays and Thursdays are devoted to balance exercises. Now the Wellness Team can see how our residents are doing in person while hopefully gaining some new participants!
Oktoberfest
Oom-pah music, salty pretzels and cold beer can only mean one thing: It's Oktoberfest! Arcadia recently celebrated this beloved holiday by delivering festive goodies to residents on each floor. Did you know that Oktoberfest is the world's largest Volksfest (people's festival) that attracts over six million people to Germany from around the world annually? Cheers!
Caregiver Session
Our ongoing Caregiver Support Sessions are a great way to reach those providing care to a loved one. This month, Sara Tompkison, Licensed Clinical Social Worker, explored topics like moving from one care setting to another, understanding the differences in levels of care and learning about options for aging in place at home. Thank you, Sara!
Card Crafting at 15C
Every week, the 15 Craigside Programs Team offers grab-and-go cards that residents can color or write letters on to send to family and friends. This week's card corresponded to a documentary being shown by Blue Planet called "One Ocean." Stephanie Joe, Programs Coordinator, showcases the cards provided for this week's activity. We love encouraging resident creativity!
"If there is anything this pandemic has shown us over the last six months is that things can change in the blink of an eye. Our priority is to ensure the health and safety of all who live and work at Arcadia. Thank you for your understanding and helping us keep everyone safe." - Suzie Schulberg, President & CEO