December 4, 2020
Silver Linings of COVID-19 (Issue 12/4/20)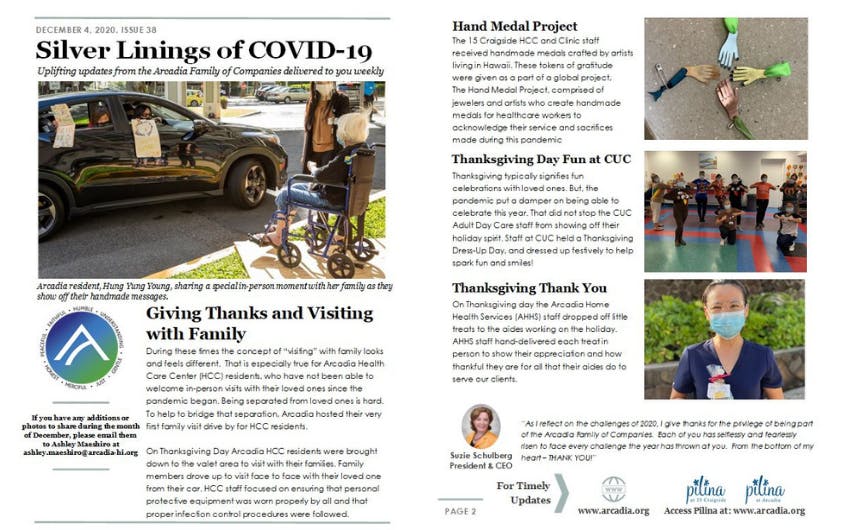 CLICK HERE TO READ THE FULL ISSUE
DECEMBER 4, 2020, ISSUE 38
Silver Linings of COVID-19
Uplifting updates from the Arcadia Family of Companies delivered to you weekly
Giving Thanks and Visiting with Family
During these times the concept of "visiting" with family looks and feels different.  That is especially true for Arcadia Health Care Center (HCC) residents, who have not been able to welcome in-person visits with their loved ones since the pandemic began. Being separated from loved ones is hard. To help to bridge that separation, Arcadia hosted their very first family visit drive by for HCC residents.
 On Thanksgiving Day Arcadia HCC residents were brought down to the valet area to visit with their families. Family members drove up to visit face to face with their loved one from their car. HCC staff focused on ensuring that personal protective equipment was worn properly by all and that proper infection control procedures were followed.
Hand Medal Project
The 15 Craigside HCC and Clinic staff received handmade medals crafted by artists living in Hawaii. These tokens of gratitude were given as a part of a global project, The Hand Medal Project, comprised of jewelers and artists who create handmade medals for healthcare workers to acknowledge their service and sacrifices made during this pandemic.
Thanksgiving Day Fun at CUC
Thanksgiving typically signifies fun celebrations with loved ones. But, the pandemic put a damper on being able to celebrate this year. That did not stop the CUC Adult Day Care staff from showing off their holiday spirit. Staff at CUC held a Thanksgiving Dress-Up Day, and dressed up festively to help spark fun and smiles!
Thanksgiving Thank You
On Thanksgiving day the Arcadia Home Health Services (AHHS) staff dropped off little treats to the aides working on the holiday. AHHS staff hand-delivered each treat in person to show their appreciation and how thankful they are for all that their aides do to serve our clients.
"As I reflect on the challenges of 2020, I give thanks for the privilege of being part of the Arcadia Family of Companies.  Each of you has selflessly and fearlessly risen to face every challenge the year has thrown at you.  From the bottom of my heart – THANK YOU!" - Suzie Schulberg, President & CEO