October 9, 2020
Silver Linings of COVID-19 (Issue 10/09/20)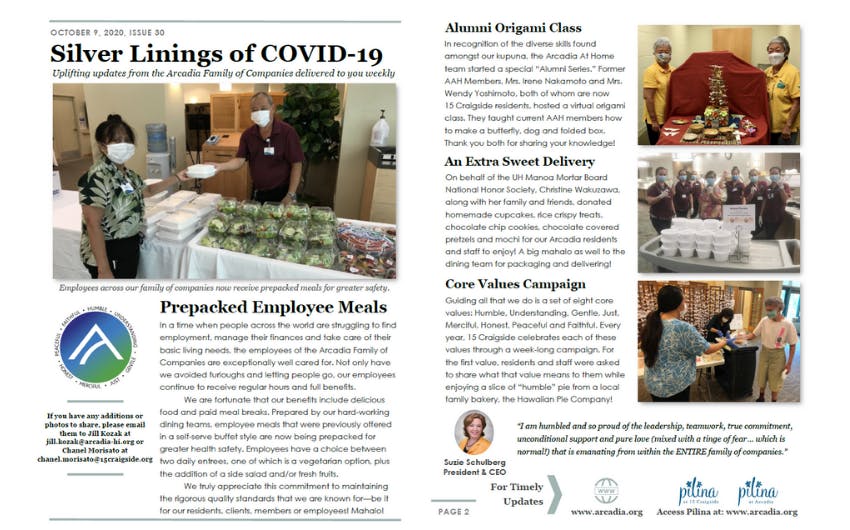 OCTOBER 9, 2020, ISSUE 30
Silver Linings of COVID-19
Uplifting updates from the Arcadia Family of Companies delivered to you weekly
Prepacked Employee Meals
In a time when people across the world are struggling to find employment, manage their finances and take care of their basic living needs, the employees of the Arcadia Family of Companies are exceptionally well cared for. Not only have we avoided furloughs and letting people go, our employees continue to receive regular hours and full benefits.
We are fortunate that our benefits include delicious food and paid meal breaks. Prepared by our hard-working dining teams, employee meals that were previously offered in a self-serve buffet style are now being prepacked for greater health safety. Employees have a choice between two daily entrees, one of which is a vegetarian option, plus the addition of a side salad and/or fresh fruits.
We truly appreciate this commitment to maintaining the rigorous quality standards that we are known for—be it for our residents, clients, members or employees! Mahalo!
Alumni Origami Class
In recognition of the diverse skills found amongst our kupuna, the Arcadia At Home team started a special "Alumni Series." Former AAH Members, Mrs. Irene Nakamoto and Mrs. Wendy Yoshimoto, both of whom are now 15 Craigside residents, hosted a virtual origami class. They taught current AAH members how to make a butterfly, dog and folded box. Thank you both for sharing your knowledge!
An Extra Sweet Delivery
On behalf of the UH Manoa Mortar Board National Honor Society, Christine Wakuzawa, along with her family and friends, donated homemade cupcakes, rice crispy treats, chocolate chip cookies, chocolate covered pretzels and mochi for our Arcadia residents and staff to enjoy! A big mahalo as well to the dining team for packaging and delivering!
Core Values Campaign
Guiding all that we do is a set of eight core values: Humble, Understanding, Gentle, Just, Merciful, Honest, Peaceful and Faithful. Every year, 15 Craigside celebrates each of these values through a week-long campaign. For the first value, residents and staff were asked to share what that value means to them while enjoying a slice of "humble" pie from a local family bakery, the Hawaiian Pie Company!
"I am humbled and so proud of the leadership, teamwork, true commitment, unconditional support and pure love (mixed with a tinge of fear… which is normal!) that is emanating from within the ENTIRE family of companies." - Suzie Schulberg, President & CEO