October 16, 2020
Silver Linings of COVID-19 (Issue 10/16/20)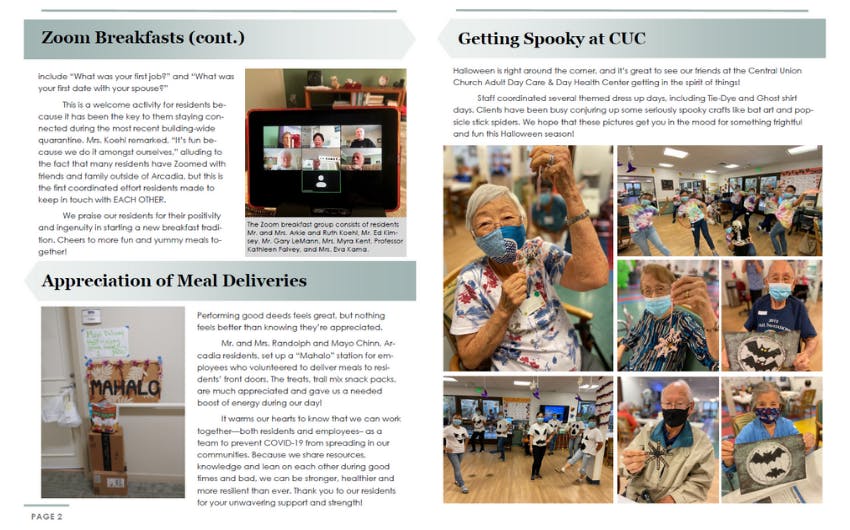 OCTOBER 16, 2020, ISSUE 31
Silver Linings of COVID-19
Uplifting updates from the Arcadia Family of Companies delivered to you weekly
Remote Breakfasts with Zoom
With COVID-19 changing the way we live and work, it's no surprise that it has upended many of our social and cultural traditions. At Arcadia, residents are getting creative on how to socialize, even during times of isolation.
A group of residents who frequently ate together in the main dining room before COVID-19 have come together to share meals in a new way. Mrs. Ruth Koehl coordinated a Zoom Breakfast group comprised of seven residents.
Every morning, the group "meets" on Zoom at 7:15 a.m. after grabbing their breakfast bags outside of their apartments. Throughout the session, residents pop "in and out" while fixing their coffee or toast, but always come back to the session to enjoy one another's company. Their conversations evolve organically, and past topics they've discussed include "What was your first job?" and "What was your first date with your spouse?"
This is a welcome activity for residents because it has been the key to them staying connected during the most recent building-wide quarantine. Mrs. Koehl remarked, "It's fun because we do it amongst ourselves," alluding to the fact that many residents have Zoomed with friends and family outside of Arcadia, but this is the first coordinated effort residents made to keep in touch with EACH OTHER.
We praise our residents for their positivity and ingenuity in starting a new breakfast tradition. Cheers to more fun and yummy meals together!
Appreciation of Meal Deliveries
Performing good deeds feels great, but nothing feels better than knowing they're appreciated.
Mr. and Mrs. Randolph and Mayo Chinn, Arcadia residents, set up a "Mahalo" station for employees who volunteered to deliver meals to residents' front doors. The treats, trail mix snack packs, are much appreciated and gave us a needed boost of energy during our day!
It warms our hearts to know that we can work together—both residents and employees– as a team to prevent COVID-19 from spreading in our communities. Because we share resources, knowledge and lean on each other during good times and bad, we can be stronger, healthier and more resilient than ever. Thank you to our residents for your unwavering support and strength!
Getting Spooky at CUC
Halloween is right around the corner, and it's great to see our friends at the Central Union Church Adult Day Care & Day Health Center getting in the spirit of things!
Staff coordinated several themed dress up days, including Tie-Dye and Ghost shirt days. Clients have been busy conjuring up some seriously spooky crafts like bat art and popsicle stick spiders. We hope that these pictures get you in the mood for something frightful and fun this Halloween season!
Miniature Flowering Plant
Sometimes a little zen goes a long way, and that couldn't be more apparent with this miniature flowering plant! Staying at home has inspired people to focus on tending to their plants, and so, people are rediscovering what a relaxing pastime gardening is. Joyce Nishikawa, Executive Assistant, brought this Frogbit Floating Plant to the office to make for a peaceful environment. Mahalo to Joyce for the miniature gift that has a big impact! (Pen is shown for scale)
Pumpkin Ornament Making
There's no better way to get into the spirit of Halloween than by crafting some festive pumpkins! Arcadia residents flexed their DIY muscles by participating in a make-and-take Halloween activity where they made their own pumpkin ornaments. The best part was that everyone's creation turned out different! Residents took their craft home to display on their front doors. We're proud of our resourceful residents!
Arcadia Lockdown Ends
Arcadia is officially out of lockdown as of Wednesday, October 14! Pictured right are the 5th floor residents on their last day of hallway class on October 13. While residents enjoyed being able to exercise during the building-wide quarantine, they were eager to resume their classes in the Wellness Center. Thank you residents for your flexibility and Wellness team for keeping our residents active and healthy during the restrictions. Bravo!
"I see so many individuals within this family honing their inner strength and focus to show up every to make a difference […] Please keep vigilantly practicing our infection prevention measures." - Suzie Schulberg, President & CEO