October 23, 2020
Silver Linings of COVID-19 (Issue 10/23/20)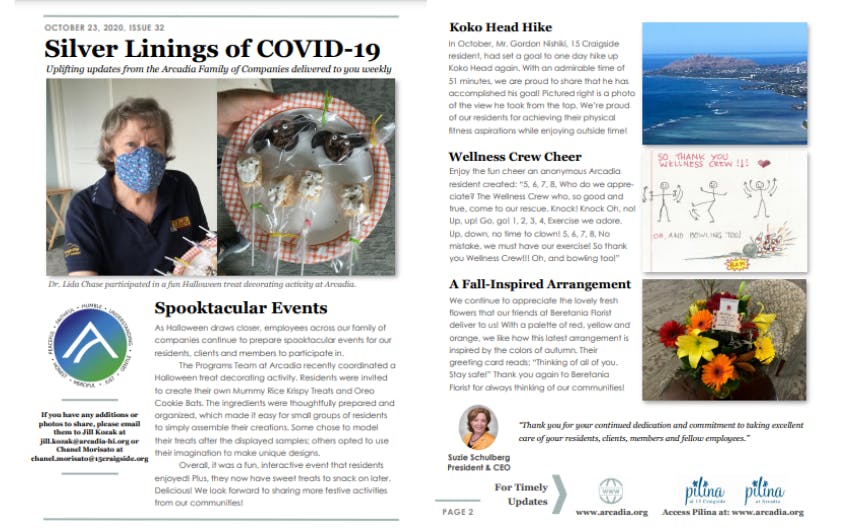 OCTOBER 23, 2020, ISSUE 32
Silver Linings of COVID-19
Uplifting updates from the Arcadia Family of Companies delivered to you weekly
Spooktacular Events
As Halloween draws closer, employees across our family of companies continue to prepare spooktacular events for our residents, clients and members to participate in.
The Programs Team at Arcadia recently coordinated a Halloween treat decorating activity. Residents were invited to create their own Mummy Rice Krispy Treats and Oreo Cookie Bats. The ingredients were thoughtfully prepared and organized, which made it easy for small groups of residents to simply assemble their creations. Some chose to model their treats after the displayed samples; others opted to use their imagination to make unique designs.
Overall, it was a fun, interactive event that residents enjoyed! Plus, they now have sweet treats to snack on later. Delicious! We look forward to sharing more festive activities from our communities!
Koko Head Hike
In October, Mr. Gordon Nishiki, 15 Craigside resident, had set a goal to one day hike up Koko Head again. With an admirable time of 51 minutes, we are proud to share that he has accomplished his goal! Pictured right is a photo of the view he took from the top. We're proud of our residents for achieving their physical fitness aspirations while enjoying outside time!
Wellness Crew Cheer
Enjoy the fun cheer an anonymous Arcadia resident created: "5, 6, 7, 8, Who do we appreciate? The Wellness Crew who, so good and true, come to our rescue. Knock! Knock Oh, no! Up, up! Go, go! 1, 2, 3, 4, Exercise we adore. Up, down, no time to clown! 5, 6, 7, 8, No mistake, we must have our exercise! So thank you Wellness Crew!!! Oh, and bowling too!"
A Fall-Inspired Arrangement
We continue to appreciate the lovely fresh flowers that our friends at Beretania Florist deliver to us! With a palette of red, yellow and orange, we like how this latest arrangement is inspired by the colors of autumn. Their greeting card reads: "Thinking of all of you. Stay safe!" Thank you again to Beretania Florist for always thinking of our communities!
"Thank you for your continued dedication and commitment to taking excellent care of your residents, clients, members and fellow employees." - Suzie Schulberg, President & CEO