October 30, 2020
Silver Linings of COVID-19 (Issue 10/30/20)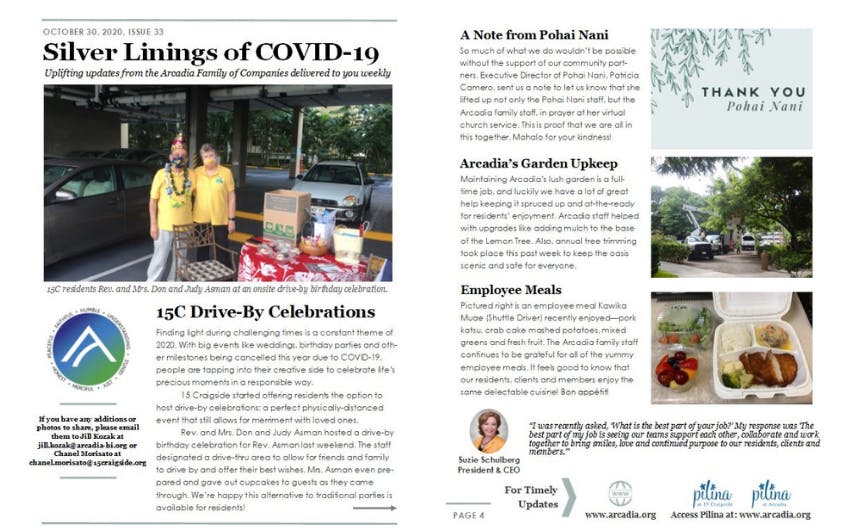 CLICK HERE TO READ THE FULL ISSUE
OCTOBER 30, 2020, ISSUE 33
Silver Linings of COVID-19
Uplifting updates from the Arcadia Family of Companies delivered to you weekly
15C Drive-By Celebrations
Finding light during challenging times is a constant theme of 2020. With big events like weddings, birthday parties and other milestones being cancelled this year due to COVID-19, people are tapping into their creative side to celebrate life's precious moments in a responsible way.
15 Craigside started offering residents the option to host drive-by celebrations: a perfect physically-distanced event that still allows for merriment with loved ones.
Rev. and Mrs. Don and Judy Asman hosted a drive-by birthday celebration for Rev. Asman last weekend. The staff designated a drive-thru area to allow for friends and family to drive by and offer their best wishes. Mrs. Asman even prepared and gave out cupcakes to guests as they came through. We're happy this alternative to traditional parties is available for residents!
Congratulatory Balloon Arrangements
You may remember that 15 Craigside and Arcadia were recently the recipients of the AHCA/NCAL Bronze Award for excellence. Our friends at Aloha Nursing Rehab Centre were thoughtful enough to send both communities congratulatory balloons! Thank you! We hope to follow in Aloha's footsteps and achieve the Silver Award in the next few years.
AAH Diner Delivery Day
We love finding ways to connect to our Arcadia At Home members, and what could be better than doing it through food? Arcadia At Home hosted its second Diner Delivery Day, and this time, lunch was Greek-inspired from Leo's Taverna downtown.
The At Home team provided speedy delivery to 21 members over 15 stops. Some of the most popular dishes were Gyros and Falafels. Other interesting menu options were Moussakas and Tabbouleh salad.
In addition to being extremely tasty, did you know that Mediterranean food can help fight against heart disease, certain cancers, diabetes and cognitive decline? Our latest delivery was tasty and wholesome to boot!
15C Meet and Greet
It can be challenging to meet new people during a time when physical distancing is the norm, but with some creativity and open-mindedness, 15 Craigside residents are greeting new residents with open arms!
15 Craigside hosted a meet and greet for new residents that took place during the Manuahi Market. New residents sat at the end of the line for current residents to introduce themselves and chat briefly (socially distanced) while they waited for the elevators.
We're happy for all of our new additions to the 15 Craigside ohana! Mahalo to all for making them feel welcome.
Halloween Masks
Just in time for Halloween was a fun crafting experience for Arcadia residents—making their own Halloween-inspired face masks!
Residents were given plain white face masks to act as the canvas for their designs. They were provided with an array of puff paints and acrylic fabric paints with the option of different Halloween-themed stencils. Residents chose their own colors and listened to Halloween-themed music to get into the spirit.
Pictured is Arcadia Resident Ms. Bobbie Aisaka displaying her finished witch and cauldron face mask. Other completed designs included a ghost, bat, jack-o-lantern, skull with crossbones and spider. 
Such a scary good time!
A Note from Pohai Nani
So much of what we do wouldn't be possible without the support of our community partners. Executive Director of Pohai Nani, Patricia Camero, sent us a note to let us know that she lifted up not only the Pohai Nani staff, but the Arcadia family staff, in prayer at her virtual church service. This is proof that we are all in this together. Mahalo for your kindness!
Arcadia's Garden Upkeep
Maintaining Arcadia's lush garden is a full-time job, and luckily we have a lot of great help keeping it spruced up and at-the-ready for residents' enjoyment. Arcadia staff helped with upgrades like adding mulch to the base of the Lemon Tree. Also, annual tree trimming took place this past week to keep the oasis scenic and safe for everyone.
Employee Meals
Pictured right is an employee meal Kawika Muae (Shuttle Driver) recently enjoyed—pork katsu, crab cake mashed potatoes, mixed greens and fresh fruit. The Arcadia family staff continues to be grateful for all of the yummy employee meals. It feels good to know that our residents, clients and members enjoy the same delectable cuisine! Bon appétit!
"I was recently asked, 'What is the best part of your job?' My response was 'The best part of my job is seeing our teams support each other, collaborate and work together to bring smiles, love and continued purpose to our residents, clients and members.'" - Suzie Schulberg, President & CEO