April 23, 2021
Silver Linings of COVID-19 (Issue 4/23/21)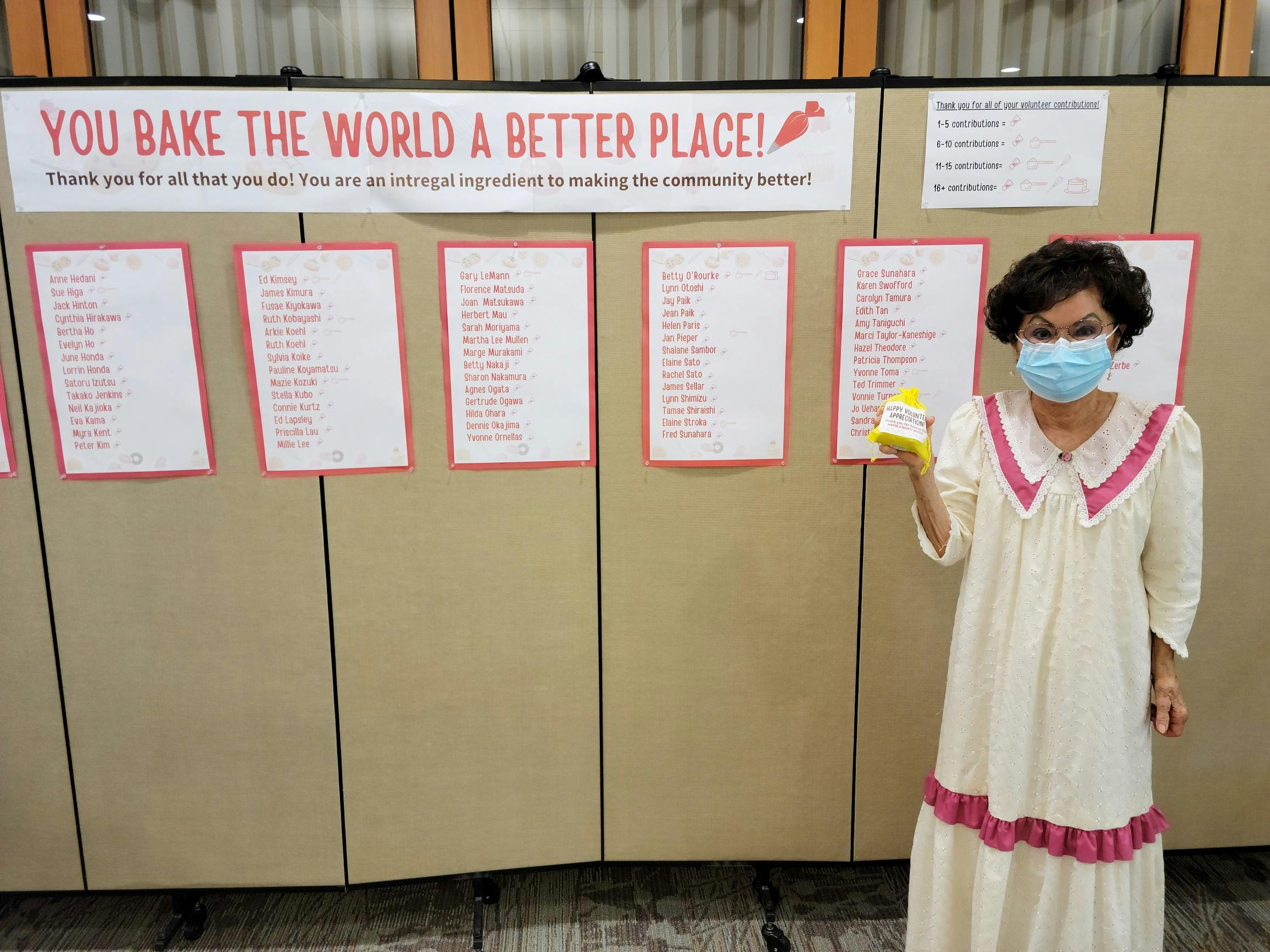 APRIL 23, 2021, ISSUE 58
Silver Linings of COVID-19
Uplifting updates from the Arcadia Family of Companies delivered to you weekly
Appreciating Our Volunteers
Volunteers are special people who donate their time and effort to various causes out of pure passion. There is no pay, other than personal satisfaction, and that's why it's important we honor these individuals.
This week was Volunteer Appreciation Week, and Arcadia had the chance to recognize its 107 residents who donate their time and energy to various causes, both internally and externally.
A lobby display showcases all of the residents' names along with fun baking-themed icons that correspond to how many organizations the individual contributes to. Those who volunteer internally to the Gift Shop and on various committees were automatically recognized. We also polled our residents to find out where they volunteer outside of our community to account for those activities.
Residents received a delivery of Honolulu Cookie Company cookies to thank them for all of their valuable contributions. Thank you to everyone who volunteers to make Arcadia and our community a better place to live!
Creative Drumming
Ever heard the popular adage, marching to the beat of your own drum? Well, that's exactly what 15 Craigside residents had the chance to do during a brand new class called Creative Drumming!
Led by Programs Coordinator, Savannah Reier, residents used an exercise ball, basket and drumsticks to drum along to the beat of popular oldies tunes. The results were fun, and it was a great workout that focused on coordination, too!
Thanks to everyone who participated in this new class!
Handwashing Songs
We all know to wash our hands regularly, and the guidance is for the entire process to take 40-60 seconds. How to pass the time? We've been taught to sing "Happy Birthday" 2-3 times to help the process along, but now we have a new list of songs to try! Bobby Oyadomari, Activities Aide in Arcadia's Health Care Center, put together a list of songs to sing while you scrub! Haven't heard of them? Do a quick Google search, or ask your Amazon Echo. Enjoy!
Aloha Hour—Thailand
Arcadia celebrated Aloha Hour last week with the theme "Thailand" in honor of Thai New Year! The Programs team delivered duck spring rolls and mini crab cakes with a Thai curry sauce to our residents. Mrs. June Honda remarked, "Thanks again for the surprise! You gals do such a great job of planning activities. The elevator surprises make me feel like a little girl playing 'house'...so much fun. Lorrin & I appreciate your hard work!"
New Bento Offering
Arcadia Home Health Services continues to partner with KYM Bento Sushi & Catering to provide delicious, affordable bentos to our clients. We're pleased to announce a new bento offering—local favorite, Teriyaki Beef! We are grateful to continue our partnership with KYM and that they are open to adding new menu items for our clients. Mahalo!
Preparing for May Day
May Day, which is Lei Day in Hawaii, is quickly approaching, and 15 Craigside is fastidiously preparing for the occasion. Residents came together to help make ti leaf leis for our Health Care Center residents for their annual May Day Celebration. A few residents already knew how to make the leis, but several learned for the first time. What a fun way to gather and make something special to wear on Lei Day!
"Happy Earth Day 2021!  As we celebrated Earth Day on Thursday, please take to heart this quote from primatologist and anthropologist Jane Goodall, 'You cannot get through a single day without having an impact on the world around you.  What you do makes a difference and you have to decide what kind of difference you want to make.'"  - Suzie Schulberg, President & CEO