May 2, 2022
Top In-Home Care Services for Older Adults Living at Home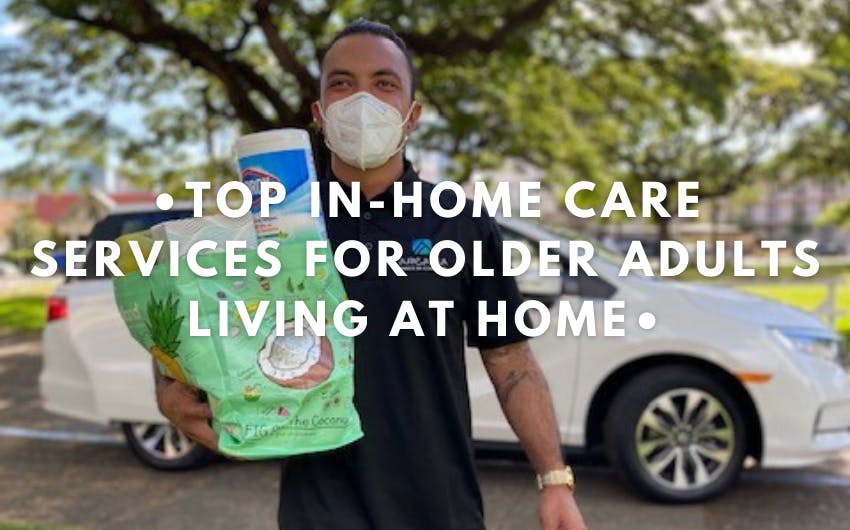 Moving homes is considered one of life's most stressful events. Relocating disrupts your routine and daily rituals, and unfamiliar surroundings can feel intimidating.
For older adults, the negative consequences can be devastating, especially when uprooted from the home they have lived in independently for many years.
This is why most adults 50 and older want to remain in their homes long-term. Known as relocation stress syndrome, older adults can experience social isolation and rapid physical, mental, and emotional decline. The alternative to moving is to hire in-home care services.
6 Homecare Services to Help Older Adults Live Safely at Home
It's natural to want to live out your life in your own home rather than move to a group living community. You may not want to give up your personal space or take up residence at a retirement community where you live with other residents.
Aging in place may be the solution. There are numerous options to bring help into your own space if you opt to stay in the comfort of your own home. Here are some of the main in-home care services available for kupuna.
In-Home Health Care
Older adults often have multiple healthcare needs, including chronic illness that requires daily medication. When a loved one has a complicated medication regimen or makes mistakes with taking medication, there are many ways to help.
With in-home care services, a licensed professional will come over to your home and check in daily. They will help manage your medications and check that it is taken on time. Homecare workers can visit at a set time or provide 24-hour homecare depending on one's needs.
Older adult in-home healthcare includes more than seeing to medical needs. Avoiding injury is a significant concern. As we age, the risk of falls becomes greater. Muscle weakness and sensory disorders, like failing eyesight and hearing, increase the risk of falls. Having a professional caregiver around lessens the risk of any accidents.
In addition, your immune system will weaken as you get older. As a result, you may become more vulnerable to contracting illnesses. When you live in your own home, you are less exposed to illness than living in a senior community.
Personal Care and Companionship Services
As an older adult's physical or mental health declines, maintaining personal hygiene often becomes challenging. Simple tasks like bathing, teeth brushing, or simply changing clothes may be difficult to maintain without assistance. However, personal hygiene is vital for keeping good overall health and having assistance with daily activities may be a solution.
With personal care services, a specially-trained aide can come over to help a loved one take a shower or bath. Personal care aides can also help kupuna with dressing, toileting, and incontinence care. Older adult personal care aides are trained to provide companionship and home health needs. They can oversee medication taking, help prepare healthy meals, and do some light housekeeping.
Transportation
When older adults stop driving, they lose a significant degree of independence. Giving up driving can result in depression and a decline in mental and physical health.
It is important to maintain independence with older adult transportation services. These services will take kupuna where they need to go. Whether you need to buy groceries, run errands, or have medical appointments, transport and an escort can be easily arranged.
Transportation services can also benefit older adults who need assistance while walking. In this case, a door-through-door service is ideal. An attendant will support you from your door to the waiting vehicle.
Housekeeping
Most in-home services focus on personal care, supervision, transportation, and companionship. However, you don't want to overlook housekeeping. Keeping your loved one's living area clean and organized may be difficult to manage as one ages. Cleaning and maintenance of one's home may prove to be overwhelming as mobility and energy declines. Housekeeping services is a great solution that can take this burden off a kupuna's shoulders.
Meal Delivery Services
Good nutrition is a crucial aspect of maintaining good health in aging adults. When you live alone, you may lack the motivation or energy to shop for food and cook healthy meals. Appetite decreases with age and older adults can find it challenging to maintain adequate nutrition.
Frozen dinners and meal replacement shakes can be used occasionally, but these options may not be an optimal long-term solution. Rather, consider a food delivery service that offers home delivery and food options like low-sodium or mechanically altered meals.
Home cooked meals can be delivered right to your door, scheduled as frequently as needed. Meal delivery services for older adults ensure that your loved one can still have delicious, healthy meals without any effort.
Personal Assistant Services
In-home care is not exclusively for immobilized people unable to care for themselves. Personal assistant services for older adults encompass a wide range of services.
Some may find it difficult to justify the expense of in-home care services for an older adult who is still living independently. However, it is simply not always possible for family members to assume the role of a caregiver. Even basic assistance can be very time-consuming.
Personal assistant services include:
●      Running errands like picking up prescriptions or dry cleaning
●      Grocery shopping, meal planning, and preparation
●      Transport to and from activities and appointments
●      Companionships involve going for walks, social outings, or even playing cards
Knowing Your Options
For many older adults, aging in place is the best choice for their mental, emotional, and physical well-being. Spending their golden years in their familiar surroundings gives kupuna the independence and happiness they desire. However, aging at home may come with concerns for one's safety and comfort. For peace of mind, in-home care services for older adults living at home is worth the investment.
Arcadia Home Health Services offers an array of in-home services ranging from personal assistance to medical care to help kupuna continue to live comfortably at home. Schedule a personal consultation today at (808) 983-5900 to discuss how Arcadia Home Health Services can help you or your loved one with managing everyday life.