May 3, 2021
The Differences Between Care Facilities and Which One is Right for You or Your Loved One?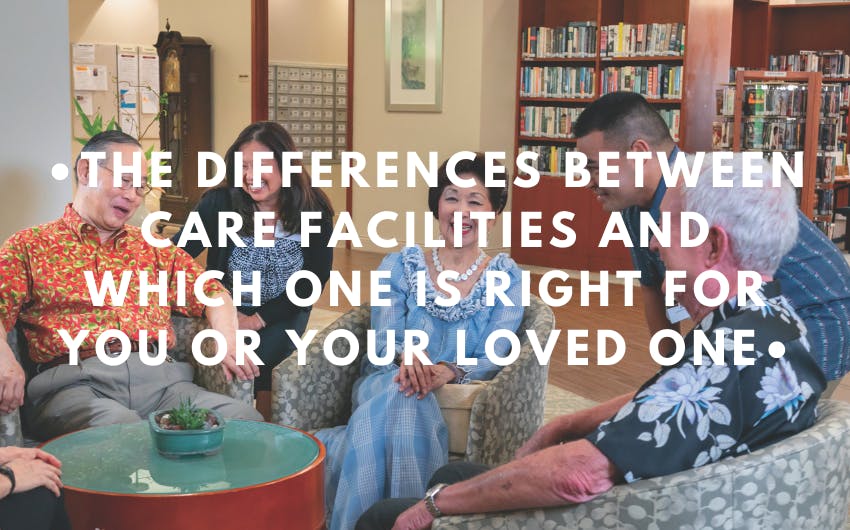 The older adult care industry has expanded over the last decade. Senior care homes are becoming popular- everyone wants their kupuna to live out their sunset years in the best conditions available. As adult care facilities become better by the day, choosing which one is the best for you can be difficult.
Stick with us for a comprehensive look into the types of care facilities available, what they offer and which one you should go for.
What are continuum of care communities, and how do they differ from care homes?
Continuum of Care Communities offer the full spectrum of senior citizen care. From Independent living to skilled nursing services, these facilities have it all. Most residents start with independent living, then progress to assisted living as they grow older and eventually skilled nursing or memory care if need be. All these are offered within one facility; hence there's no need to relocate should their needs change.
Care homes, also referred to as nursing homes, are specialized to provide medical support for senior citizens. The residents of nursing homes require constant medical monitoring but do not need to be in a hospital. They perform daily housekeeping and planned activity services, and some even go the extra mile to offer physical and occupational therapy as well as memory care.
Continuum of Care Communities (CCCs) are different from nursing homes in that they offer a wider range of services. On the other hand, most nursing homes are focused only on providing medical assistance to older citizens. With CCCs, seniors have access to either independent or assisted living options, with some offering lifestyle options such as social interactions, fitness activities, and fine dining. Nursing homes have limited opportunities for interactions.
What is assisted living, and how does it fit into the senior living spectrum?
Assisted living is by far the most common senior living option. The option enables members to live about their duties with minimal help from caregivers. Common services you can expect from an assisted living facility include help with bathing and bathroom visits, eating, and taking medication. They do not offer medical care; however older adults would need to be transferred to a nursing home for that.
Assisted living is the bridge between independent living and skilled nursing care. The option is for older adults who need a bit of supervision- hence cannot live in an independent facility- but do not require medical support to warrant being in a skilled nursing home.
What does a continuum of care community provide? And what is it important?
The Continuum of Care community option is an option to place your loved seniors in a community where they will enjoy the interaction. Taking this option, you get more care for seniors, integrated with independent living. This provision is ideal for elders capable of handling themselves with the occasional checkup.
CCCs offer a wide range of options allowing for a shift in available care options as you progress. Many CCCs provide a comprehensive care package in case you need to change to involved care offers.
The common features in modern Continuum of Care Community packages include nursing home caring, complete nursing, and rehabilitation centers. CCCs integrate a nursing home level of care to cater to seniors with dementia-based conditions. Nutritionist services, as well as occupational therapy sessions, are also available for most CCCs.
Continuum of Care Communities, however, are famous for providing interactive communities. Research shows that interactions among seniors help reduce loneliness and depression. Loved ones in CCCs spend time with other seniors, forming friendships and growing bonds.
Seniors in Continuum of Care Communities also need not stress over chores. Many CCCs provide workers who sort out difficult chores. However, CCCs also offers independent living options for older adults who prefer a more active lifestyle.
What are the levels of care in senior living?
Now that you have a general picture of senior living options, you probably want extensive coverage on available options. Depending on the older adult's lifestyle and health, these are the various care levels are available.
Independent Living
This is the go-to option for seniors who want a little help with some tasks like maintenance, chores and even cooking. However, such older adults have the option to cook for themselves and handle minimal activities around their quarters. 
Assisted living
This perhaps stands out as one of the most popular in senior living options. Seniors carry out everyday activities but get extra help from dedicated staff. Assisting personnel assist with activities of daily living like help getting dressed and reminders on taking medication.
Memory care
This option is best for seniors with dementia-based conditions like Alzheimer's. Choosing this option for seniors provides specialized personnel attending to their needs. Memory care residents stay in secure, peaceful areas with trained personnel who know how to deal with patients in various stages of the disease.  
Skilled nursing
Skilled nursing provides care for seniors who are who need round the clock assistance with everyday living. Patients are closely monitored and under the watchful eye of specialty trained personnel who provide for the patient's every need.
What is the most suitable option?
Before choosing an adult care facility, it is important to consult with the family and other caregivers to determine the level of services that will be needed. You'd need to find out whether your kupuna would be most comfortable in independent or assisted living or a nursing home.
Getting the best care option for your kupuna is no easy task. Whatever your choice will be for your loved one, the Arcadia Family of Companies has got you covered.
The Arcadia Family of Companies offers comprehensive caregiving options for those looking for a full range of continuum of care. Services available range from assisted living, independent living, and skilled nursing. At Arcadia, we ensure kupuna receive personalized care to keep them comfortable, active, and happy. Check out our service offers for your loved one today.