October 8, 2021
How Does Independent Living Differ From Assisted Living?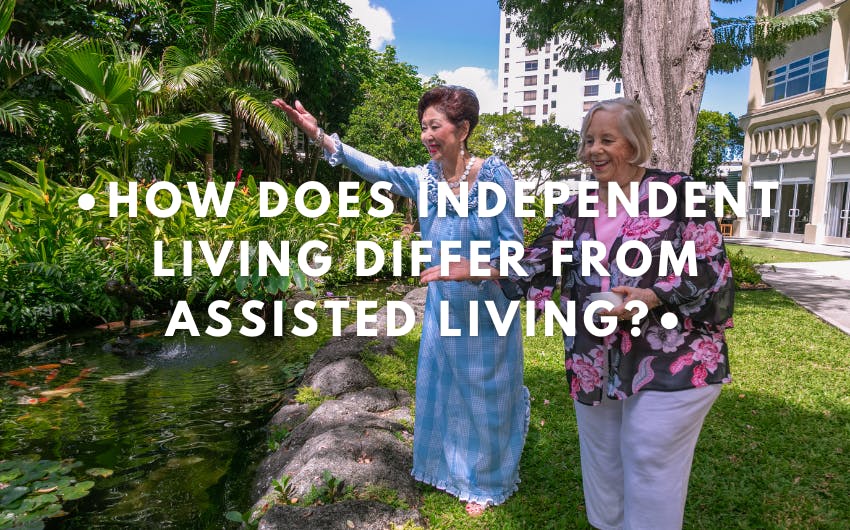 Care services for older adults have grown both in number and quality in the past few years. As our population ages, it's not surprising that life plan communities are becoming an increasingly attractive option.
However, with so many levels of care available, it's easy to confuse which one is right for you or your loved one. Assisted living and independent living are the most common and we'll explore the differences between the two.
Is there a cost difference?
Independent living is typically the less expensive option since the services offered are not as extensive as those of assisted living. Assisted living is usually more expensive as a result of extra services rendered. However, unlike independent living, assisted living may be covered by long-term care insurance.
What are the major differences between independent and assisted living, and which is right?
Independent living is for older adults who have an active lifestyle and prefer to live worry-free by having things like cooking, home maintenance and housekeeping taken care of.
On the other hand, assisted living provides all the above and can include everything from medication management to assistance with many activities of daily living (e.g. eating, toileting, walking, dressing, or bathing). If apartments in residences are licensed for assisted living services, care can be provided in the resident's apartment by a Certified Nurse Aide. Special services such as bed making, check cashing and writing, ironing, monitoring, ordering medical supplies, personal laundry, supermarket orders and delivery, reading to residents and assisting with material from the library for the blind can also be arranged.
Both independent and assisted living are designed to enable older adults to have more time to socialize and do the things they enjoy, whether it be activities inside or outside of the community.
Is it best to find a community that offers both?
The needs of older adults may play the largest role in choosing the right community. Many care communities offer both assisted and independent living while some go a step further and offer specialized options like on-site memory care.
When considering your options, it is best to make a choice with the future in mind. For some, independent living is the best option in their current status. However, as kupuna age, they may need assisted care. Other areas like skilled nursing support are future considerations even if these services are not required at the moment. Not all communities offer a range of care so it's best to check first before moving in.
What are the signs that you need assisted living?
When it becomes increasingly difficult for you or your loved one to manage daily activities, it may be a sign that assisted living care is needed.
 ●     Unable to maintain personal hygiene
●     Forgets to take medication
●     Difficulty in getting up from a seated position without assistance
●     Is prone to falling
●     Needs help with eating, using the bathroom, dressing and grooming
Both independent and assisted living are options offered at 15 Craigside and Arcadia to help kupuna live comfortably. Since every apartment in our communities is already licensed for assisted living services, older adults can smoothly transition between the levels of care. When the time right, it's best to consult with a knowledgeable Arcadia Family of Companies staff member to see what option is right for you or your loved one.