February 11, 2023
18 Good Dogs for Older Adults Who Want or Need a Furry Friend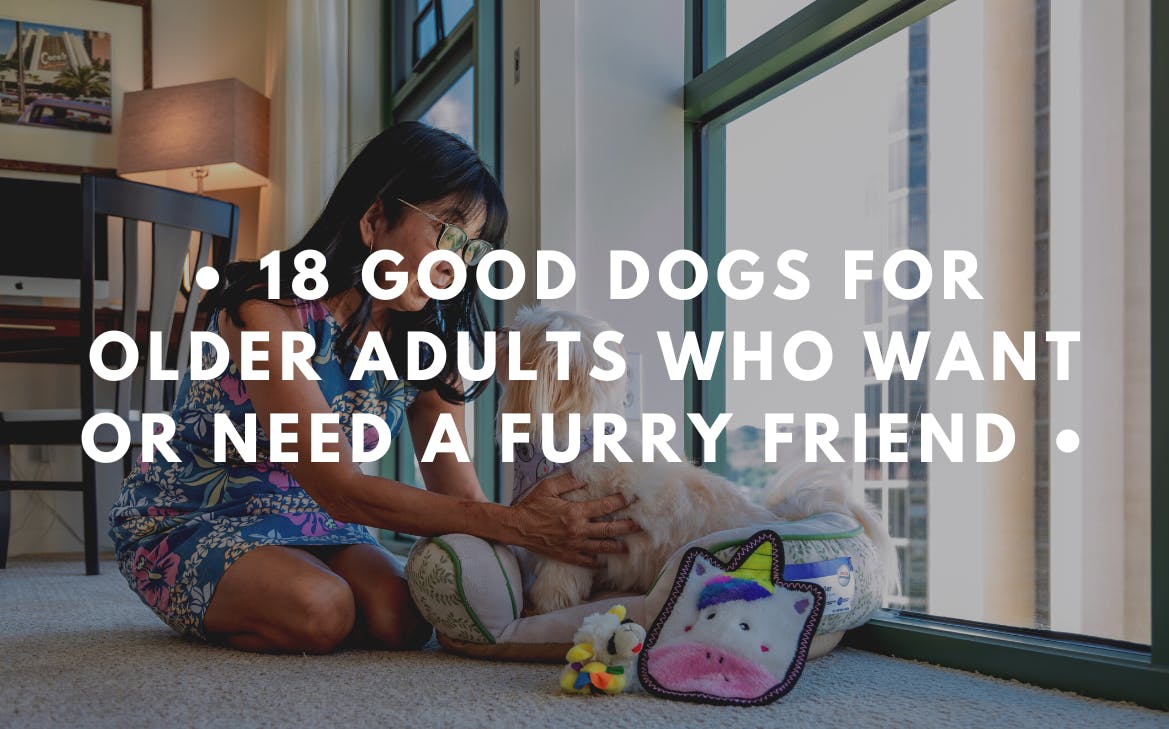 Dogs enrich the lives of families and make great pets for children. And for kupuna, our four-legged canine friends make excellent companions especially if they live alone. There are many breeds of dogs to suit lifestyles and preferences. Below are 18 dog breeds that make great pets for older adults.
1. Bichon Frise
These dogs don't shed much, so kupuna won't have to run around continually with a lint brush. Generally, the Bichon Frise is easy to housebreak, too, so there isn't much work to clean up after them. They also don't pull too hard while walking, meaning that their owners can get out in the fresh air and meet new people easily and comfortably.
2. Golden Retriever
Being larger dogs than average, these wonderfully loving and loyal dogs are best for older adults who are active and like the outdoors. No dog is more affectionate, but they do require considerable exercise. Kupuna who loves to hike or bike would be an ideal companion for a Golden Retriever.
3. Lhasa Apso
A Lhasa Apso is a project that helps give its owner "something to do." They require gentle but firm training, but once trained, they are loyal, intelligent, and beautiful dogs. Part of kupuna care is occupying their time with worthwhile tasks. Lhasa Apsos can provide just that with their required daily brushing and weekly baths.
4. West Highland Terrier
"Westies" are devoted companions. As terriers, they have a tenacious and playful personality, worth a lot of smiles and gentle laughs on daily walks. Their white coats don't shed however they do require a bit of extra training to keep them in line, but that just means a tighter bond at the completion of training with their owner.
5. Skye Terrier
Despite their long hair, Skye Terriers only need twice-weekly brushing. They are energetic and loyal. A daily walk will keep a Skye Terrier healthy, and their eagerness to please will be delightful.
6. Boston Terrier
A Boston Terrier is a lovable goofball with the nickname of a "well-dressed gentleman" since their coat resembles a tuxedo. These dogs don't bark much, so they're great for kupuna who live in apartment communities. They're also the perfect lap dog and love cuddling with their loving owners.
7. Havanese
Havanese are inseparable from their owners. They suffer from anxiety if left alone for too long, so an older adult with one of these dogs will definitely be in a "you and me against the world" dynamic, which is wonderful for increasing feelings of both being appreciated and having a purpose in life.
8. Shih Tzu
Appreciative of attention and easy-going with children and other pets, Shih Tzus are good choices for older adults who have grandchildren who visit regularly. They don't require much exercise but are still joyous on being with their owners on a walk.
9. Pomeranian
The Pomeranian used to be a medium-sized working dog but was bred to be smaller over the years. Their working-dog mentality stays with them, though, so they're best for kupuna who live at home. Despite their independence, they are both loyal and loving, making them a fine choice for older adults who can temper and train them.
10. French Bulldog
If an older adult can't get around as easily as in the past, then the French Bulldog would be a good choice for them. Although they're energetic, they can get enough exercise just gallivanting around a small fenced-in backyard. After that, they're content to cuddle and watch TV in between meals.
11. Cavalier King Charles Spaniel
The Cavalier King Charles Spaniel is another dog who can get more than enough exercise running around in a small space. They're also great cuddlers and very loving. Be sure to brush them regularly to prevent mats in their coats.
12. Poodle
Poodles will bond with more than one person, so they're a great dog for older adult couples. Poodles are retrievers, so they need a brisk walk each day for exercise. In between, they love family time indoors as much as exercising or taking a swim at the beach or pool. They require regular grooming.
13. Yorkshire Terrier
Kupuna who love to laugh will love a Yorkshire Terrier. They might be tiny, but their personality is gigantic. A 7-pound "Yorkie" will often boss around a 250-pound Mastiff. Even though they need regular brushing, they don't shed. That makes them good for people with mild allergies.
14. Beagle
Beagles are playful and goofy. They have lots of energy and need daily long walks. As hunting dogs, they'll "lead with their noses," so be prepared for them to explore while on a walk. They are easy-going, too, so they'll bond with children as easily as with adults.
15. Maltese
The Maltese breed is tiny and can weigh as little as four pounds. An old joke says that the hair itself is two of those pounds! They don't need lots of space, so they're great for kupuna who live in small apartments. They are calm dogs, too, making them marvelous with children. Their long hair needs daily brushing.
16. Greyhound
Swift as lightning, the Greyhound is also gentle, loving, and sincerely appreciative. It seems strange, but these racing dogs can be downright lazy in between walks, soaking up the love of a pleasant head scratch in front of the TV on a cozy couch in the evenings.
17. Miniature Schnauzer
Miniature Schnauzers are bright and curious. They require daily walks and love to fetch or catch thrown toys like Frisbees or small balls. They're best-suited to older adults who have an active lifestyle. Yet, like many smaller dogs, they enjoy family time just as much as their exercise.
18. Chihuahua
These smallest of all dogs are also clowns. They often do the darnedest things just for the sake of it. Like the Maltese, they are an outstanding fit for kupuna who live in small homes or apartments. They tend to get cold easily, so having a sweater for them on cooler days is a good idea.
We know that pets are part of the family and we welcome your fur baby into our community at 15 Craigside. With spacious outdoor greens and nearby walking paths, Fido will feel right at home. To schedule at tour at 15 Craigside visit: https://arcadia.org/15-craigside-tour/ or call: (808) 533-5416.